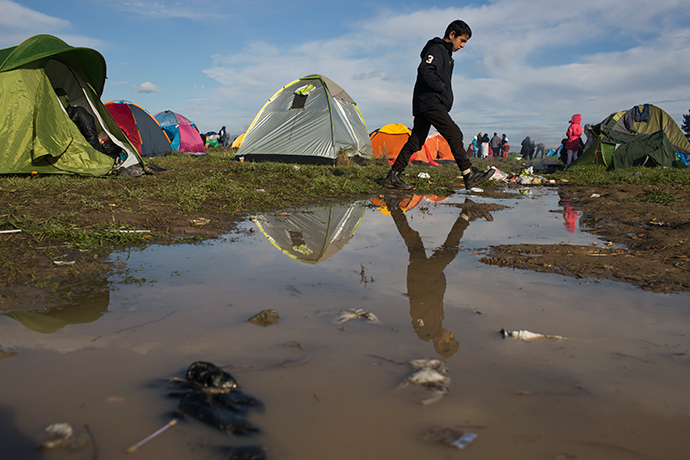 Athens, March 11, 2016/Independent Balkan News Agency
By Spiros Sideris
Images of Shame forEuropean culture are those that come from the Greek-FYROM border. 14,000 refugees are living in the mud, among them women and children, in appalling conditions. The rain of recent days has made the situation critical to the poit that people's lives are at risk.
Just in the last three days, 70 children from the camp have be taken to the hospital of Kilkis with respiratory infections and gastrenteritides. The sick children will from now on be transferred at the Thessaloniki hospital because the facilities in Kilkis are insufficient for their hospitalization.
Another a dramatic night lived thousands of refugees who have settled on the border with FYROM, living with the hope of a better life in central Europe.
The rain did not stop falling throughout the night, flooding tents and dragging or destroying the few things that these wretched people have been left with.
Refugees and members of NGOs struggled all night to mainly protect the children from the rain, the mud and the cold by transferring some of the scenes in more protected places.
At the same time, conditions continue to be appalling – despite the efforts of the state and NGOs – which have resulted in dozens of children having been taken to hospital with infections, while volunteer doctors and echelons KEELPNO are fighting to prevent the appearence of epidemics.
The borders remain closed for two days now and although unofficially, everything points to the fact FYROM will not reopen the passage to the Balkan road.
At dawn yesterday 355 more refugees and migrants arrived at Piraeus, while 300 more arrived within the day.
The refugees in Greece are estimated at about 42,000 at the moment.
Photo: Antenna.gr