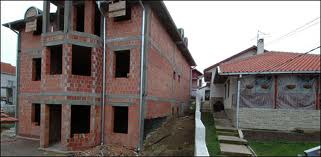 By Natasa Radic – Zagreb
With the first day of the Croatian accession to the European Union the deadline for the legalization of illegally constructed houses and buildings exipred.
In big cities offices that receive applications for legalization were open over the weekend, and the Minister of Construction Anka Mrak Taritas encouraged the citizens to file claims, even if they do not complete the necessary documentation and stamp duty.
The Croatian public symbol of illegal construction has become the island of Vir near the coastal city of Zadar. There were eight thousand houses built there without necessary permits. Crawler Ministry of Construction in February began with the demolition. Mayor of Vir Kristijan Kapovic has repeatedly pointed out that the same criteria should apply to all illegal builders, that is, to demolish only those objects that were illegally built after June 21st 2011 – as that was the date appointed by the Government.
The last time the Minister of Construction spoke about the figures in March this year. Then she said that by the end of February Croatian citizens filed 100,000 claims for the legalization of illegally constructed buildings. The Minister said that this information proves that legal regalulations of the construction legalization are well arranged.
Only in Primorje-Gorski Kotar County the estimate was that a total number of of the received applications will be around three thousand. But in early June it was clear that the interest is no less than seven times higher. Only in the city of Rijeka there were around 150 applications per day, as confirmed by the county Department of Construction.
In Zagreb, the turnout was higher than expected, so daily there were even three thousand applications for house legalization.
-We have submitted a request, and the process of legalization is not exactly cheap. But it is better to have the necessary permits, so we can ensure a peaceful life for future generations – Darinka L. from Split Mejasi village, famous for its illegal construction told us.