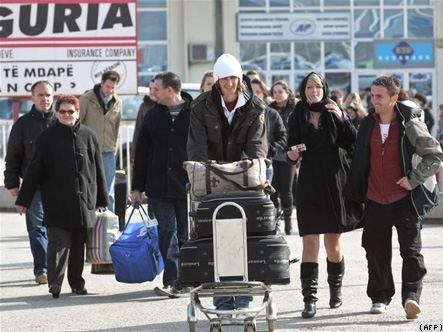 IBNA Special Report/Representatives of the Ministry of European Integration and Swiss office in Kosovo have launched an awareness campaign in order to prevent illegal migration. Officials from this ministry are talking to citizens and they're advising them on the danger of illegal migration.  Organization for Cooperation and European Integration told IBNA that Kosovar authorities must launch an awareness campaign and not a political one. Meanwhile, citizens of Kosovo want to abandon the country although they're aware of the risk of illegal migration
Pristina, April 10, 2014/Independent Balkan News Agency
By Elton Tota
Government of Kosovo has launched an awareness campaign for the process of the liberalization of visas, due to the fact that illegal migration is one of the main factors which is delaying the process.
Although the citizens of Kosovo are aware of the consequences of illegal migration, they still want to abandon Kosovo. Adem S., from Pristina told IBNA that he's ready to migrate illegally because he cannot find a job in his city.
"I'm a graduate in economics, but I have remained unemployed. There's nothing to do for me in a country where the party membership card has more value than my degree and a country which lacks a system of values. I have no hope here. I see my future in western countries.
Vlora M., a student of IT in Pristina is convinced that in western countries, she would find a better paid job.
"There's no future here. The problem is that I don't have money, because I would leave Kosovo as soon as possible. Although I'm aware about the danger of migration, I want to go abroad to try my luck in the western countries. There's no hope here", says Vlora for IBNA.
Nurije Iseni, researcher in the Organization for Cooperation and European Integration told IBNA that Kosovar authorities must launch an awareness campaign and not a political one, to talk to people about the process of the liberalization of visas.
According to her, the campaign will tell citizens that they're not entitled to employment and asylum, but only entitled to leisure or business visit up to 90 days every 6 months in the Schengen countries.
Representatives of the Ministry of European Integration and Swiss office in Kosovo have launched an awareness campaign in order to prevent illegal migration. This campaign will continue for 10 days in a row in all the Kosovar citizens in order to raise the awareness of the citizens and inhabitants of rural areas, which are more inclined to migrate.
Minister of European Integration, Vlora Citaku says that illegal migration remains the no.1 enemy of the liberalization of the visa free regime.
She calls upon the citizens of Kosovo not to migrate in European countries, because they will not be able to be granted asylum.
Meanwhile, she says that the institutions of the country are working to prevent illegal migration.
"There cannot be a liberalization of visas if there are high numbers of asylum seekers. You have seen that the European Commission has approved the clause for the reintroduction of the visa regime for those countries that abuse with the process. There's now an open debate if western Balkan countries which have abused with this process should have the visa regime reintroduced. I call upon the citizens of Kosovo not to fall a victim of traffickers", says minister Citaku.
In fact, in 2013, the number of Kosovar migrants has tripled. Officials from the ministry of Integration are talking to the citizens and are advising them about the risk of illegal migration.
"We're trying to communicate with the citizens and convince them not to migrate in an illegal way, but to apply for visas and visit the countries that they want to visit, because illegal migration is one of the processes which is damaging the liberalization of visas. Those people who are migrating illegally are also damaging those ones who apply for visas", says Flamur Salihu, spokesman of the Ministry of European Integration. /ibna/