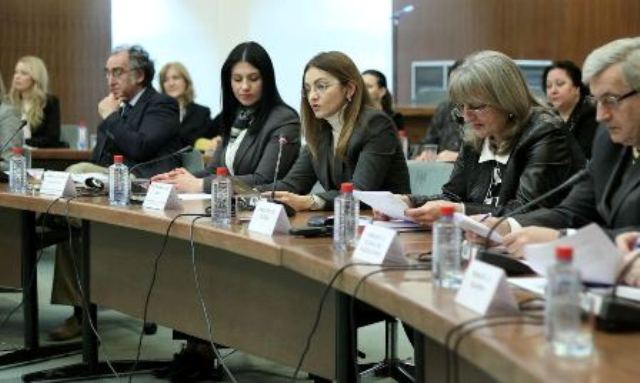 IBNA Special Report
Skopje, March 10, 2015/Independent Balkan News Agency
By Naser Pajaziti
Illegal migration continues to be a concern for authorities in FYR Macedonia, as the country is being used as a transit destination.
This issue was discussed today in a debate organized by the Ministry of Interior in the framework if its activities as chair of the Migration, Asylum, Refugees, Regional Initiative (MARRI).
Minister of Interior, Gordana Jankulovska said that more efforts must be made in order to coordinate activities with the countries of West Balkan in order to prevent the large number of foreign emigrants. According to her, as chair of this initiative for the period 2014-2015, the country has encouraged several incentives and debates on this issue and has offered care for all illegal refugees, providing accommodation and other conditions.
Trpe Stojanovski, current head of MARRI, stressed the need that exists in order for the countries of the region to find a joint solution as far as illegal migration is concerned, as this has recently turned into a real problem.
"Illegal migration is seeing a growth and this is being noticed with an increase of the number of emigrants coming from third world countries, but also from the countries of the region. This problem is growing. What's we're doing is jointly engaging in order to find a solution on this problem through concrete projects", said Stojanovski.
According to him, FYROM is facing with great numbers of foreign emigrants, who leave their countries mainly due to safety reasons. But according to him, this wave of illegal emigrants bears a risk in the aspect of terrorism or radicalism.
"The different channels used to smuggle people are being used by elements and structures that are part of terrorist or radical groups and they pose a threat for potential attacks or terrorist activity in the countries where they migrate", declared Trpe Stojanovski.
Last year, FYROM's Ministry of Interior stopped 166 people for assisting in the trafficking of illegal emigrants. These arrests also included a known group of traffickers consisting of 28 people and who trafficked emigrants from the Middle East, North Africa in order to take them to Greece, FYROM, Serbia, Hungary and then to the EU countries.
These networks of traffickers have gained millions of Euros by smuggling people toward these destinations.
Representatives of the Asylum Center in Skopje said that this center shelters 838 foreign emigrants, mainly from the Middle East and North Africa. The largest numbers come from Syria, Afghanistan and other countries. /ibna/