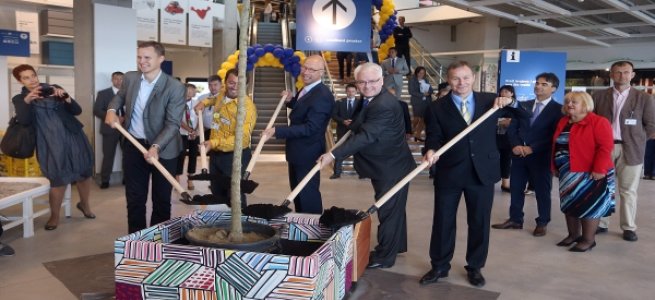 By Marija Avramovic – Zagreb
After years of stalling, the Swedish IKEA yesterday officially opened its first department store in this part of Europe, in Rugvica near Zagreb.
The opening ceremony was attended by President Ivo Josipovic, Deputy Prime Minister Branko Grcic, Minister of Construction and Physical Planning Anka Mrak Taritas and representatives of the Swedish Ikea.
The investment worth 750 million kuna (99 milion euro) by one of the largest and best-known furniture stores and other home furnishing items was constantly delayed due to Croatian bureaucracy and administration, but with yesterday's inaguration the investment was finally realized.
"This is an important day because one of the biggest investments in recent years in Croatia is becoming a reality. I think Ikea and our citizens will find interesthere but also Croatian producers will find a place on the shelves of IKEA. This is a message that Croatia is a place where investors can plan for the future", Josipovic said.
At the ceremony Grcic highlighted the opening of 350 jobs, which was, as he pointed out, a good sign for so desired faster economic recovery.
According to the Swedish tradition, on the eve of the opening ceremony of an IKEA department store representatives from the Swedish Embassy in the Republic of Croatia, Croatian state officials and local representatives and partners planted a tree and cut the ribbon.
Swedish giant with their arrival encouraged other furniture traders on activities that consumers may gain the most, so a few days ago Emmezete opened a new sales center worth more than 20 million euro.
Furniture manufacturer Prima Commerce from Bjelovar, which has 50 showrooms, offers its products through Amazon, the world's biggest online store in order to survive among the big players.
The fact that IKEA yesterday in the first 10 hours has received 15,263 visitors and that in the first four days they expect the visit of up to 25,000 customers, confirmes that there is a new shopping mania among Croats.