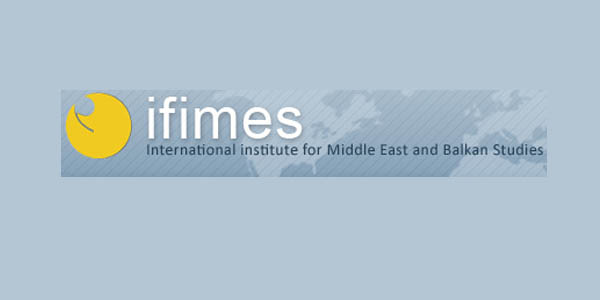 Skopje, October 30, 2013
In one of its studies, International Institute for Middle-East and Balkan studies (IFIMES) has described the developments in FYR Macedonia through an analysis called "FYR Macedonia-between self isolation and Euro Atlantic integrations".
The analysis starts with Gruevski's arrival into power in the 2006 elections with promises that he would be a great reformer of the party and the country. "Self isolation, nepotism, poverty, unemployment, destruction of society in all its segments, lack of transparency, formal respect of pluralist system, corruption and the special role of the Directorate of Security and Counter intelligence, which is led by Sasho Mijalkov, who has close links with Prime Minister Nikola Gruevski are the features of the power of Prime Minister Nikola Gruevski from 2006 until now", states IFIMES analysis.
This institute also explains the social problems, growing unemployment and concealment through official channels, the fall of the country into the category of countries with high corruption and censorship of media.
As far as Albanian parties are concerned, IFIMES writes about the engagement of Ali Ahmeti, leader of BDI and his diplomatic offensive for the solution of the name dispute and Euro Atlantic integration in world capitals. According to IFIMES, these meetings, especially in Athens and Sofia, were an opportunity for the authorities of these countries to send clear signals to Prime Minister Nikola Gruevski. As far as the visit in the USA is concerned, IFIMES writes that Ahmeti has met with the vice assistant US Secretary of State, Philip Reeker, who has been an ambassador to FYROM. IFIMES also writes that the Albanian-American Diaspora has lost its hopes on Ahmeti and his policies. Ahmeti's visits have been considered as private and unofficial, although these visits included government ministers such as Musa Xhaferri and Fatmir Besimi. LSDM has declared that each incentive of such nature contributes in the process of Euro Atlantic integration. According to IFIMES, Ahmeti's incentive has contributed in strengthening Gruevski and growing the lack of trust between Macedonians and ethnic Albanians.
As far as PDSH in opposition is concerned, IFIMES writes that this party has remained faithful to its odd policy "criticism in the form of silence". But the analysis goes on by saying that as far as BDI is concerned, a part of Albanian voters believe that Ahmeti's job is not to solve the name dispute with the Greeks, but to meet the electoral promises and improve the status of Albanians. According to IFIMES, during his time in power since 2001, Ahmeti has only managed to fulfill a part of the demands of Albanians, underlining that its officials have been involved in corruption and criminality. "To a certain extent, this party turned more negative than PDSH of Menduh Thaci and this is concealed through the domination of the media", writes IFIMES.
The Institute from Ljubjana goes on by saying that the internal destruction of the state is a complex and enigmatic phenomena. IFIMES institute has also outlined the great differences between two concepts, multi-ethnic society and multi-ethnic state.
IFIMES believes that FYROM's chances to start talks with the EU are still low, in spite of the positioning of the European Commission. /ibna/