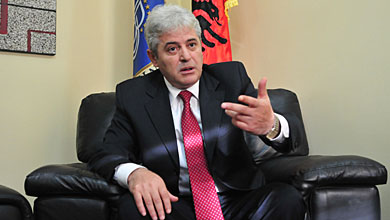 Skopje, November 1, 2013
Head of BDI, Ali Ahmeti has declared that in case the issue of the name dispute is not redefined and if no domestic consensus is reached in order to resolve this problem, then the country will go toward isolation.
He has stressed this in an interview for the daily "Dnevnik", stressing that wide inter-ethnic consensus is needed for the solution to the name dispute.
Asked as to why he has refused the offer of the Prime Minister and leader of VMRO-DPMNE for early elections, Ahmeti said that the elections cannot be a solution. "But, until the end of December, we will review our positioning once the EU Council decides on the negotiations with FYROM", said Ahmeti.
As far as presidential elections which will take place next year are concerned, head of BDI said that there must be a consensual candidate. "Why waste time, when we can talk of a consensual candidate? We will first talk with our partner of coalition and if we cannot come to an agreement, we will talk to the opposition", said Ahmeti.
Head of BDI has said that he hasn't heard the Greek proposal to name FYROM "Slavo-Albanian Macedonia" and that he doesn't want to comment such unofficial proposals. Ahmeti has also talked about his diplomatic tour in the West European countries and according to him, he has spoken with Prime Minister Gruevski after each visit that he has made. /ibna/