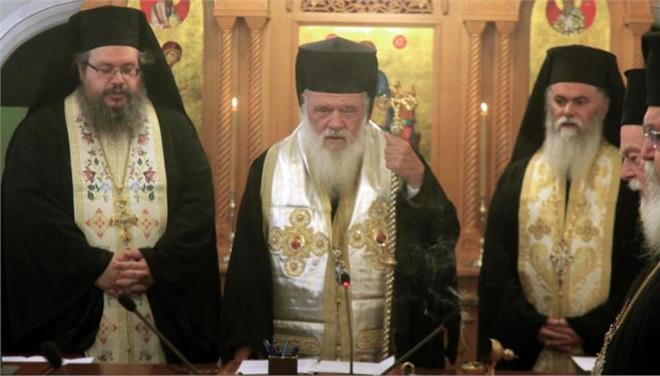 Athens, October 5, 2016/ Independent Balkan News Agency
By Spiros Sideris
Greek Archbishop Ieronymos  spoke against the separation of Church and State today during his presentation to the Holy Synod of Bishops, noting that the "pious Greek people" will give a definitive answer to any unilateral enforcement.
"The Church, which must define its relationship to the state in society's terms and not on ideological terms, does not know the term" separation "in its spiritual mission, since it cannot impose it on society even if it is imposed unilaterally by the state with ideological terms, which is why the devout Greek people, sooner or later, always give the final answer to the question" , he said.
The Archbishop added that what is being sought is the separation of the Church from its people and dared the State to attempt a separation "if it has the consent of this people."
"The Church in my opinion should never ask for separation from its people, because this is where this venture is going in the end. The Church was, is and will be this peoples mother whatever that may mean. If the State wishes to do so and if it has the consent of this people, let it try and do so. Of course without forgetting to respect the obligations it has undertaken towards the Church including relevant agreements," he added.
"The state does not want, nor indeed can it be separated from the Church in terms of society, as, in turn, it can not be divided by any 'known religion,'" he said.
"Obviously the State can impose an ideological separation of the Church from the institutional functions of the State, but it can not impose the separation of the Church from society," he said and added that the impressive historical endurance of the spiritual relationship between the Church and its people remains intact or is further enhanced by the ideological challenges.