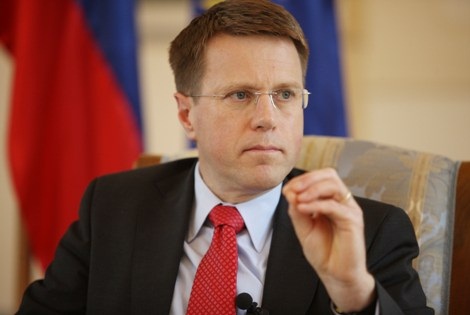 IBNA: How do you assess the talks between Kosovo-Serbia?
Zbogar: Since the beginning the EU has engaged in order to facilitate the dialogue between Kosovo and Serbia as we believe that this process will have positive results for citizens in Kosovo and in Serbia. It enhances regional cooperation and ultimately, it will be beneficial to both Kosovo's and the Serbia's European perspective. Regional cooperation is a key precondition for any country aspiring to be an EU member state one day.  Dialogue is always difficult and the vital part of it is the implementation. Both Kosovo and Serbia will be appraised through the progress in this process when it comes to next steps towards EU integrations.
IBNA: Is it possible for reconciliation between the Balkan nations to happen in the near future, as part of the Brussels request for good neighboring relations int he region?
Zbogar: I am the EU Special Representative for Kosovo and I can speak in relation to Kosovo only. The dialogue between Kosovo and Serbia gives hope that reconciliation is possible, it should be possible. It requires commitment by all parties involved, sometimes decisions from political leaders that are difficult and unpopular back home. But Kosovo and Serbia have to move on from their past towards their future: this is what really unites them both. The history of the European Union is a proof that such historic changes are possible. Geography does not change, people here will be neighbors forever and will have to communicate with each other, to get along with each other and only together they can all move forward. The dialogue is the only way to sort out bilateral affairs and standing issues.
IBNA: How is Kosovo moving forward in terms in its Euro-Atlantic perspective? Is this going to be a long journey for the new state, toward its EU and NATO membership?
Zbogar: The journey towards the EU is never an easy one – nor are the two ever the same. A lot has been done already, but lot of work is still ahead. As we like to say: it is a merit-based process. The EU needs tangible proof that Kosovo is committed in its efforts to fight organized crime and corruption, build an independent and strong judiciary system, undertake substantial reforms in public administration and electoral reforms, education, health, have a competitive and open market, guarantee respect for human rights, including rights for minorities, the marginalized, freedom of expression and of media. If all these reforms are in place, Kosovo will be a better place to live. The EU integration processes directly benefit the citizens.
IBNA: What will be the fate of northern Kosovo?
Zbogar: While some concerns related to the security situation in northern Kosovo remain, we should not ignore significant positive developments that we have witnessed in the area in the past year, especially in the political field. The local government elections at the end of 2013 were the highlight of the years-long attempts to ease tensions between Pristina and northern municipalities who are now finally run by legal and legitimate leaders. The EU remains committed to continue working on improvement of this relationship in order for the newly set up municipal structures to be able to start delivering quality services to northern citizens as soon as possible. The EU is furthermore looking into further investment opportunities in the North. While the EU already invested in a number of projects in the north in the past years, additional 38.5 million euros have been recently set aside to be invested for improvement of infrastructure, rural development, economic revitalization, opportunities to study abroad, as well as for the civil society development. The first calls for proposals have already been launched. We also remain hopeful that the Serb citizens from the North will also go out and vote in the upcoming parliamentary elections of 8 June, and take an active role on the future political scene in Kosovo.