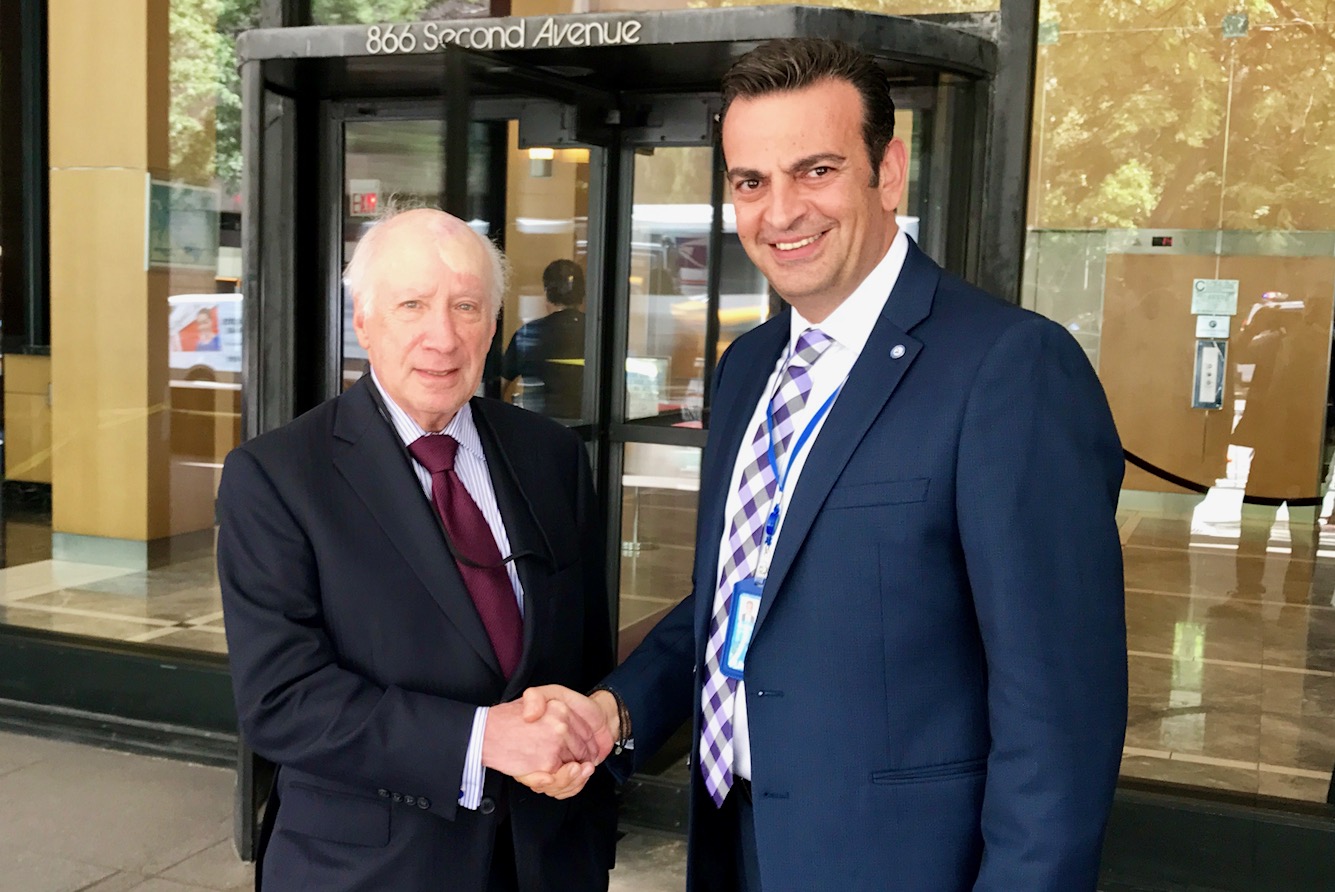 The Special Representative of the United Nations for the FYROM name dispute between Greece and FYROM, Matthew Nimitz, spoke exclusively to IBNA immediately after his meeting with Greek Foreign Minister Nikos Kotzias, at the offices of the Permanent Representation of Greece to the United Nations, in New York.
Matthew Nimitz stressed that relations between the two countries have improved over the last few months and that there is good will on both sides to find a solution to the name issue. He marked a positive step towards its resolution the Greek Foreign Ministry's initiative for the Confidence Building Measures, while stressing that the solution to the name problem would strengthen stability in the region.
How was the meeting?
I've had many meetings with your foreign minister Mr. Kotzias and they're always very good. This was a very good one. He and I talked about the process of the name talks. I'm hoping we can accelerate these talks in a very important way, starting later this year. I'm pretty determined to do that if both countries are cooperative. Both countries have given their word that they are very interested in doing this. So, the foreign minister, he had some ideas and he told me what his points of view were, the Greek position toward the northern neighbor. The relationship has gotten better in my view in recent months, a year or so. So, I'm looking forward to getting more active.
Are you going to submit new proposals?
At the right time, yes.
At the moment there is a freeze in the talks because of elections…
There are local elections, so obviously when there are elections in either country it's not a good time to focus on this issue. But that's a matter of weeks, so we'll be seeing what happens after that.
Did you discuss new proposals or new ideas with Mr. Vasilakis?
Well I'm always in talks with Vasilakis. He is an old, old friend, we see each other many times, so, Vasilakis and I have had a dialogue for many years and it has continued in the last few weeks, yes.
Do you believe that the red lines the governments in Greece and FYROM have can be overcome?
Yes. There are positions of both countries, you can call them red lines or blue lines, there are some very important issues in both countries, but I think they are reconcilable.
It seems that Skopje will make a gesture of goodwill […] If it happens […] How do you assess this move?
Well, I'm not making any prediction of what the government of Skopje might or might not do. So, I'd rather not comment on hypothetical things. Obviously both countries have gone out of their way in recent months to be positive and have a positive atmosphere and cooperate. The initiative of the foreign minister on confidence building measures is an important step in that direction. So, let's see how things develop. OK?
In an interview last summer, you expressed your concern regarding the stability of this state. After the riots and the conflicts in Skopje, is it the best period to solve this problem?
I've felt for a long time that this problem should have been solved many years ago. Obviously it hasn't been. Until this issue is resolved there is a certain underlying instability in the region. So, that's an important reason to solve it. I think the issues internally, like the April 27 event in the parliament in Skopje and other things got us all very nervous about the situation. Those have other dynamics and solving the name issue isn't the only aspect of the problem. But certainly solving this problem will go a long way to introducing stability and friendship in the area.
Do you feel any pressure from the international community or from some states about the solution of the problem?
Everyone is interested in this issue.
In a good way or…?
In a positive way. I think the EU, I met their representatives here, certainly EU countries, the United States, all have a desire to see this issue solved. The Balkans is always the center of attention and people think that if this issue is solved there will be a major step to stability in the area./IBNA