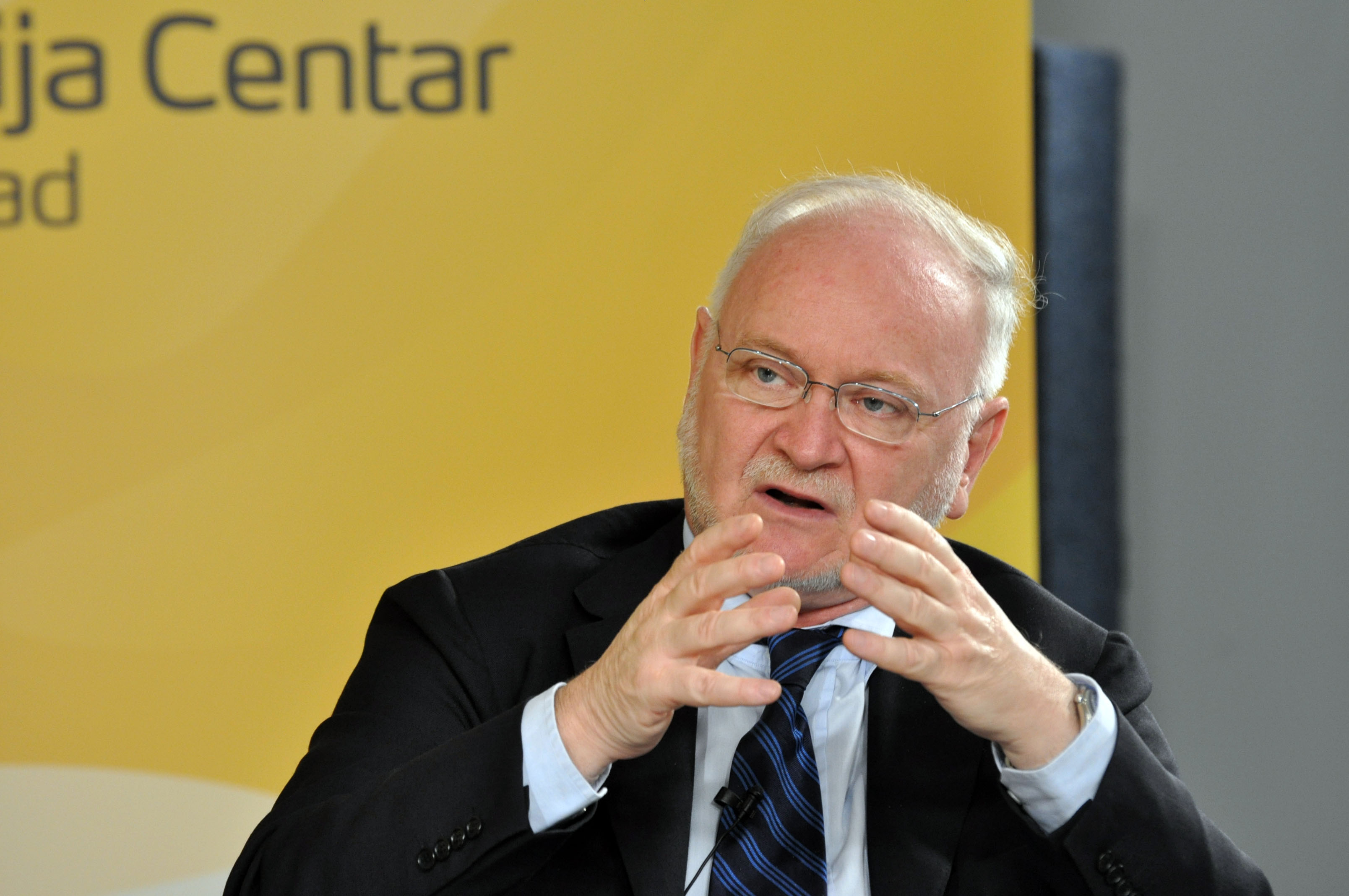 By Milos Mitrovic – Belgrade
– I think that European Union has made very clear distinction between Serbian President Tomislav Nikolic and Prime Minister Aleksandar Vucic. Nikolic is strongly pro-Russian orientated and he rarely visits EU countries officially. Vucic has been recognized as far more pragmatic and inclined to European integration of Serbia – Zarko Korac, former Deputy Prime Minister of Serbia in Zoran Djindjic's government (2001 – 2003) and opposition leader during the authoritarian regime of Slobodan Milosevic said in the interview for IBNA.  Korac is psychologist by profession.
How long Serbian government will be able to balance between European Union's demand to harmonize it's foreign policy with EU's and maintaining friendly relations with Russia which includes refusing to impose sanctions to Moscow over Ukraine crisis?
– In this moment, I believe that EU does not expect from Serbia to follow it's foreign policy in every respect. Brussels expects from Belgrade to harmonize it's foreign policy with EU's to as high extent as possible, because Serbia is in it's earliest stage in European accession process. I think that the statement that Serbia should gear to EU's foreign policy as much as possible – by Italian Foreign Minister Federica Mogerini who recently visited Belgrade – is good illustration for such approach. However, Serbia will have to conduct more thoughtful foreign policy. The actual very low level of relations between US, EU and Canada on one side, and Russia on the other is very unfavorable for Serbia. Vladimir Putin's visit to Serbia scheduled for this autumn indicates, unfortunately, that maneuver room for Serbia gets more narrow and that Serbia becomes more important to Russia. There are many indications that Russia opposes to NATO enlargement in the Balkans, and Serbia has central role in that respect.  In Bosnia, Republika Srpska entity leader Milorad Dodik obstructs country's efforts to join NATO. Moscow has reacted very harsh on Montenegrin PM Milo Djukanovic's visit to Washington (where he asked for the support for Montenegro to join NATO).  The battle for Ukraine is also the battle for where and to which extent is NATO going to expand.
 EU expectations from Serbia in foreign policy are interpreted by the part of the ruling parties and media as "ultimatums". On the other hand, Vucic's reactions on some statements by EU officials and foreign diplomats in Serbia are regarded as heroic resistance to "ultimatums". What is your comment?
–  This is quite immature matrix presented by our tabloids which are the primitive form of media. The aim of publishing articles dealt with politicians is to raise Aleksandar Vucic's ratings. Such matrices are very far from reality. There are no ultimatums and if they would exist, Vucic would not be capable to rebuff them. Vucic is being presented as a person with superpowers and this is how he likes to see himself.
 Recently, Vucic wrote several articles in the newspapers and social media explaining his cabinet's program and defending himself from the critics which are not so frequent.  How do you rate such practice?
– I am not opposed to such practice, on the contrary. For instance, officials articles are relatively frequent in United States. However, the problem is that the objective of Vucic's articles is not to present certain important ideas, but to maintain and raise his ratings. Ever since the rule of President Boris Tadic the more intensive battle has been conducted for the ratings, rather than the reforms. The situation is now different, but there are plenty of unrealistic promises. PM's articles are the part of the marketing followed by grandiose promises – like Belgrade Waterfront project and billions worth investments from the Arab world – rather than usual explanation of important decisions.
In one of his articles Vucic quoted Franklin D. Roosevelt's  words "Only thing we have to fear is fear itself". But he also wrote that if reforms fail he would be the only "blamed and miserable" and "forced to end his political career". Do you find this is contradictory?
– Quoting one of Roosevelt's most famous statements is not problematic per se. Every politician has his own style. Nonetheless, Vucic suggests that he is some kind of Prometheus. This is Prometheus complex, but now it is quite inappropriate moment for martyr-like speeches. This is completely irrational at the moment Serbia is faced with very difficult economic situation. What Serbia needs is presenting very concrete government's measures for months to come. At the same time, government urgently passes drafts of the laws to the parliament, avoiding public debate. This is the suspension of democratic procedures. Labor law was presented as an act that will provide investments, but it's aim is different. This puts government's competence at stake.
 What's about Serbian opposition? It seems that it is very weak including parties represented in the parliament.
– It is very weak from several reasons. First, it is weak due to the fact that Vucic's Serbian Progressive Party (SNS) won absolute majority in March elections. Unfortunately, the opposition was not ready to become an alternative in longer term. They have been impatient to cooperate with SNS instead. The ultimate blow to opposition was done by Boris Tadic when he divided Democratic Party (DS) creating his own group. He will be remembered both as the leader meritorious for the historical success of DS and the one who brought the party almost to collapse by consciously taking the votes from it  on the eve of the elections. At this moment there is no one main opposition party and in such situation it's difficult to offer an alternative to the voters.