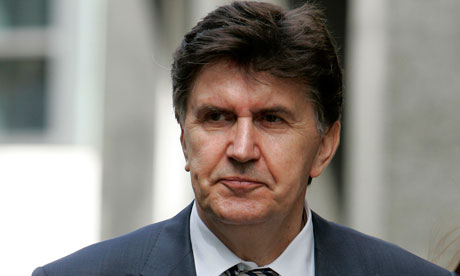 These should be the kind of elections in which we will test the ideas of the candidates and try to dudge how convincing these ideas are.
By Zejna Smajic Yesilyurt – Sarajevo
In the European Union, there are approximately 2 million people who have their origin in Bosnia and Herzegovina. However, even though they are talented, they cannot develop their talent  and be successful in  their country. Can you enumerate some of the problems young people face in Bosnia, and why the situation is like that? 
First of all, we are not a well organized country; we have a complicated Constitution which generates enormous bureaucracy. That is why it takes too much time to reach any decision, while young people are frustrated because simply this transition from socialism to capitalism, of free market economy, has additional problems here because our government does not have simple regulations. If you want to register a company, there is no one stop shop, you have to go from one institution to the other. So, basically, our internal organization is very poor, and it is unfortunate that young people face so many obstacles. We look forward to some regulations imposed by the European Union, because they will help young people exercise their own talents and abilities.
Bosnia-Herzegovina, in economical, political and other spheres is not developed as the members of the EU and constantly lags behind. You are employed in the sphere of education, as well as in the political sphere. What do you notice as a fundamental problem?
As I told you, our Constitution, our internal arrangements are complicated, we have too much government for a small number of people, we need to streamline our system to become a more efficient society. And that is only one of the problems. On the other hand, we have many smart people. Education system here is not bad, it is just a problem because it has many obstacles. The main problem here is that we do not have a working state. Dayton Peace Agreement imposed complications and because of this the state does not function.
Do you think that education is the main factor contributing to people outside Bosnia being more successful than people living in Bosnia? (for instance, Edin Dzeko became successful and famous after he started to play in Germany and the United Kingdom)
Let it put this way. Our people, who are educated, do very well outside Bosnia because they compete under very defined rules. We have many successful professors, scientists outside Bosnia, sportspeople, because the free market promotes people like Dzeko. But I am speaking about thousands of engineers, doctors, lawyers, who are originally from Bosnia, but they do very well in Canada, the USA etc. That is because the system over there really counts on performance and each of our citizens do very well, they have high performances and as a result the system helps them. Here the system, bureaucracy etc. does not help young people and sometimes there is no need for such talents in terms of utilization of their own skills, abilities. So, for those, over there, there is a bigger playground and more opportunities.
During the floods on the territory of Bosnia-Herzegovina, namely  in Doboj and Maglaj, people were helping each other no matter irrespective of religion or ethnic background, they provided assistance no matter if the ones in need were Bosniaks, Croatians or Serbs. Is it possible that exactly this misfortune will open the door towards the mutual understanding and unification?
There are no bad people, there are no bad nations, there is only bad leadership. So the clashes we had in former Yugoslavia were imposed by the bad leaders. So, of course, people now missed their old good relations and this tragedy brought people closer because they faced the same problems. I am very optimistic that in the future people will cooperate if they are not blackmailed by their leaders. So, yes, this is something that demonstrates that people are naturally inclined to cooperate with each other. During these floods politics where left to the side and people showed their real face. So, I am optimistic.
Elections 2014 are close. What do you expect from the elections? Will they bring any changes, mild or drastic ones perhaps?
Well, I want to believe that elections will bring changes and that people will be optimistic. These should be the kind of elections in which we will test the ideas of the candidates and try to dudge how convincing these ideas are. Most importantly, they have to present the teams, people by names who will present this country and then we can check and see is there is any hope. So, yes I want to believe that these elections will bring new qualities but it is really up to voters, will they precisely vote for the ones who are competent. The really bad thing is that some people do not go to vote. If you do not vote, then you pose misery on yourself. It is an obligation for us to vote, how will we make a positive impact on our state? If you do not vote, then bad people will stay in the office forever.
Bosnia-Herzegovina is on the path towards the European Union. The EU will require various criteria for the membership status, among many, it will require stable institutions guaranteeing democracy, the rule of law, human rights and respect for and protection of minorities. What do you think, is Bosnia-Herzegovina, with the current political and economic system, capable of fulfilling Copenhagen Criteria and enter the EU? If not, what should be changed?
Our internal Constitution should be changed and we should be streamlined as an ordinary European Union country. Only then can we fulfill the requirements. We have to opt on the European Union law on environment, on human rights, on financial systems, on taxation systems etc. Our people do very well wherever they are, why not do as well here? Basically, if we streamline our internal political system, we can easily be part of the European Union and do well. We have so many successful people here, a beautiful country, plenty of natural resources, cultural heritage etc. Why not use that to steer the country in the right direction?