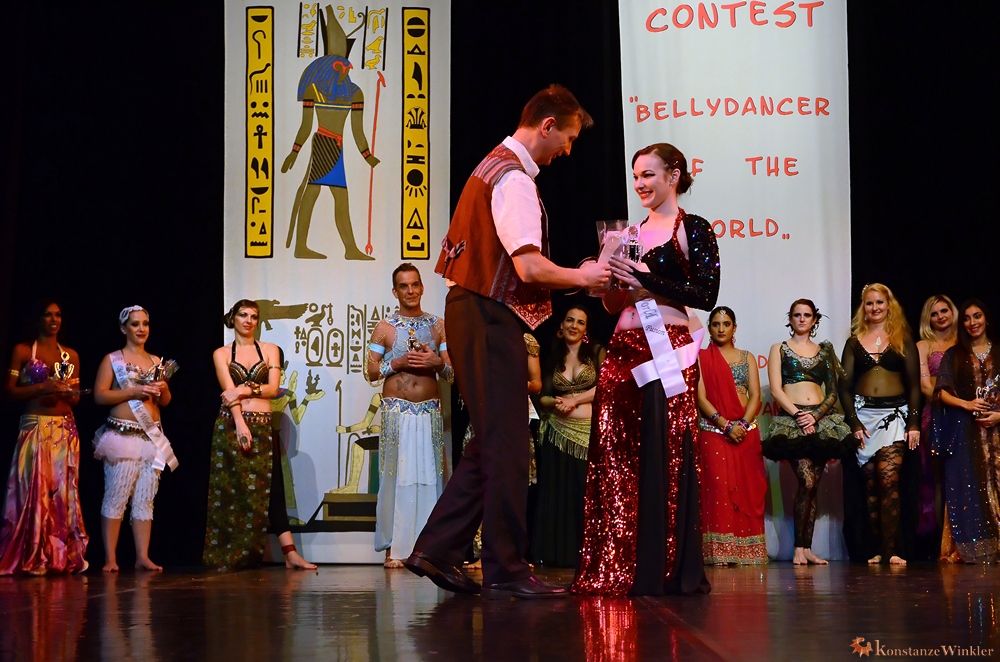 Dancing Against Prejudice
At the recently held Oriental Dance Festival 'Bellydancer of the World', Lejla Mehmedović won first place. In one of the biggest and most important festivals in the world, and the biggest one in Europe, this young woman from Tuzla achieved remarkable success and won first place in the category of Oriental Fusion/Fantasy. This festival has been held for 21 years in a row, and in 2012 had 5.500 visitors. This year, the festival was held from 22 November to 2 December.
By: Maja Tuljković
Can you tell us about the festival and the competition?
'Belly Dancer of the World' is a competition that is held as part of the festival of oriental dance, and this year there were more than 450 participants from the US, Asia and Europe who competed in five different categories. Participants of this huge competition are multiple-award winning professional dancers, some of which were winners of the most respectable competitions in the field of oriental dance such as 'Miss Bellydance', 'Heshk Beshk', 'Cairo Festival' and many others, as well as members of the famous dance troupe 'Bellydance Superstars', which gathers the best dancers from the entire world and sets the standards in modern styles of this dance.
You won in the category Oriental Fusion/Fanstasy. What is this category about?
Oriental Fusion is a combination of oriental dance with other dance styles such as ballet, modern dance, tribal style, flamenco, tango, jazz and other styles. Also, it includes the use of props.
My dance was a combination of oriental dance and tango, which is quite popular in the last few years. The combination of these two dance styles is called Oriental Tango.
Why did you start to be engage in belly dancing? Where did this love of dance come from?
I have been dancing for a long time. I first studied various styles of dance such as jazz, modern dance, show dance and hip hop. I worked as a dancer and a choreographer in the dance group Valentino, with whom I had the opportunity to perform with the biggest names in the Balkan music scene. I have had a love of oriental dance for a long time, so at the end of 2006 when I had the opportunity to attend a training of oriental dance, I didn't spend much time thinking about it. The previous experience I had in dance was crucial to dedicating myself to modern styles of oriental dance, especially cabaret.
You also have your own school of oriental dance. How popular is belly dancing in B&H today?
I held my first class in 2007 in Tuzla, and soon after that I founded the dance studio 'op Lock', where I work as an instructor and choreograher now. In the last ten years, the popularity of 'oriental fusion' as the direction of oriental dance has extremely increased and attracted a large number of dancers who began to cultivate this style. In the last few years, the situation in B&H has significantly changed because we have several schools throughout the country, which are working to promote dance and oriental culture. We are all included in the promotion of oriental dance in the way that it deserves to be promoted, because unfortunately, there are a lot of prejudices about this type of art. Every day, the interest in oriental dance grows, in Tuzla and throughout B&H. So far, my school has taken in around 600 women.
What are your plans for the future? Will you work on some workshops in B&H? Is theree a possiblity to organize a competition in oriental dance in B&H?
I have many plans. Unfortunately, finances dicates a lot, but, as I have already proven, with effort, work and the enormous help of good people, everything can be achieved.
Together with my dancers, who have been great support to me, as well as the Association for the development of the arts and culture 'Artsinteza', until now we have organized several events where we promoted oriental dance and culture, and tried to get it closer to the audience in the right way.
My wish is for oriental dance to be presented in the way in which it deserves, in all its beauty, since, unfortunately, there is a lot of prejudice because there are those who do not respect its true values. Rather, usually due to money or the need to show off, theyere is an innapropriate way of dealing with oriental dance, which is the main reason for the wrong image that most people have. Fortunately, in B&H there are several dance studios that promote this dance in the way that it deserves.