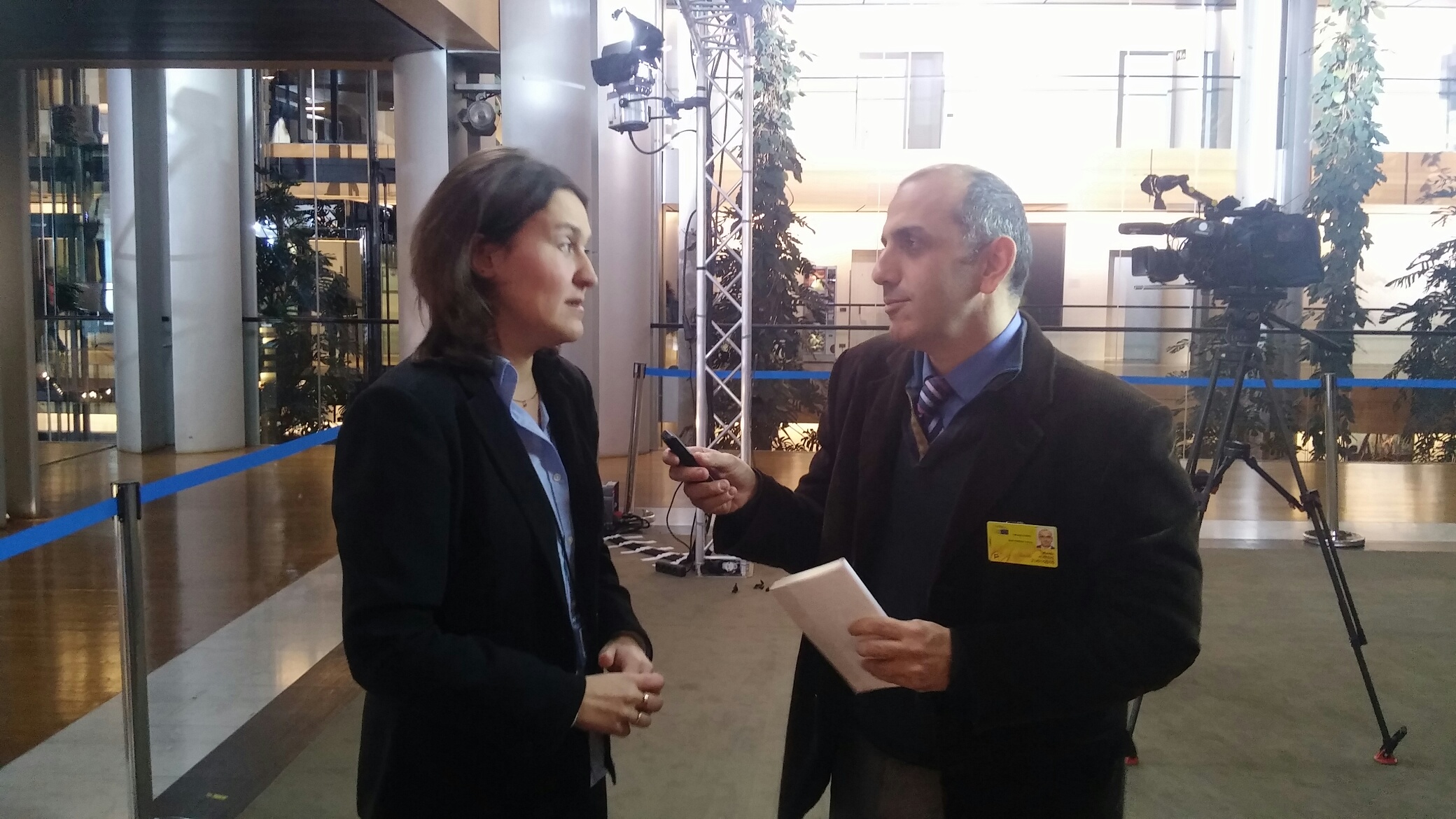 Ankara, February 2, 2016/Independent Balkan News Agency
Kati Piri is European Parliament Turkey Rapporteur, member of the Group of the Progressive Alliance of Socialists and Democrats
What is your opinion on the reaction of the prosecutors in Turkey for the declaration of academicians?
To be honest, I'm a bit surprised with the reactions in Turkey from the side of prosecutors. What I see is intellectuals who work at the university making a clear call for peace which we call in this parliament which I'm making when I meet the government.  You know, when you raise the topic it doesn't mean that you have to raise all the issues related to it. I don't see anything wrong in making a clear call for peace; that's what I see what the academics have done and I'm very afraid for this overheated reaction by the prosecutors and Turkey.
What do you thing about the situation in Southeastern Turkey?
We're worrying about what's happening in Southeastern  Turkey. I was in Diyarbakır twice. In December and also in May. And I see the big difference. In May there was still a piece process on going in December there were curfews in towns, we know that 200.000 people had to leave their houses because of the fighting restarted with the PKK and of course the state security forces. For me the PKK is a terrorist organization; it is on the list of EU and of US no doubt about it. It is unacceptable when I see children 15 or 16 years old wearing guns. What is also happening is curfews which are of course having an affect to the population. 1.5 million people who are affected in this region by these curfews and international human organizations and Turkish human rights organizations that there are  more than 160 civilian deaths by actions being done from the security forces. From what I hear the government keeps denying this but without being there it's difficult for me to establish the truth. But we need to make sure, if we want  the peace process to begin again in the future, that these issues are being investigated fully.
Do you thing that Turkey has the enough support in its fight against the terrorism?
You're right. If  I remember well the first was in Diyarbakır, then  in Suruç then in Ankara and in İstanbul. These are terror attacks which it looks that it was ISIS who did these attacks and for me it shows how vulnerable of course Turkey is.
Turkey is a such big neighbour of Syria and also  a NATO partner and it's very logical to be vulnerable to these attacks. Turkey needs the support of international partners for fighting these terrorist groups, no doubt about it.
Turkey feels alone. Do you think that US and EU are giving enough support to Turkey in this issue?
I see that Turkey for the last 7 months has been a victim of several attacks. I see turkish goverment stepping up the fight again ISIS, and this is that should have the clear support of the international community.
What is the solution for the refugee crisis and do you believe that EU was ready to deal with this crisis?
There has to be a way out. I don't think we have a choice. We see humans suffering, with Turkey itself having 2.5 million Syrian refugees, while in the last 4-5 years we saw 1 million refugees coming to the EU, not to mention the situation in Jordan and Lebanon. And we know that more than 6 million people stil in Syria had to flee their houses. This is a great catastroph  when it comes down to the humanitarian aspect of this war. It has to stop. The EU is fighting for its own image. Human rights  gate keeper we called ourselves. We have democracies working together. Because of everything that happened last year, you see how fragile everything is. How much we need to restore the image of the EU. The way some member states have dealt with the refugee crisis is outrageous, with statements like the one from Slovakian PM, that refugees are welcomed but not if they are Muslims!
I think you hear in European Parliament that every political party is distancing  itself from this type of statements. They are disgusting.