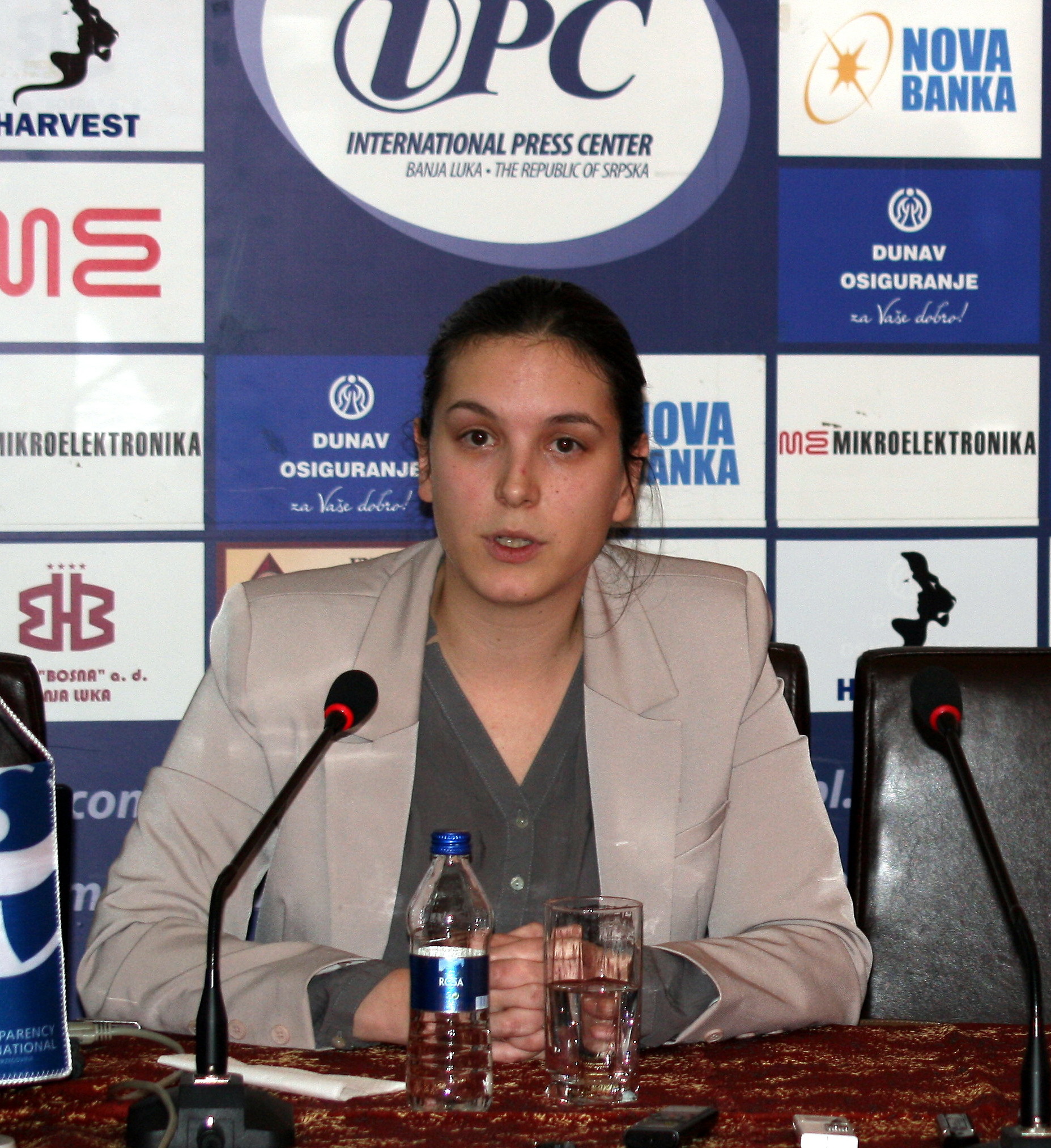 By Mladen Dragojlovic
For more than decade now, Transparency International BiH works towards pointing out the irregularities in political circles and corruption in society, but their work is far from easy. During this period, due to reports about corruption, TI BiH was accused of spying and was placed on the list of "undesirable organizations". Ivana Korajlic, one of the project managers in this organization told IBNA that, despite the attacks, the organisation will continue to fight for a more transparent government in BiH.
During its 13 years of existance, TI BiH has been pointing out to irregularities, non-transparency and corruption in BiH institutions. I n fact, how much has the situation in the state changed from 2001 to the present day? Is this a change for the better or for the worse?
Unfortunately, it is very hard to identify substantial progress in terms of anticorruption reforms in Bosnia and Herzegovina, and even where progress was made in terms of improving the legal framework and fulfilling the conditions set by the Road Map for Visa Free Regime, the implementation of these laws and functioning of anticorruption bodies were undermined by the political leaders.
Furthermore, some of the crucial anticorruption laws (laws on conflict of interests, public procurement, political party funding) were deteriorated and enabled additional space for corruption to occur, while at the same time greater control was established over judiciary and law enforcement agencies, which indicates that there is no true will on any of the government levels, to seriously tackle corruption.
However, it is not to say that TI BiH has not had any impact, especially when it comes to publishing specific cases of corruption, providing legal aid to citizens, and putting pressure on institutions to do their job. But, we still need to see major cases of corruption being prosecuted and less political control over the institutions that must be independent.
How far away is BiH from European standards in the transparent work of public institutions?
Even though Bosnia and Herzegovina adopted the legislation on free access to information before other former Yugoslavia countries, it has now been left behind them, since most of the countries in the region improved their transparency standards and ensured proper supervision over the law implementation. In BiH, we are still struggling to even acquire some basic documents from public institutions, such as contracts, not to mention that we are very far from achieving proactive transparency, which is a prerequisite of an open government.
During election campaign for General elections, in October this year, all political leaders had stated that they "had nothing to hide" and that their campaign was sincere. Was that really the case and is this proven in the post election period when they negotiated for the establishment of coalitions?
This is, of course, just part of the empty campaign promises that citizens have gotten used to with time. The campaign itself was non-transparent, with numerous examples of abuse of public funds for the purpose of the campaign and promotion of parties and candidates, and it ended again with unscrupulous negotiations about coalitions, that even showed potential practice of "buying" the MPs in order to provide the majority in Parliament.
It will be interesting to see whether law enforcement agencies and judiciary will do anything to determine the authenticity of the published recordings of Ms. Cvijanovic claiming to have bought two MPs, and to investigate this practice. It will at the end, I'm afraid, depend on which coalition will form the government and who those two MPs are…
If we talk about public institutions and elected representatives, what is the biggest problem for BiH citizens? Are there some positive examples?
The major problem for citizens is the lack of accountability of elected officials and the fact that citizens are only asked for their opinion on the day of elections, and then they are forgotten for the next four years. Additionally, political leaders (I am saying political leaders since the decisions that affect the institutions and citizens are usually made by party leaders, that do not have to be elected officials) have captured all the institutions, considering them their post-election prey, and instead of serving the rights of citizens, the institutions are serving the interests of few individuals.
Of course, there are always positive examples, in terms of individuals who understand their role and obligation towards citizens, but they are supposed to be the rule and not the exception.
What can be done, and what TI BiH plans to do in the near future to improve the situation?
We will of course continue our fight for a more transparent and accountable government, and a system that will be ruled by law and not individual interests, through various activities that target changes in different aspects of anticorruption reform, but also through providing free legal aid to individual citizens who are witnesses or victims of corruption.
In the following period, we will focus on public procurement, conflict of interests, assets declarations, but also on the functioning of local governments and their accountability to citizens.