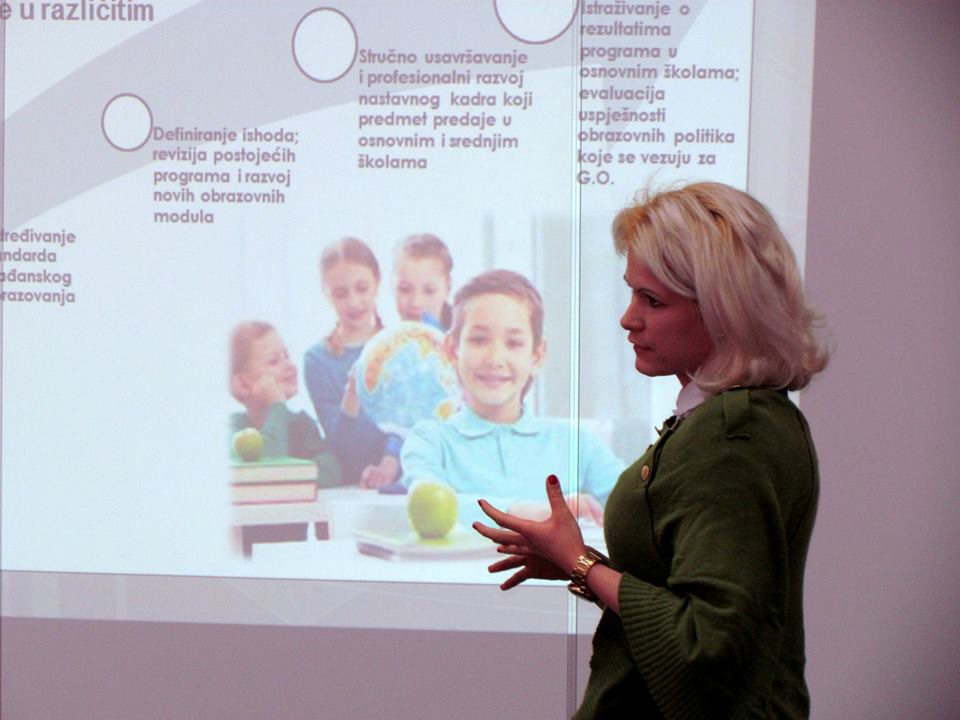 By Medina Malagić – Sarajevo
CIVITAS B&H is a nonprofit organization formed in 1996, whose goals are to promote democracy, human rights and effective citizenship. With the collaboration of local and international organizations, governmental agencies and educational institutions, CIVITAS B&H has been actively involved in the field of implementing quality educational programs to promote the wider goals of democracy and an active citizenship. We speak with Ivana Kešić, Program Manager of the Educational Center for Democracy and Human Rights CIVITAS on the impact of their various projects in the field of education, democratic transition in B&H and involvement of B&H's youth in the democratic transition of the country.
Can you tell us about the past and current programs that CIVITAS has implemented in the educational sector, and what has been the impact among the youth? What obstacles do you face in implementing educational projects given the complicated administrative structures, especially in the field of education?
Civitas developed curriculum is the only common part of the official curricula in all elementary and high schools in Bosnia and Herzegovina. Civic education books used in BiH classrooms (Foundations of Democracy, Democracy and Human Rights and Project Citizen) are developed in three languages, with the same content.  Books used for all other courses, even Math, Physics and English are different for the three ethnic groups.
Civitas' program is implemented in 40 preschool institutions all over the country. Civitas included democracy and human rights education contents in the official curricula of all eight state universities in Bosnia and Herzegovina. So far, Civitas had 36,436 trained teachers, 387 trainers and around 1,083,676 students from all over the country – participants of different Civitas programs. SEED funding has enabled us to donate close to 1,000,000 books in the past 16 years.
Practical part of the civic education course is "Project Citizen" (PC) that encourages civic participation among students, their parents and members of the community. Most important, it provides a first-hand approach to learning about our complex system of government and how to monitor and influence public policy. Approximately 40 000 students from all parts of Bosnia and Herzegovina participate in this program every year.
During the past 16 years PC students truly practiced what they learned: they initiated the adoptions and implementation of numerous laws at all levels of government, introduced inclusive education in schools, initiated building of school playgrounds, sports halls and youth centers, conducted a series of humanitarian and environmental activities in their local communities, etc.
In year 2011 Civitas developed and implemented a new and unique educational module in Bosnia and Herzegovina "Improvement of Democratic Culture in Schools", aimed to stimulate greater participation of students and parents in the decision making process in BiH schools. 60 elementary and high schools from all parts of BiH are involved in the project and actively work on increasing democratic culture in schools.
Still, education reform attempts in Bosnia and Herzegovina can cause opposite effects, as is seen lately with attempts to remove civic education from the curricula of elementary schools in the Federation of BiH. After a historic success and introduction of a separate civic education course in the Republika Srpska elementary schools, Federal ministry of education excluded DHR course from the overall elementary curriculum, which took effect from September 2012. Civitas received verbal support from the Federation Ministry that civic education will be re-instated in the official Federation-wide curriculum, but the official decisions are not reached yet. The reality is that CE has very few defenders inside the decision-making system and the officials do not see it as a priority.
In your opinion, how would you assess the process of democratic transition in B&H, and what areas does the most focus need to be on?
Sixteen years after the Dayton Peace Accord, Bosnia and Herzegovina still faces major political, economic and social challenges because of its cumbersome multi-layer government structure and multiplication of ethnic representation that increases divisions among population generally. The education system in BiH is also profoundly divided, decentralized and politicized, resulting in a system of ethnically "clean" schools where students follow ethnically specific curricula and textbooks resulting in creation of different qualifications, many of which aren't recognized outside of their own system.
Furthermore, schools in BiH suffer from outdated teaching methodology and mono-disciplinary programs which are highly theoretical and unrelated to labor-market realities. The weaknesses of BiH's formal education system are compounded by the lack of quality teachers' training opportunities and, as a result, the majority of teachers does not possess the same key competences that are defined as learning objectives for students.
There is therefore a definite need to reform the education and training system and to emphasize the improvement of both teachers' and students' skills in many areas and create a new dynamic in education in Bosnia and Herzegovina that aims to ensure that basic education suits the needs of the labor market.
In the media B&H is still described as a 'divided' nation. However, based on recent research studies, it is shown that among the citizens of this country, B&H is not as divided on an ethnic basis as described in the media. Do you feel that the youth of B&H are more united on concerns that impact them all, and is this 'ethnic divide' much less visible among B&H's youth?
In year 2010, CIVITAS carried out a survey on intercultural openness/attitudes toward diversity among elementary school students from mono-ethnic communities throughout the country. 78% of the students involved in a survey said that they have never attended any intercultural activity. Although they have never had the opportunity to meet the members of other ethnic group, more than 30% of them answered "not at all" when asked how much they would like to have neighbors of different ethnicity. 33% said they would never enter the religious objects that are not part of their own culture.
Through workshops based on our educational module "Interculturalism" and through the programs of interethnic exchanges, more than 72% students involved have changed their attitudes towards diversity in a positive way, but this is work in progress and challenge for our society.
Since 2009 Civitas implemented a number of interethnic home-stay exchanges that involved more than 1000 elementary and high school students and teachers from all parts of Bosnia and Herzegovina.
What type of lessons and practices has Civitas B&H taken from other countries in implementing programs related to raising awareness of issues such as democratic attitudes and civic citizenship?
Democracy and Human Rights Education Center CIVITAS is a part of the Civitas International Civic Education Exchange program. Together with our international partners, we have designed a systemic approach to civic education and a long-term strategy on how to put this approach into action.  We have partnered with local and international organizations, governmental agencies and educational institutions to develop and implement quality education programs, teaching materials, and teacher training at the pre-school, primary, secondary and university levels throughout Bosnia and Herzegovina.
We are continuously working to increase awareness among public policy makers and civic educators in the region to plan and implement activities that will enable sharing of best practices, and improving education of democracy and human rights.
Today, Civitas is viewed as a leader in the field of civic education, both by the international community and domestic NGOs. It has become a brand associated with joint activities and bringing people of different ethnicities together. Since 1999 Civitas' office has assisted in setting up civic education programs in Indonesia, Malaysia, Croatia and Serbia and Montenegro. Civitas is an active partner in divided societies programs in Northern Ireland, Columbia and Arab Civitas. In September 2005 Civitas hosted a delegation of Iraqi and Kurdish civic educators and assisted them in setting up their programs.
About Civitas TV show for youth "Pravispoj"
The main idea behind the program is: Others offer diagnosis, we offer solutions!
TV show "Pravispoj" has been used to promote diversity, tolerance, peace culture and activism among young people, by portraying various real life issues and and giving concrete steps on how to make positive changes on relevant issues such as youth volunteerism, intercultural dialogues, violence prevention etc. The show also contributed to the social inclusion by including minorities and women both as topics and journalist in each show.
Each 15-minute show explores a new topic by presenting role-play situations that replicate distinct situations in real life that can lead to violence, intolerance, and terrorism and can influence the opinion of youth in negative way. After portraying situations leading to deviant behaviors, the show offers expert opinions, public surveys and presents alternatives and positive approach through promoting positive real-life examples.
Increased outreach to students and teachers contributes to development of mutual understanding and conflict resolution skills and leads to cooperation between them.