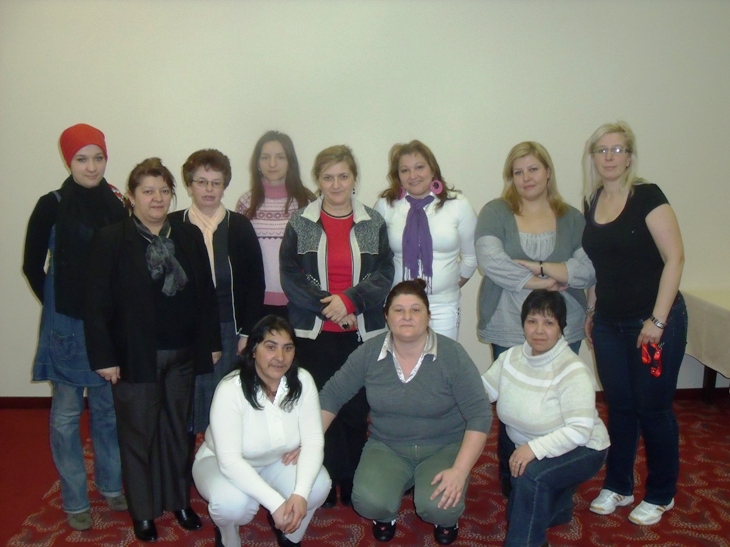 Roma Women Face Multiple Discrimination
By Maja Tuljkovic – Sarajevo
The Association of Roma Women ''Better Future' from Tuzla seeks to reduce social prejudices, economically empower Roma women, and to encourage equality and the realization of their rights to health, education, politics and culture. This is because Roma women face multiple levels of discrimination: on the basis of belonging to a Roma community, on the basis of gender and on the basis of their social origin or status.
Can you first introduce your Association? When was it founded and what are its goals?
The Association of Roma women 'Better Future' is registered as a local, nonprofit, nongovernmental organization that is of an educational and socio-humanitarian character. Our Association is the first Roma women's NGO in B&H, and we work and operate in the area of Tuzla municipality throughout all of B&H. This is the reason for establishing the Association, where there is a lot of opposition to women in general, and especially against Roma women and Roma children in the area of discrimination and violence. They face discrimination primarily from their families and their communities. In order to assist our Roma women and children, we cooperate together with them with other NGO's, municipal and cantonal institutions, as well as foreign donors in order to at least help the Roma population alleviate or overcome the problems they face. The Association is actively working on empowering Roma women through the launch of Roma literary courses, courses for homemade things, hairdressers, etc. One of the priorities is to help the elderly, disabled people, women who are victims of violence, single mothers, caring for the reproductive health of Roma women, gender equality, prevention of violence and development of projects in accordance with the program directions of the Association.
What is the position of Roma women in B&H? How often do they face discrimination?
Roma women in B&H face multiple discriminations. Roma are discriminated on the grounds of belonging to the Roma national minority, on the basis of gender and on the basis of their social origin or status. I would point to a very low level of education among Roma women and their participation in public life. This can be substantiated by the fact that we have commissions, advisory bodies at all levels, that we have Roma representatives in the same who are not sensitized to women's issues, but also, Roma women are not included when it comes to Strategy, Action Plans through the Decade, preparation of reports and other documents relating to women's issues. The plight of Roma women in B&H is highlighted by the state IV and V periodic report on the implementation of the Convention on the elimination of all areas of discrimination on women. In this report, it states that around 90 percent of Roma women do not have any access to health care, social protection and employment. In the part relating to the political and public life of women in B&H, it is stated what are the challenges and obstacles that stand in the way of a woman, just because she is a woman, when she wishes to be actively included in political life. Roma women are in a more difficult position given that they are exposed to further discrimination and because they are Roma women.
In what way do you want to secure Roma women a better future? What are you most focused on?
We in 'Better Future' attach great importance to the empowerment of Roma women through various forms of education, and we are mostly focused on economic empowerment in order to become economically independent of men, but at the same time to give them back confidence and to focus on the political participation of Roma women because we think that we have to participate in the same thing in order to change the bad position. We are also focused on research on education and analysis of the political participation of Roma women at all levels of government, of course, where the Law enables us to do so, especially in the areas of domestic violence. We are also focused on the reproductive health of Roma women and we have organized a series of workshops and checks (PA PAtesta and colposcopy, and of course mammograms). In our association, we help our customers every day, but also those who are not our customers in helping them exercise their basic human rights with good cooperation with institutions.
What are the biggest problems that Roma women face? Has your education influenced their outlook on life, that their future can really be better and brighter?
I would not be able to separate priorities because our problems are all closely related (education, health and social protection, housing and employment), and of course with the above-mentioned political participation. I think that with our training programs for Roma women in B&H, we have influenced their awareness and using the existing mechanisms, the situation of Roma women has started to change, but we are also aware that this will be a long process.
What is the attitude of authorities towards Roma women?
We can freely say that the attitude of the authorities towards Roma women has changed thanks to our activities, because through meetings, roundtables and the media, we presented the position of Roma women to the wider public and the problems that Roma women face have become more visible, as well as Roma women activists.
You initiated the creation of a Roma women's network in B&H. How many organizations are in that network today and what are your future plans?
It is true that the initiative for the establishment of a Roma women's network that is called 'Success' came from our organization because we realized that with associations in a network, we can achieve much more. This was shown by results of the network, that exists for three years, and more about this can be read on the website of the network www.žrmuspjeh.com.ba. The network currently gathers ten organizations. Our future plans are to include individual activists in the network, to organize, just like every year, a 'month of Roma women activism' (8 March to 8 April), to continue on lobbying and advocating representatives of institutions at all levels. Then, the promotion of international instruments on human rights, improving the position of Roma women, increase the political participation of Roma women, strengthen the female NGO sector, promote Roma culture and traditions, participate in the monitoring of action plans through the Decade and lowering them to the local level.