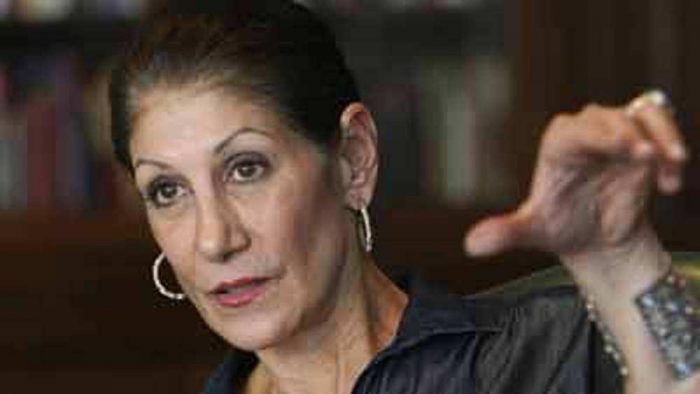 Spiros Sideris had the opportunity to meet with the Treasurer of Cook County, Illinois, Greek American Maria Pappas, in Chicago and talk about issues that affect Greek business people. The interview took place on the sidelines of Greek PM Alexis Tsipras' meeting with Greek American bussines persons in the city.
Pappas finds that the most challenging of things for the Greeks is to achieve creating or getting a public-relations-mechanism since nothing apart from the ongoing economic crisis is being promoted in the international press. Due to the lack of promotion, Pappas says that the rest of the world is unaware of the beautiful things people in Greece are doing.
Maria Pappas
Pappas has held her post since 1998 and three years ago, in 2014, she was elected to a fifth four-year term.
She is the head of the world's 16th largest government. Thanks to her skills, knowledge and ability to organise such an office, she is a manager who attracted the attention of various governments in the world that contacted her asking for her help with certain projects.
Her office is following the top modern technology needed for it to be run. She is a Law graduate and has a degree in counselling psychology.
What does the meeting today between Greek and US business persons and the Greek Prime Minister mean? 
I think that the big thing that came out of this is that they are doing wonderful things, but they don't have a good public-relations-mechanism. They don't have a way to get the good things they are doing out into the larger worldwide press. So, they very much suffer from not having anybody promoting them in a good way. The Greeks have not a public-relations-mechanism in place to show anything good that they are doing. So, it's very difficult being a Greek American because you walk around and Americans, other people, are always saying to you "what is going on in Greece", "what is wrong with these people", "what's their problem?". And the reason that people say this is because no matter what good they've done, they're not promoting it. So, what was mentioned in the meeting today, what we as a group need to do is help them with finding a firm that can do messaging, because they don't understand messaging. They're so involved in whatever it is that they think that they are doing, that the most fundamental thing they don't understand they need to do is have a message and have some buzz words; and they don't have it.
They effectively need a manager then? 
Someone that manages their public relations. They don't have anybody. I mean, who goes out and calls the New York Times and the Washington Post and the Huffington Post all over the world, and CNN, MSNBC and says "hey, this is what we are doing good in Greece"? All they ever hear about is "we have debt problems". There's nothing good coming out of there. So, they need a good public-relations splash.
Are businesspeople showing interest in Greece? 
Yes, I think so. Look, there are so many Greek Americans ready to help. But how can you help when you speak and nobody listens to you? To be talking and having nobody listening to you. OK, they came; where is the follow up? What are we doing? What's the next step?
Perhaps the council for the Greek diaspora needs to be re-established? Would that help? Past experience shows it wasn't the most effective. 
They need a point person. Let Endy (Endy Zemenides, Executive Director of the Hellenic American Leadership Council, HALC) be the point person to straighten this situation out. Let Endy be the rep here to put it together for them. Buy they have nobody. Who do they have here to help? They need one guy here to be the point person and somebody there to coordinate it and get it done.
Was there optimism after the meeting that something could change? 
 I think that Tsipras understands he needs help. He sees that what happened today with Endy is really outside the box; it wasn't just Greeks but there were other people there from other sectors. So, I think it was a big deal. But you know, they need a bit of a wakeup call too. They're very lucky Endy put this together for them…/IBNA