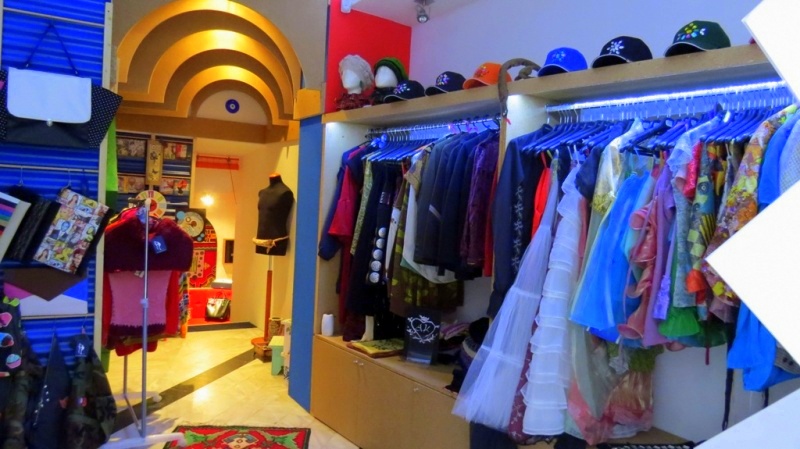 By Maja Tuljkovic – Sarajevo
Ideas Store is the Future of Sarajevo
Fashion Designer Aida Korman launched the first Ideas Store at the beginning of March in Sarajevo. This unusual store is a real dreamland, magical reality that is reflected in the idea of authentic handmade products, which represents a collection of creative crafts in one place. They goal is to offer originality for all those who wish to be different. 'Ideas Store' by Aida Korman is a shopping&cool destination, interesting not only for its product, but also for its interior, which is inspired by B&H tradition.
At the beginning of March you began your Ideas Store, the first such store in Sarajevo. How did you come to the idea to open it and what was your goal?
For a long time I am dealing with the thought to open such a fashion design space tailored to the client. In this age of mass production and increasing uniformity, a special layer of people stands out, who are fashion and culture conscious and do not want to be drawn into the mass, but rather to be different in their clothing. I want to design for those men and women, who appreciate the artistic value of products that are functional and handmande, and from where the idea of an Ideas Store emerged. The store is located at GajevTrg 4 in Sarajevo.
What is the concept of 'Ideas Store?" How can your customers contact you and what do you offer them that are different in relation to 'ordinary' stores?
The service is different in a store for ideas. We devote attention to every client separately and in addition to those existing items that are on sale, everything else can be shaped and designed according to customer request. So the issue is the one on one relationship with the client, making of garments, jewelry, bags, tailored to our clients as well as decorations for the home. We also provide orders for evening gowns, uniforms, gifts that large firms often give to their clients. All of this can be made in the store by hand.
Do you think that such stores have a future in B&H? How did the citizens of Sarajevo react to the Ideas Store?
Such stores are the future of Sarajevo, which aspires to become a top tourist destination. Because above all a shop for ideas is an authentic space where everyone can come to stay, and carry lovely memories from here. Our citizens are enthusiastic and we get praise every day, which makes me happy.
So far you have had a number of collections. Can you tell us about some of them? Are they available in the store?
Some of the collections that are available in the tore are Primavera 1426 formal dresses, Who is Slavic, From Kulin Ban for the spring-summer, which will be on sale during the month of April by 50 percent. In addition to the collection of garments, the collection of jewelry Broken Doll are on sale.
In the store you have Bosnian carpets on the wall. You often create objects with traditional motifs. How important is it to respect and to cherish tradition?
Folk tradition is a part of our identity that we can offer in a new and different way and in all spheres of business, from fashion, hospitality and overall tourist offers because it is what makes us authentic and unforgettable.
You are also the founder of Association of Creative People, which in 2011 launched a project called Lucky Market. What kind of project is this? How often is Lucky Market held?
Lucky Market is a meeting place of creative people and the exchange of ideas, a happening that takes place in Sarajevo every month, as well as in other cities. It gathers people, creative people not only from all parts of B&H but also from neighboring countries. Lucky Market is a platform for creative people, where they could exhibit their works and meet with the public, citizens and tourists. Lucky Market is definitely a project that improves the tourist offer of Sarajevo, because markets of this kind are an attraction anywhere in the world.
Every day, there are more and more people who make handmade products. According to you, what does the country have to do at this moment so that creativity could survive?
The state has to streamline complicated procedures in starting small businesses. All the creative people who want to start their own businesses can receive a certificate that is necessary for launching a business, which the state regulation requires, through the Association of Creative People and schools. However, most of these people are unemployed. They do not have any earnings, no pension and health insurance, so it would be in the interest of the government to encourage creative people to launch small businesses. One of the ways that has been adopted in the EU countries and in neighboring countries is that these people, and especially women in business, have privileges when opening a store, so that the first three years are financed by the state and they do not have to worry about paying rent and utilities.to the municipality. Rather, they can focus on strengthening the company. The first three years are crucial in any business. These countries not only finance, but also offer legal help and monitoring of the business. Generally, our country has to allow business people to work and get rid of the charges in the first three years if they wish to see prosperity for themselves and for society.