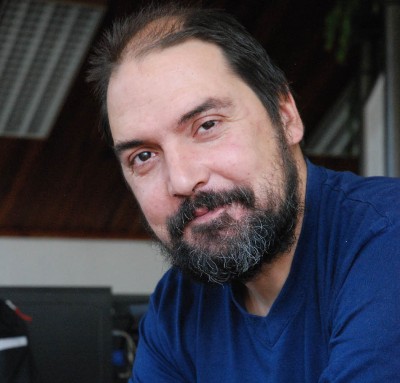 By Milos Mitrovic – Belgrade
"There's no open media censorship in Serbia, but serious pressure on media does exist", prominent Serbian journalist, columnist and editor with the "Danas" daily Dragoljub Draza Petrovic says in an interview for IBNA. Regarding the ongoing claims by Serbian Prime Minister Aleksandar Vucic that he is the victim of media and international conspiracy, Petrovic recalls that Vucic "has always been obsessed with the media". According to Petrovic, in his ultra-nationalist phase Vucic "had been reading all newspapers and claiming that everybody were against him".
Recently, you have been heavily criticized by "Pink" Television, or – to be more precise – by its owner Zeljko Mitrovic, just because you had satirically commented in your columns "Pink" covering of the recent floods in Serbia. Have you been surprised with this "over-reaction" by pro-government national TV and what do you consider to be a motive for the campaign against you?
"Zeljko Mitrovic is the top media magnate in Serbia and he has gained this "vocation" thanks to his closeness with all Serbian governments in recent 20 years, including the actual one, which Vucic personifies. He was never hesitating to lynch the people who had dared to put into question his career, wealth, legality, morality… The matrix is as follows: Mitrovic writes the open letter – or somebody who's more literate does this for him – to his victim, and then TV presenters read it many times in regular and special news. A similar campaign was once launched against Cedomir Cupic, professor at the Faculty of Political Sciences. This was because Cupic has raised the question why the "Pink" TV building – constructed at a time when Mitrovic was close with Slobodan Milosevic – should not be demolished, just like the other illegally constructed buildings.
In the week when attacks on me occurred, I was wondering why premier Vucic's meeting with top tax-payers was also attended by Zeljko Mitrovic – because it's well known that he owes big money to the state; afterwards, I was kidding with the fact (in my column) that Mitrovic – who, generally speaking, spreads genuine kitsch and trash – at once transforms his television into CNN. I must say that "Pink" has covered the floods professionally, but at the same time it has glorified ministers and premier following them in every second, so they have became the heroes of the floods with the support of the most watched television. I think this was the cause of the attacks. Mitrovic openly supports this government, as he has supported all previous cabinets."
At this week's press conference, PM Vucic said "I don't have a problem to be a catfish (pejorative in Serbian, meaning stupid person)", alluding on your words from one TV show. After that, you have again created the connection between PM and catfish, in your column. In the preface for one book you have stated – describing Vucic – "the dude is moron", and once he refused to be the guest in the TV show along with you, claiming that you have offended his family. Are you too harsh, or Vucic is to sensitive on media critics?
"I've mentioned catfish in the humorous TV show "24 minutes with Zoran Kesic", which was produced following the model of far more famous "Daily Show With Jon Stewart" and "Colbert Report". I was very surprised realizing that prime minister commented jokes from satirical TV show at his official press conference in order to explain that media freedoms allegedly flourish in Serbia. In fact, in that TV show I have said that floods are the only situation when it's better for us to be led by catfish instead of tiger, from the simple reason – catfish can swim. But I've immediately added – due to different interpretations – "Prime Minister is not catfish, of course. But the fact is that he is Pisces in zodiac". This TV show is not live program and the authors which carefully avoid anyone feel offended did not "cut" this part in montage, although I have told them to "cut" whatever they like. The satire represents the mental health of a nation. In difficult circumstances, people defend themselves by humor.
Aleksandar Vucic is former ultra-nationalist; in 1995, when Srebrenica massacre occurred, he said in the parliament: "You kill one Serb; we will kill 100 Muslims…" The footage is approachable in YouTube. And you would not call a moron the person who has demanded such retaliations in the core of Europe, in the last decade of twentieth century?  Not to mention his role, as information minister, in repression against free media during NATO aggression in Yugoslavia. My redaction at the time, "Glas javnosti" daily, was closed for two days, thanks to order signed by Vucic. Not to mention that harangue against late Slavko Curuvija (journalist, "Evropljanin" weekly editor-in chief killed in 1999) started with confiscation of every single thing in his redaction including chairs by Vucic's ministry. It's not problem for me to support people that have changed, but I cannot support somebody who did such things in his career. I will support somebody's change for the better, but only if nobody has perished owing to his previous career."
The news on censorship in Serbia during the floods was spread by media, including international ones. Website pescanik.net has been shut down after publishing the analysis that suggests PhD thesis by interior minister Nebojsa Stefanovic was plagiarism. After OSCE has expressed its concern over censorship and pressures on media, premier Vucic demanded an apology from this organization suggesting that OSCE has launched campaign against him because Serbia refuses to impose sanction to Russia. How do you comment government's reaction on both criticisms by journalists associations and concerns from international community?      
"There's no open censorship, but serious pressures on media does exist. For instance, for the first time in Serbia we have recently witnessed the ruling party's press release criticizing national television because one guest in the morning TV show – journalist from "Vecernje novosti" daily – has criticized some appointments in Vucic's government.  The message of such press release is clear – "do not host individuals that will criticize the government". This creates auto-censorship among journalists.
Websites shut down to such extent is precedent in Serbia. Serbian Progressive Party (SNS, led by Vucic) is the first ruling party that had founded so-called Council for Internet and Social Networks, shortly after it gained the power. The members of this body are mostly fanatical SNS representatives, authors of hymns dedicated to their leader, and they have admitted their role in removing certain anti-Vucic contents from YouTube. This was the case with satirical video about Vucic rescuing children from highway amid winter storm, followed by cameras. But such Internet fight is legitimate. Maybe government does not take part in such activities, but we can see that ruling party has its followers which publicly praise their own ability to censor the contents, unfavorable for their party."
When Vucic was information minister, during Milosevic era, newspapers have been banned, pressured by high fines and censored. Some journalists were killed in that period. What Serbian media may expect now, when Vucic is PM, although he has been transformed from ultra-nationalist to pro-European politician? EU is not suspicious over this transformation so far.
"Vucic has always been obsessed with media. During his career in Radical Party, he was reading all newspapers and claiming that everybody were against him. His personal transformation didn't affect this, though he would like to present himself as great promoter of press freedom. But the facts say the opposite. Now, he requests from media only to support his activities, he dislikes any critics. I can't remember that any ruling Serbian politician has commented media reports to this extent. Vucic dislikes analysts, he called them "haters"; he dislikes Olja Beckovic, author of talk show "Utisak nedelje" ("Impression of the Week") because she poses him direct questions. Vucic was shocked with comments of Darko and Marko, authors of radio show which was abolished after episode with jokes about Vucic. His censorship-like inclination is hardly changeable."
Reporting on Stefanovic's alleged plagiarism was also the reason for the pressure on media. In Germany, two ministers have resigned, after it had been found their scientific works were plagiarisms. When will such resigns become possible in Serbia?
"There are more examples. In 2012 Hungarian President Pal Schmitt resigned amid the scandal with his doctorate.  Hungarian Semmelweis University has found that the most of his PhD thesis was plagiarism. In Serbia, there are private faculties which are, in fact, diploma factories, where everyone, including Serbian President, may obtain the degree without much effort. BA and MA of President Tomislav Nikolic had not been double checked, but it's enough to say that he was at rally at the time when he was allegedly passing some examines. Serbian politicians are dishonorable, Serbian politics is backwater that lasts for two decades. Kevin Spacey in "House of Cards" is pure amateur when compared with them".