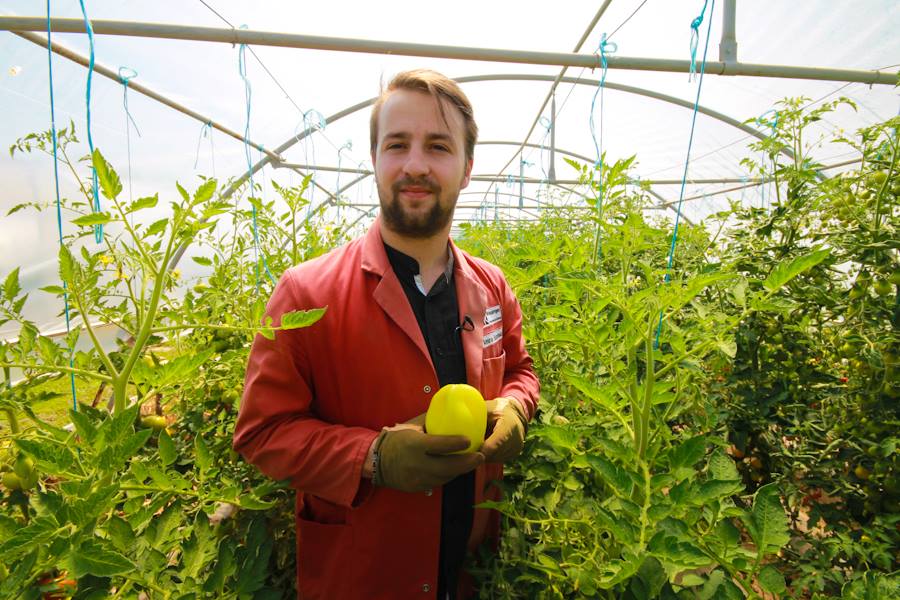 By Maja Tuljkovic – Sarajevo
Green Vegetable – box of fresh vegetables at our door
The young and hard working team of the company Krompir.ba has shown that young and creative people with good and innovative business ideas, and a lot of hard work can achieve significant results and success in B&H market. We spoke with Amel Mukača, about the success of this project, the idea of delivering vegetables at home and its acceptance.
You introduced the project Zelenara and Krompir.ba three years ago. Tell us a little more about that and who is the creator of this idea?
Our family traditionally has been engaged in agriculture. We started with the delivery of potatoes 4 years ago and as the business grew, it became necessary to expand the range of products and we started to deliver other vegetables as well. The idea of Zelenara (Green vegetables box) arises when my brother visited Great Britain, where a similar concept impressed him – delivering of vegetables in a box. We started with the idea of Green vegetable box in September 2010 and it turned out that it was the right move. We started a new thing in B&H market. We do not sell vegetables in kilograms but we have our finished products. We adopted the prices to the market prices of course and our target group is people from 25 to 40 years old, who generally due to their jobs have no time to go to the market and to buy vegetables. We conducted a pilot project for one year and managed to include around 10 subcontractors. We have provided to each of them one greenhouse with all the equipments and training needed and then we purchase all that they produce. In this way, these people got a job and we received high quality partners and quality vegetables. Thus, we can say the project Krompir.ba is our family project, with production which is largely based in Fojnica, where is based Krompir.ba as well, within which we have a seeds store and agricultural equipments. We operate with subcontractors from Ilijaš and some from Herzegovina. We currently do vegetable delivery only for Sarajevo, three times a week.
What does "Green vegetables box at your doors" mean?
Green vegetable box consists of seasonal vegetables, which grow in the territory of B&H. We want to promote domestic products in this way. We deliver throughout the whole year, and the quantity depends on the season, from 7-9 kg during summer and from 6-8 kg during winter.  These quantities satisfy the weekly needs of a four member family. We have introduced the possibility of ordering small and big green boxes, and we plan to introduce green box plus, which will contain additionally cherry tomatoes, arugula and few more fresh herbs. Also, along with those, we have added new products which can be ordered separately, such as jams, sweets, honey, juices and pilaf made based on old recipes.
How do you communicate with customers?
We have started with the promotion and selling through the Facebook and our first advertisement in the form of status resulted with 12 orders within two hours. I think that Facebook is a great tool for promotion of this kind of business and the agriculture needs to be more innovative as well, through social networks and similar modern forms of communication. Also, customers can contact us and order via our official site Krompir.ba or in our phone number.
Usually customers respond well to stories of healthy food and organic products. What are your experiences and are we informed enough?
Customers should be careful what they are buying, even when the sellers in the market say that the products are domestic. Nowadays, young people pay attention on what they buy and this is the reason that the biggest number of our customers is the group of young people from 24-35 year old. Once, a lady at the market tried to sell to me tomatoes from Visoko in February. Also, local farmers use large amounts of pesticides, fungicides and other chemical substances, and of course all of it without a plan or an expert control. Nowadays it is much easier to produce conventional fruit and vegetables. To produce organic products everything should be done manually, such as harvested by hand, mulch vegetables, to make natural pesticides and fertilizers. With this project Krompir.ba, we are trying to raise awareness in Fojnica about organic products and in a foreseeable period Fojnica to be the first city in the world with an organic certificate.
You are an example of how a good business idea with a lot of efforts can achieve success. Does more users means opening of new working places in the company?
Krompir.ba continuously works on further expansion and improvement of its services and products, as well as on the promotion, aiming that citizens of Sarajevo, as well as restaurants, hotels, kindergartens, schools to get healthy and safe food, which arrives directly at their doors. With healthy foods and investing in their production, we additionally keep the environment clean, it can be achieved a higher quality of food, influences the health of people, better taste and gives to the body more energy. Of course, with the increase of customers of our green box will increase the opening of new working places in our company. The fact is that we have started with three employees and now the number of people engaged in this business is much higher.