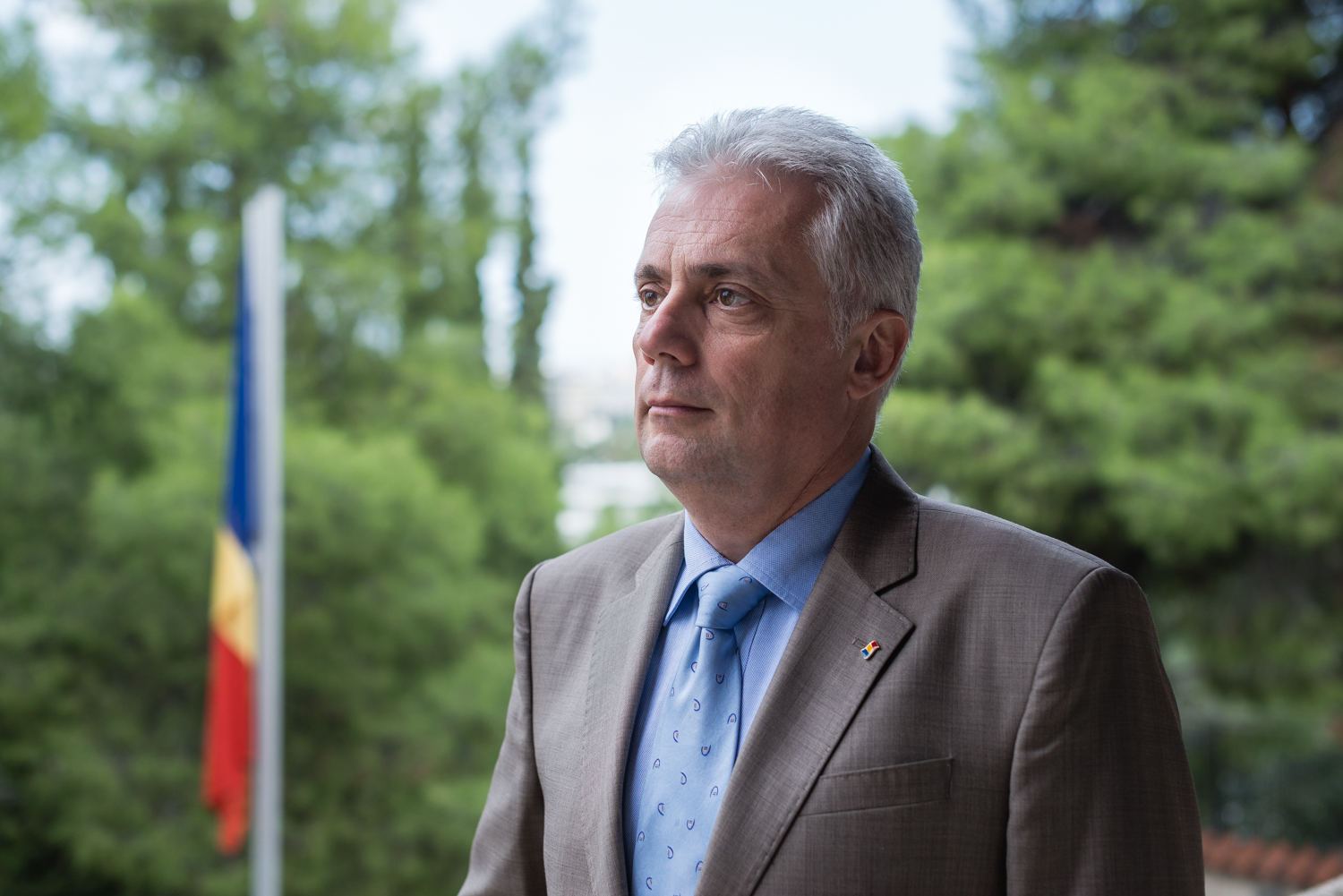 Athens, November 30, 2015/Independent Balkan News Agency
By Alexia Tasouli
Greece and Romania celebrate 135 years since they fathered diplomatic relations. In which sections do we need to enhance our co-operation?
This year, indeed, we celebrate 135 years of diplomatic relations between Romania and the Hellenic Republic, but the connections between our two countries and peoples have very profound historical roots. For Romania, Greece is not not only a neighbour in this region and a partner in the EU, but also a friendly country, to which we are united by very strong historical, spiritual and cultural links.
Romania and Greece have excellent bilateral relations, and there is still an enormous potential to build on, especially in the economic and business fields. We have a very good and intense bilateral political dialogue. Our objective is to have a regular calendar of high level visits both in Greece and in Romania.
As NATO members, EU partners and neighbours in the region, we constantly consult and coordinate on issues of common interests, such as stability and prosperity in this part of Europe.
Among our priorities to further enhance our cooperation, I can mention some fields with a great potential that can be even further explored, such as trade, energy, transports and infrastructure, employment, regional development, education, culture and tourism. We would like to encourage an increased cooperation and promotion of common projects in these fields.
Do you think that Greece, Romania and Bulgaria can to develop initiatives which will help the other Balkan countries to join the EU;
Regarding the EU enlargement to the Western Balkans, our countries share the same principles and objectives and we are committed in supporting these countries to get closer to the EU and join it.
As you know, based on their common approach and objectives regarding the EU and regional affairs, Romania, Greece and Bulgaria have established a very fruitful and efficient trilateral format of cooperation. These trilateral meetings are taking place every year at the level of Ministries of Foreign Affairs and, of course, one of the constant points of the agenda is the EU enlargement to the Western Balkans.
The unprecedented flow of refugees and migrants along the Eastern Mediterranean-Western Balkans route is a challenge that will not be solved through national actions alone. How Romania views this crisis?
We are also very concerned with this situation and we consider that the best solutions should be identified at the EU level, based on solidarity and support. The national efforts are very important but there is a need of cooperation and coordination at the EU level. Romania will also take part in the relocation process, accepting, in the first phase, more than 4000 refugees. Certainly, a sustainable solution of the crisis can be reached only by ensuring a stable and peaceful climate in their countries of origin.
Do you agree with the conclusions of the Leaders' Meeting on refugee flows which says that Greece will have to increase reception capacity?
Greece has a geographic position that requires strengthened efforts, both from the Greek side and from the EU and the Member States, based on the principle of solidarity. The huge efforts and the initiatives undertaken up to now by Greece are very important and appreciated. The relocation process is crucial for sharing responsibilities and, in a way, will ease Greece's task. We are confident that once the hotspots will become operational, the relocation will be more efficiently implemented.
Is there an interest from Romania enterprises to invest in Greece and in which sections?
The economic cooperation is a top field in our bilateral relations. Greece is the sixth foreign investor in Romania with investments in the most important sectors of our economy: telecommunications and banking, consultancy, financial services, insurance, food industry, electronics.  Greece participated in the most important privatizations in Romania, such as the national telecommunication company, and banks. Some of the biggest Greek companies and banks are on the Romanian market, but the backbone of our economic cooperation is the large number of small and medium size enterprises.
Despite the economic crisis, the bilateral exchanges between Romania and Greece have continued to increase, proving the deep potential of our markets. In December 2014, our bilateral exchanges were amounting to 1,3 bn. euro  and at the end of June 2015, they were amounting 740 mil. euro, marking an increase of 10%, compared to the same period last year. This is a very encouraging evolution. At the same time, at the end of August 2015, in Romania were registered 6190 companies with Greek capital, amounting to a total invested capital of 1,7 bn. euros and representing 4,57% from the total number of companies with foreign capital in Romania, which positions Greece as the 6th foreign investor in our country.
In this context, we are very interested to promote Romanian investors on the Greek market and we are encouraging the Romanian investors to explore the opportunities offered by the Greek market. Except the small sized investors, mainly in the food industry, a good start has been made in the field of cosmetics and we hope that new investors will also take similar initiatives in Greece.