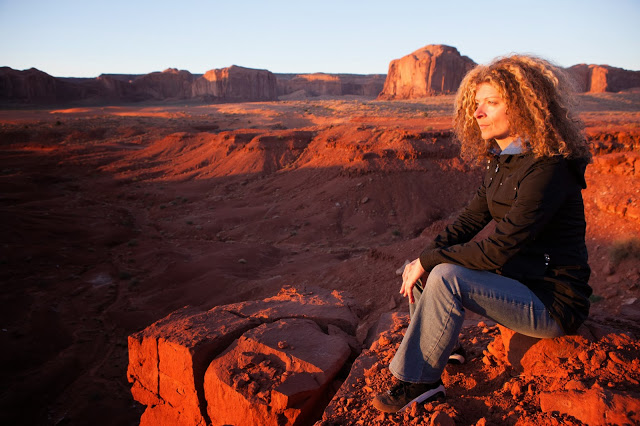 Alma Telibečirević: Artist, Activist, & Public Relations & Marketing Specialist
Alma Telibečirević is an artist, activist and public relations and marketing specialist from B&H who is actively involved in numerous projects, festivals, and has achieved success with her unique art exhibitions. She incorporates rich symbols into her artwork through the use of mediums such as sand and acryllic colors in order to facilitate the process of self-discovery. For Alma, art is communication.''Art is definitely a medium that communicates with our deepest parts, and a medium that can connect things and cultures that would seem incompatible at first sight''.
By Medina Malagić – Sarajevo
Can you first tell us a little about yourself, i.e. your background, where you studied, what field(s) are you primarily active in?  
I have studied painting and education at the Classical Academy of Fine Arts in Sarajevo. I am a freelance painter, project manager and public relations and marketing specialist for various concerts, exhibitions, festivals, seminars and other events. For the past nine years I have organized the Kid's Festival, the largest independent youth event in Southeast Europe, attended by more than 40,000 children each year. I have studied public relations at the Cronkite School in USA as a Hubert H. Humphrey Fellow, which is an amazing program and I would encourage everyone to apply to this program.
I am mostly involved in cultural and art activities. But I do involve myself pretty much also in human rights initiatives.
In what ways do you connect your artwork to your external surroundings? What is it that you attempt to convey to the public through your art?
I can divide my artwork so far into two phases. The first one is related to my exhibitions in Europe "Symbols painted by sand vol.1" and "Symbols painted by sand vol2." which was presented in the USA, and the second phase called "What are the colors of Rumi's Poems", where I created another type of communication through my paintings.
The first one was related to Bosnian as well as Native American symbols. The best way to learn the secrets of the symbols is to follow the recommendations of Ancient Greeks, "Know and meet yourself " – which is equivalent to learning the secret behind one of the greatest symbols: human beings, symbols of the immortal soul and symbol of the universe. In a way of painting them, we can grasp their power and the possibility of multiple creative expressions that we should be open to reach.
The usage of different types of sand opens for us an enormous field of artistic possibilities to communicate and express, especially since for communication of Bosnian symbols I have used Bosnian sand, and in the USA I have used different types of sand from different parts of the USA.
And for sure, while communicating through symbols of two quite far and different cultures, one can find much more commonalities than differences. Art is definitely a medium that communicates with our deepest parts, and a medium that can connect things and cultures that would seem incompatible at first sight.
The second part is related to my personal way of experiencing Rumi's poetry. He is one of the most widely read poets in America and is seen as a new philosophical force. He deals with the human condition, personal growth and development in a very clear way. The world of Rumi is neither exclusively the world of a Sufi, nor the world of a Hindu; neither a Jew, nor a Christian; it is rather a state of an evolved human who is not bound by cultural limitations. I could say that this exhibition is very private but at same time very exposed. It connects my deepest emotion communicating them through colors and poetry, but still using acrylic colors and sand. This time mostly black sand was used as background.
What are the types of artistic mediums that you use in your art? What are your stylistic preferences? Who are your influences and important sources of inspiration, and how do you weave that into your own artwork to create something that is uniquely yours?
I could say that some of this I have answered in previous question, but I can be more specific here. I love to play and discover new ways of expression through creating art. As a painter I still stay inside of the canvas, but I do use sand as a medium that I do see as something so powerful. It connects perfectly, creating amazing variations of different shapes and texture. I am in love with colors, their symbolism and the way they interact with observers. So I would say that I do love impressionism and expressionism a lot. I believe that art is a medium for communication with the Inside Empire of each of us, and to discover the unknown and to provoke the hidden. That is why I do believe that each form of art communication is unique and original as much as it is an honest way of our communication.
You are involved in the Kid's Festival in Sarajevo. What types of activities do you organize for this festival? There has been increasing criticism that the education systems in many countries in the world do not devote enough attention to the arts, dance, and other creative fields. Is the situation the same in B&H? Do you think that children and youth do not have sufficient exposure to the Arts?
I have been part of this festival since the idea of its creation was born, so more than 10 years so far. I am the workshop coordinator and responsible for its educational and creative progress. Living, working, creating in Bosnia for my whole life, I truly believe that Kids Fest has done more for the youth of this country then any political decision since the end of the war. We are trying to open children's perspective, teach them how to be more open and creative, and we are also helping them to meet children from other cities and hopefully create a network among them. Our education system is very questionable; we can see that from different examples. We really need to give a chance to our youth to start thinking with their heads and to start making choices that are best for their future.
Art in this country is considered a luxury, which is the wrong approach. Art is necessary and the best medium to communicate between each other, inside of the country but certainly also with the outside world.
What role does the artist have in a society, or what role should the artist have in any society? How would you apply your definition of the role of an artist to the reality of arts and culture and the position of artists in B&H? 
This is a very delicate society, which suffered from the war, then transition, and today is extremely fragile and divided, as well as corrupted. Art should be crucial within all those things; art can help us to overcome our trauma, to share and learn about our differences, and to connect our common things. Art should help people to speak for themselves and to learn more about others and our differences. So a Bosnian artist should create all the time and communicate about all the things that they are dealing with, positive or negative but in an inspirational way, in a way that will influence others and especially new generations. We should teach them to dream big.