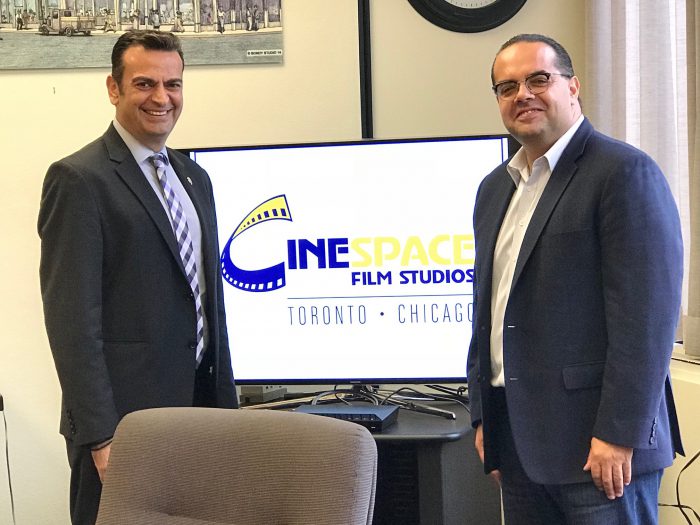 CinespaceThe president of the family-owned Cinespace Chicago Film Studio, Alex Pissios, spoke to Siros Sideris of IBNA ahead of the Greek premier Alexis Tsipras' visit to their studios and his excitement to have him there. The Pissios family has managed to bring Hollywood to Chicago with great success. Pissios specifically said that "after some good discussions, there is a possibility of maybe doing something in the future in Greece."
You were born in Chicago, of Greek descent, and your business is producing movies via Cinespace studios. 
My three uncles, Nick, Steve and Larry started Cinespace 30 years ago in Toronto. We opened up here in Chicago in 2009. We currently have, between both facilities, approximately 50 sound stages and we're really excited about having the Prime Minister come visit us to show him what we've accomplished here. We are very proud of our Greek heritage and where we come from. And we are hoping that maybe, after some good discussions, there is a possibility of maybe doing something in the future in Greece.
Have you thought about doing something in Greece? 
Yes, we've always talked about it. But you know, infrastructure has to be right. You have to have the correct infrastructure in order to develop something in Greece. Developing stages is the last thing you'll want to do. The first thing is good communication with the local government, good communication with the labour force, good communication with the universities; and once you have all this put together, then it's a good opportunity to build stages.
Greece is going from a period of crisis to a period of growth. Could your story of how you came to the States and how you got to where you are, be one that you could tell the Prime Minister to do the same for Greece? 
Oh sure. If everything is organsied and you have the government, the city, the state, all put together and wanting to work together, you can do great things. But you've definitely got to have the infrastructure.
Could all of this possibly be the story of a movie? Have you thought about that? 
 It's possible. Anything is possible.
How strong is the Greek community here in Chicago?
There is a big Greek community in Chicago. A very strong community.
Can the community help Greece exit the path of the crisis? 
Absolutely. I think you can do anything as long as everyone is focused on the same thing. Everyone has to get involved, put in a lot of hard work, get on the same page and I think great things can happen anywhere.
Do you have feedback about the visit of our Prime Minister here and what was said in the meetings with the business people? 
Everyone is excited that he came to visit our city. Very excited. There is a lot of buzz in Chicago in the last couple of days.
What are your plans about the future? 
Keep growing, keep developing and keep doing great things…/IBNA