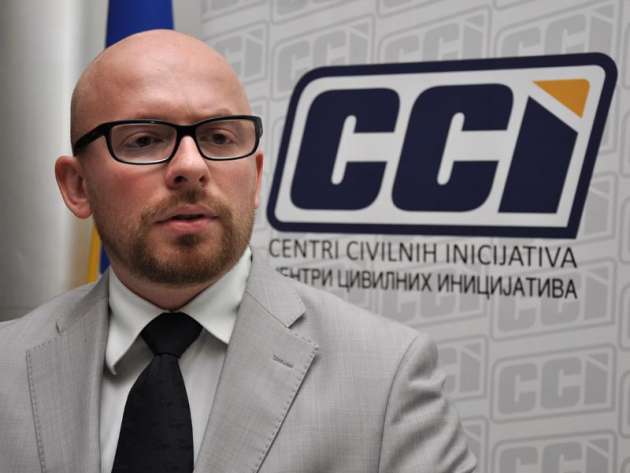 By Mladen Dragojlovic
Non government organization "Centers of civil initiatives" (CCI) in last several years follow the political, economical and social situation in BiH and publish results of their studies, in order to show to citizens the real picture of society. In many cases, politicians, governments and Parliaments in the state dispute the result of the studies, but this NGO always has reliable arguments for their statements.
Adis Arapovic, project manager in CCI, said in a interview for IBNA that their job will not stop with the upcoming elections in October, and that they will continue to follow politicians and their work to inform citizens about all important questions in the state.
CCI is an organization which closely monitors happenings on political scene and work of elected officials in BiH. How difficult was to acquire information from state institutions and write an actual report on their work?
In the last several years the problem of "closure" of institutions is less obvious, primarily due to the relative good legal framework on freedom of access to information. However, the fact that CCI has access to a larger database of information does not mean that all citizens, groups and organizations can have the same access. This leads us to the conclusion that governmental system is not essentially opened to public, but on the calculated and pragmatic manner selects the level and availability of information. Good public image and support, which CCI has among citizens makes this process easier, so our analysis have the task to make semi-concealed information ​​publicly available. Partially, information are available on websites of institutions, and part of the information CCI gathers with its presence on Parliamentary sessions and, periodically, with its presence on the sessions of governments. Together, all this different methods contribute to the preparation of comprehensive, fact based and unbiased reports, which most of the citizens and politicians consider useful and benevolent.
In the last four years, according to statements of politicians from ruling parties in election campaign, BiH made progress in all fields. Is this true according to the information CCI has?
Most of key economic, social and political indicators show a different picture. BiH did not make a single step towards European Union and NATO integrations. In several cases, BiH was under threat that it will be suspended from Council of Europe, European energy community is considering imposing sanctions, European Court for human rights verdicts are not implemented, as well as local courts verdicts, the level of corruption has been the same for decades, the number of unemployed is 40,000 bigger than four years ago, external debt in the last six years has doubled. In addition, current account deficit is measured in billions of euros, foreign investments are 50% lower than five years ago, public spending has not been reduced, the government's response during the floods was bad, there were destructive and massive public protests in February this year, there is a permanent political crisis, break on public services in health, educational, communal services. I think that this is enough to illustrate an answer to your question. I want to be clear: this is a very, very unsuccessful mandate on all levels and for all political parties, which were involved in the governments of BiH.
Apart from these negativities, is there anything that BiH elected officials made in the last four years what can be characterised as positive?
There is not much but, of course, there are some positive examples. There have been obvious efforts in the acceleration of road building in both entities, Federation BiH and Republic of Srpska. Also, there are some moves in growth of industrial production and export. But, all that is not enough to stabilise the bad economic and social image of the country. What's more, political instability nullifies all these successes.
Many analysts think that this election campaign is the most unfair ever in BiH. As they said, never before was there so many imputations and attacks among various political parties. What does CCI information say on the matter?
I don't think that this is the most unfair election campaign ever in BiH. On the contrary, some earlier campaigns were marked with serious incidents, murders and attacks motivated by national or religious hatred. Today, we don't have such extreme cases. There is a lot of political manipulations, calls for "spirits of the past", baseless discrediting of political competitors, political inquisition and many other things. It is basically good, because many secrets are revealed. On the downside, this situation has a bad influence on voters and encourages election abstinence.
What should citizens expect from newly elected officials?
They should not expect anything – they must demand. With massive participation in the elections citizens first must show responsibility, which later can demand from their representatives. Democracy is based on temporary confidence, which voters give to politicians, and permanent demand for results.
As Frederic Douglas said 150 years ago: "Power concedes nothing without a demand. It never did and it never will".