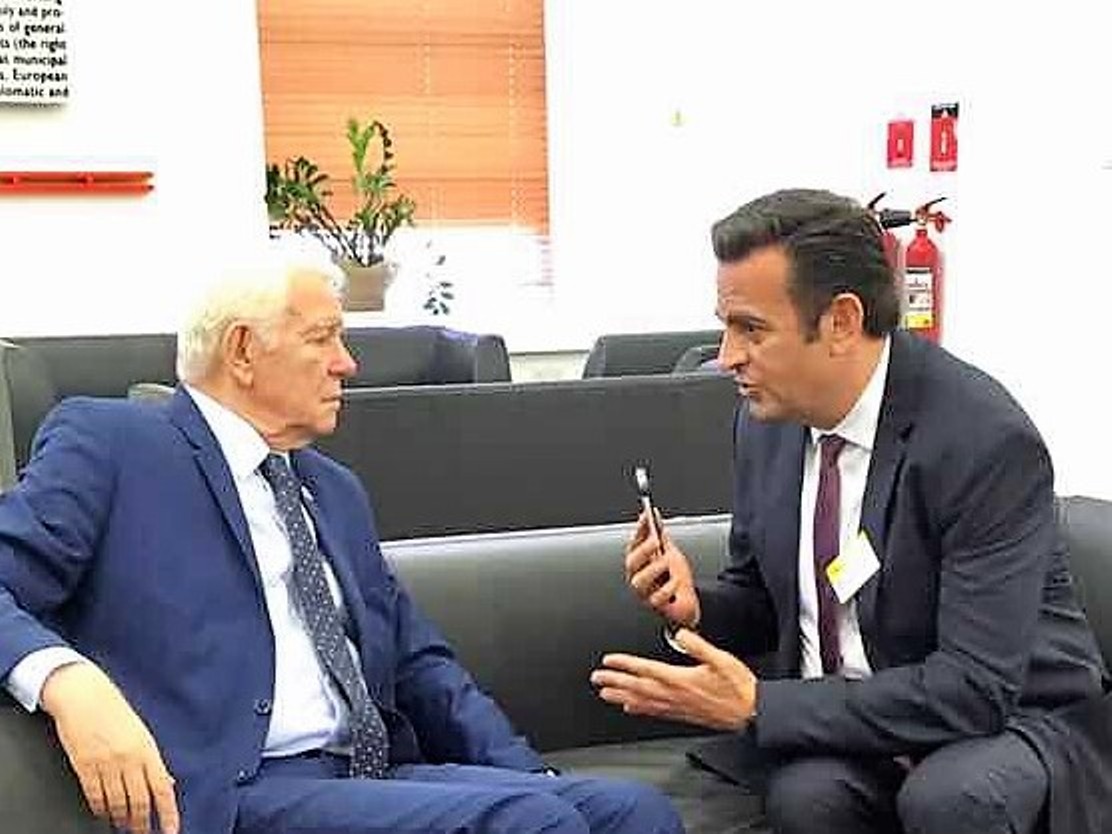 This is the first of three interviews taken In the framework of the 127th European Council of Foreign Ministers' Meetings. In this first interview following his meeting with Greek Foreign Minister Nikos Kotzias, Romanian Foreign Minister Teodor Meleşcanu spoke with IBNA about Romania – Greece relations, the situation in the Western Balkans, Romania's accession to Schengen and the impact of Brexit.
This is what he told us:
This was one of your first official meetings with the Greek MFA, Nikos Kotzias. What did you discuss and what are your expectations from this meeting?
We had a very concrete and applied discussion because relations between Greece and Romania are extremely tight and have a very long history. There were very strong connections from ancient times, in trade, but also from the political point of view between Greece and Romania.
What we are trying to do now is to establish some mechanisms which would permit us to have a permanent dialogue at a political level, and also to try and discuss the important issues for our countries in the region.
Like what will happen with Brexit, what will the impact be on Greece and Romania, or what will the role of the Western Balkan countries in Europe be as well as what we can do for the development of the direct economic relations between Romania and Greece.
Our idea is also to link, to connect, our region which is the Balkans, Eastern Europe, with other regions like the Arab countries with which Greece has very good relations and can really contribute to the development of these issues. We are also thinking of having a meeting in June, a trilateral meeting between Bulgaria, Greece and Romania because we are countries with very common interests. We will also try to analyze the possibility of having some common interests promoted in European Union institutions, etc.
The second project, either before or immediately after this trilateral meeting is to arrange an official visit by Nikos Kotzias to Romania. A bilateral visit which will be dedicated to the establishment of this mechanism of dialogue and support between our two countries.
Are you concerned about the impact of instability in the Balkan countries like FYROM, Albania, and Kosovo in the area?
We have a real problem today in the Western Balkans. The instability is at a point at which it could create some problems for neighbouring countries and for the countries themselves first of all. That is why, together with Greece, we are concentrating on the possibilities to support and encourage the reforms in these countries in order for them to become members of the European Union as quick as possible. From our point of view this will solve part of the problem; but an important part of the problem is developing our relations with these countries as well as developing relations between us and the other countries from the Western Balkans as a whole.
Greece, Romania and Bulgaria have a certain experience, we have a certain possibility to really encourage them on the road to the EU because from our point of view this is the only solution for a region which is confronted with difficulties now.
You talk about Greece, Bulgaria and Romania. What about Croatia?
Yes, we have a very close connection with Croatia. I discussed this with the Foreign Minister in the last meetings we organized in Brussels. We invited them to attend and they attended. I think we should continue this practice in which Croatia will be also part of it, especially when we discuss issues connected with the Western Balkans or the Central European region. Yes, we have a very good relation with Croatia and we will try to organize it in a good manner.
A question about Schengen. Romania and Bulgaria – two EU member-states – have a problem as they are not allowed to use the Schengen passport visa. Is there any development concerning this issue?
Yes, we have a huge support. For the time being it appears that some Nordic states have some reservations. And Germany of course. But the rest of the European countries are supporting Romania's accession to Schengen. Romania is a de facto member of the Schengen area. We are applying all the Schengen practices and policies at the entrance to the EU. We are working to have direct access to the Schengen group database which will permit us to be more efficient because we can have access to all the data about different persons when they are coming into Romania. And with this, we are practically a de facto member of Schengen. But from my point of view I think it will very soon also become official due to the support we have from Greece and many other countries in the European Union.
Do you believe that the EU needs changes and in which direction?
Yes, in a way. We have to examine what the future of Europe is which is confronted with migration, financial crisis, terrorism, and many other things. And more than that it is confronted with the departure of Great Britain from the Union. And one of the subjects we decided to examine together with my Greek colleague is exactly the future of Europe. We believe it should be a very strong, solid and inclusive European Union in which all countries will benefit from the solidarity and support on behalf of the EU and they will be respected also as full members of the Union without there being differences if you are very big or if you are very small. This idea will continue to be one of our points of interest in our discussions with our Greek colleagues./IBNA