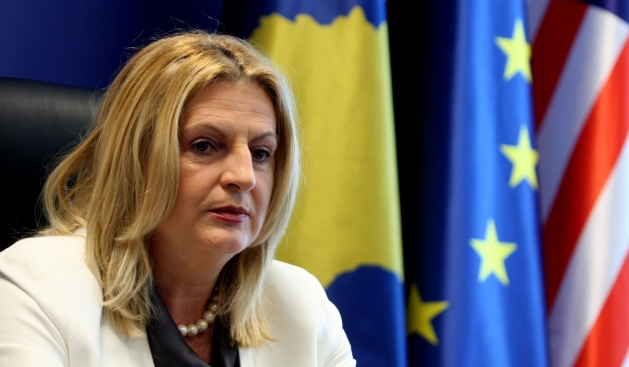 By Tinka Kurti
Pristina, July 15, 2013
Pristina and Belgrade have not yet concluded their talks.  Both sides will continue to discuss the reintegration of Serb police officers.
A new round of talks will kick off with the aim of implementing the Agreement of the so called 'normalization of relations'.
Deputy Prime Minister of Kosovo, Edita Tahiri which is the coordinator of the delegation of Kosovo said that as of Tuesday there will be talks for the illegal structures of security.
"Here we will deal with all illegal stations verified by EULEX. On the other hand, we expect the gradual shutdown of parallel courts and prosecutions. Meanwhile talks will continue for the process of reintegration of Serbs who have expressed their desire to become part of the institutions of Kosovo", said Tahiri.
Based on the amnesty bill voted by the parliament in Kosovo, members of illegal structures which will benefit from the amnesty will be entitled to apply and be reintegrated in the legal structures provided in the agreement reached between Pristina and Belgrade.
European Union Mission in Kosovo, EULEX has reported to the work groups that Serbia has now shut down all parallel police stations in the north, said Tahiri.
"After the shut down of police illegal stations, in Brussels we will also discuss on the closing of the so called 'civil protection' structure and the disarmament of this illegal formation", added Tahiri.
Meanwhile the director for Kosovo at the government of Serbia, Aleksander Vulin has declared that no Serb which has been employed in the parallel structures will remain jobless.
But Tahiri says that there are criteria that must be met on this. According to her, employment will be made based on legal frameworks and possibilities of the institutions of Kosovo.
"The criteria are: nationality, necessary qualification, education, necessary experience. Part of the criteria is also the absorbing capacities of our institutions and the ethnic criteria which are sanctioned in the Constitution", said Tahiri.
The next meetings in Brussels are expected to last for more than a week. Edita Tahiri says that talks on security issues will continue until the end of the week and if necessary, they will continue even next week.
The end of this week is expected to mark the start of talks on issues of justice. These talks are expected to continue until July 24, after which the new round of talks between the prime ministers of Kosovo and Serbia is expected to kick off.
"There will be talks and commitment during the whole summer, because these are two important deadlines. September 1 will mark the full shut down of all illegal structures of justice, while September 30 will see the integration and dismantling of every kind of illegal structure that exists in the domain of security", said Tahiri.
Meanwhile, Kosovo has started to approve the bills needed to adapt to the Brussels Agreement. /ibna/