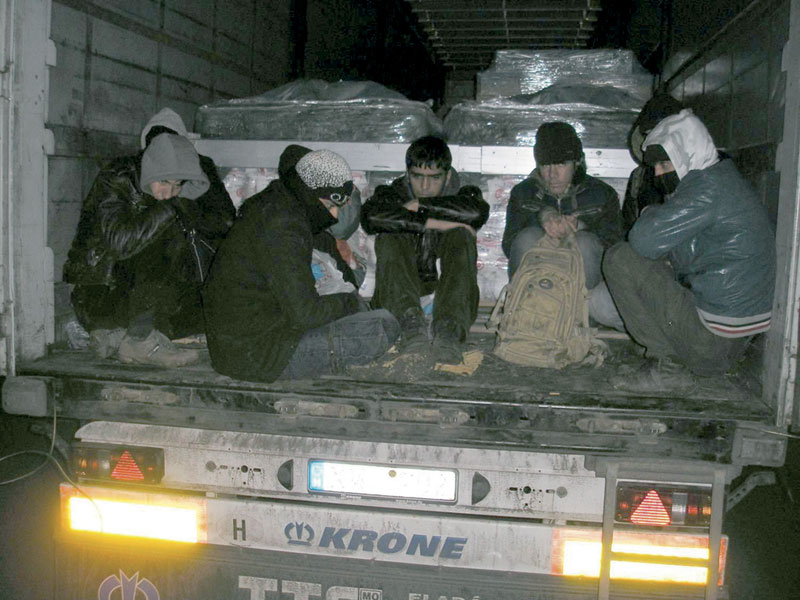 IBNA Special Report/ How do illegal emigrants enter in FYR Macedonia? How much do they pay to use this country as a transit country to reach the EU? The flourishing of the traffic of human beings and police measures to stop it
Skopje, July 15, 2013 – By Naser Pajaziti
The Ministry of Interior in FYR Macedonia has increased security measures in the border crossing points in order to stop the numbers of Afro-Asian emigrants which are entering the country from Greece.
This ministry has declared that it has enforced these measures especially in those points which are known for illegal crossings, but inspections have become more frequent in the railway system and railway train station near the Greek border.
The Sector of Interior Affairs in the border town of Gjevgjel informs that tens of foreign emigrants have been caught during the weekend, mainly from Asian and African countries where there are violent conflicts.
SIF says that two Syrian and one Iraqi national were caught last night on the board of a merchant train near the border with Greece. Based on international laws on emigration, after they are stopped, the emigrants are delivered to Greek authorities, as this is the country where they've entered from.
But, a large number of Afghani, Iraqi and Syrian emigrants have also been stationed near the border with Serbia. Their favorite location is the Albanian inhabited village of Llojan near the border with Presevo on the Serb part.
On the streets of Llojan one can encounter Algerian nationals, Somalis, Tunisian and in particular Afghans and Pakistanis, which remain two of the most represented nationalities. In total, hundreds of them temporarily live in this large village, where the majority of its inhabitants live abroad in countries such as Switzerland, Germany or Belgium.
Emigrants in this area live in tends, but in the majority of cases they spend their time in the bars of the village in order to prevent controls and police raids which frequently take place.
Emigrants are also a means of gain for traffickers which organize their journey to destinations near the border in exchange of a particular amount of money. A journey from Gjevgjeli to Llojan costs 500 Euros per emigrant. Emigrants aim Llojan to then go to Serbia and then to the EU countries, using Hungary as a transit bridge.
The Ministry of Interior has stressed that it has taken measures to stop the arrival of these emigrants and that a part of them will either be deported from the country or put in asylum seekers' centers in Skopje. /ibna/