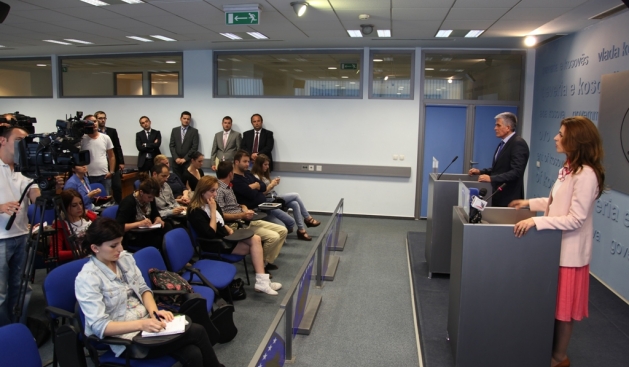 By Tinka Kurti
Pristina, July 11, 2013
Over 4 thousand Kosovo nationals are currently found in the Hungarian refugee camps soon waiting to be repatriated to Kosovo. The Minister of European Integration of Kosovo, Vlora Çitaku held a meeting yesterday with competent institutions for the fight against human trafficking. Present in the meeting were the Minister of Interior, Bajram Rexhepi, Attorney General, Ismet Kabashi, head of Police of Kosovo, Shpend Maxhuni and the head of the EULEX Executive Division.
During this meeting Çitaku said that asylum seeking is no longer an option for Kosovo nationals in the EU countries, adding that asylum seeking is no. 1 enemy for the lifting of the visa regime for Kosovo.
"I call upon all Kosovo nationals not to fall a victim of criminal groups by risking their life", said Çitaku.
Meanwhile, the Minister of Interior, Bajram Rexhepi said that starting from Thursday, the first bus is expected to arrive from Austria with repatriated Kosovo nationals from this country. "Now that Kosovo nationals can enter Serbia only with ID cards and then get a cheap ticket to Hungary, is making their life easier."
This meeting also pointed out that people who fall a victim of deception risk their personal safety, spend a lot of money and end up in asylum seekers' camps. After this, these people are repatriated to Kosovo and they will be forbidden to enter the Shenghen area for a period of 3 to 5 years.
Meanwhile, police representatives said that enquiries have now started on several rings of traffickers and that two persons were arrested yesterday.
"Enquiries have already been launched, in order to arrest traffickers and those who encourage this process", said the head of the Police of Kosovo, Shpend Maxhuni.
Meanwhile, the Democratic League of Kosovo MP, Vjosa Osmani has considered the reaction of the government of Kosovo as hypocritical.
"Hypocrisy knows no boundaries. The biggest danger for the liberalization of the visa regime are not the people and traffickers, but extreme poverty that reigns everywhere in Kosovo as a result of bad governance, corruption and organized crime. There's only one address for this and that is the government of Kosovo. According to the government, the citizen is always to be blamed", said Osmani. /ibna/