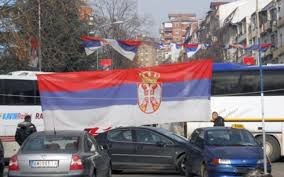 Pristina, July 29, 2013
Serbian politicians of the North of Kosovo demand a safe environment in that part of Kosovo for the holding of elections and at the same time, they reiterate the rights of the Serbs not to participate in the elections.
"The voting or refusal to vote is a democratic right of the Serbs. Thus, as far as security is concerned given the democratic tradition of the Serb people, I believe that nobody will suffer any consequences if they participate in the elections which are held according to the laws of Kosovo", said the leader of the Serbs of the North, Marko Jakshic.
Meanwhile, experts of security issues in the country say that nobody expects the electoral process to be threatened. According to security expert, Naim Maloku, no deterioration of the security situation there is expected, which would in turn affect the participation of Serb citizens in the elections.
"I believe that this agreement that Serbia has had with Kosovo will have an impact on them (the Serbs of the North) in order for them to obtain the green light or the order from Belgrade to participate in the elections. I don't expect any problems in the security situation, neither in the north, nor in other parts of Kosovo. Constant pressure of the international factor on the current government in Serbia is needed in order for this government to comply and implement the Agreement", said Naim Maloku, expert of security issues. Maloku said that Serbs of the north of Kosovo are guided by Belgrade and in this aspect, they are disciplined.
So far, the majority of Serb leaders in the north of Kosovo have already declared that they will not participate in the elections that will be organized by institutions of Kosovo.
"Now that we're ahead of the elections, the people are oriented toward the elections for political benefits or not. What we know is that if Serbs in the north of Kosovo participate in the local elections conducted by Pristina, they will lose their freedom", says Jakshic.
But, according to Maloku there are now signals that the participation of the Serbs of the north in the local elections of November 3 may be large, meanwhile according to him, the electoral process is expected to be quiet.
But the Serbs of the north, not only have they declared themselves against these elections, but also against the agreements reached in Brussels between Kosovo and Serbia.
Nonetheless, in order for elections in Kosovo to be held on November three, an agreement was needed between Prime Minister Thaci and Dacic in Brussels. The first one who had mentioned this date was Prime Minister of Serbia, Ivica Dacic. /ibna/