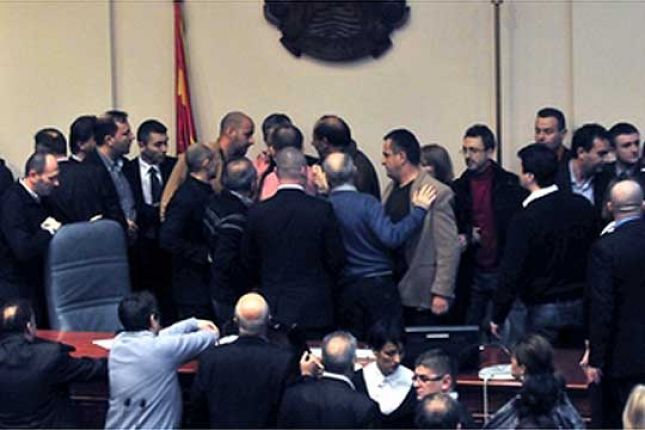 By Naser Pajaziti
Skopje, July 30, 2013
Dialogue between political parties continues to suffer a crisis, as majority and opposition in FYROM have not found a common language to continue the investigations over the violent events of December 24 last year in the parliament of FYROM.
The European Union has appealed for political dialogue to continue in order to solve the contested political issues, which are criteria for the country to receive a positive reply in September and October from Brussels.
December 24 events have increased tensions, as the opposition demands for responsibility to be held about the fact that its MPs along with journalists were ousted by force from parliament. The opposition considered this as an act of the destruction of democracy and demanded the resignation of speaker of parliament Trajko Veljanovski and of the Minister of Interior, Gordana Jankulovska.
But, the party in power, VMRO-DPMNE has rejected these comments, stressing that all the violations taken place on December 24 will be investigated. The establishment of the enquiry committee which would shed light upon this event was made upon the incentive of Euro commissioner for enlargement, Stefan Fule, but the committee failed two weeks after its creation due to the resignation of its chairman, Borce Davitkovski. The latter said that he was obliged to resign due to the numerous distinctions between majority and opposition.
The political expert, Edmond Ademi says that the committee is out of use due to the failure to achieve a balance between the positioning of the majority and opposition. According to him, the country is in a political crisis and that this stalling is a bad signal for the future in the aspect of Euro Atlantic integrations.
"This situation shows the need that someone must come from abroad to fix our domestic problems. This shows a low level of political communication and dialogue and the lack of will from politicians to take responsibility", said the expert on political issues Ademi.
Analyst Kire Vasilev says that parties cannot reach an agreement for important issues of the country, because they bear grudges against each other. "Parties cannot take consensual decisions, because if we consider the December 24 events, we have two versions, one of VMRO-DPMNE and the other one of LSDM in opposition. These two versions are constantly manipulated by both sides for political benefits", said Vasilev. /ibna/