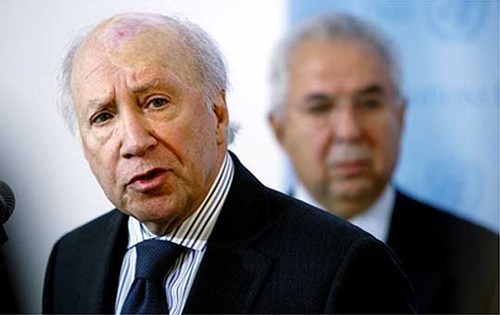 Skopje, September 4, 2013
A fresh attempt will be made to solve the name dispute between Skopje and Athens with the visit of the UNO intermediary, Mathew Nimic in these two countries.
On September 9 and 11 Nimic will make fresh attempts to find a solution for this issue, which for two decades has deteriorated and kept FYROM in a state of status quo in the aspect of Euro integrations and its failure to be recognized as Republic of Macedonia.
Nimic will have an intensive agenda initially in Athens on September 9 and the following day in Skopje, where he will meet high state leaders and ambassadors involved in the negotiations carried out so far.
"In his visit to Athens and Skopje, Nimic will continue his talks with high state leaders of both countries to find an acceptable solution for the name dispute", states the press statement of the UNO in regards to Nimic's visit.
Nimic comes up with the proposal of Upper Republic of Macedonia, a proposal which came from Skopje initially, but which has not been commented by Greece.
The visit follows the visit of the leader of BDI, Ali Ahmeti in Athens, where he met with Greek Foreign Minister Venizelos to discuss about the issue of the name dispute and a possible solution, in order to give way to the Euro Atlantic integration of the country.
In the recent meetings of negotiating parties in New York, Nimic asked Skopje and Athens to examine the package of proposals and the solution of the name contest, which have been discussed in the marathon meetings, but such detailed package was never made public. Nimic's visit comes a month before the European Commission publishes the progress report on FYROM and before Greece takes over the EU presidency. Greece has declared that Skopje will not be on the agenda of the priorities of enlargement of the Union. /ibna/