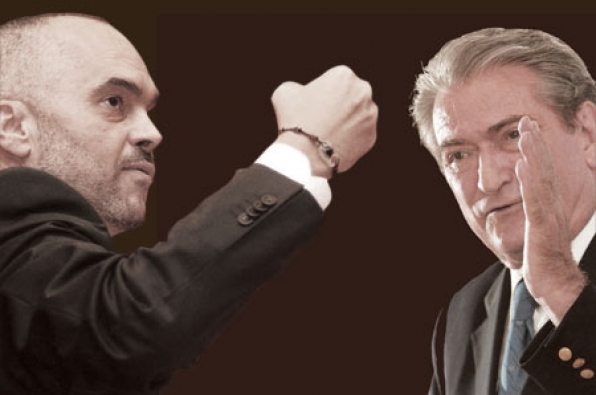 Tirana, June 5, 2013-By Ariola Hekurani
On June 23, Albanians will be called to the polls to vote for the new parliament, which will produce a new government.
The electoral campaign which should officially start in the last 30 days before the elections, kicked off several months ago. The campaign is mainly focused on the economic situation and the main topic is that of taxation.
The Democratic Party of Prime Minister Sali Berisha enters these elections after 8 years in power, governing the country during two terms in office. In the first term with several small parties of the right wing.
In the second four years, up until April 1, it governed with the Socialist Movement for Integration, which left the coalition and joined the opposition led by the leader of the Socialist Party, Edi Rama.
According to Prime Minister Sali Berisha, the country must continue to be governed by the right wing. He says that the reforms and low taxes are the strong points of this government.
Mr. Berisha insists that Albania has seen positive changes and says that in the four years to come, the changes will be even greater.
The PM says that the flat tax of 10% and VAT of 20% are two honest taxes and necessary to prevent the crisis that has affected Greece and other European countries.
On the other  hand, the leader of the Socialist Party, Edi Rama says that Albanians are paying too much tax and he promises that he will reduce them.
Mr. Rama is against the flat tax and says that if he's elected Prime Minister, he will apply progressive tax.
Meanwhile, the Socialist Movement for Integration of the former Prime Minister, Ilir Meta is against progressive tax. Mr. Meta says that this tax damages the economy, that it makes businesses leave the country and stops other investments to come.
This is a rare case when within a left wing coalition, its two main forces have different attitudes about such a delicate economic topic; the form of taxation which will be applied for individuals and businesses.
On the other hand, citizens seem to be divided as far as this tax is concerned. Some of them believe that the flat tax of 10% that they pay is a fair tax.
Some others are against. They say that it's not fair for a teacher who is paid 450 Euros a month to pay a 10% of 45 Euros and for a manager who is paid 2000 Euros a month to pay a 10% of 200 Euros in tax. The opposition supports this category of people, saying that progressive tax is fairer. It says people who are paid up to 700 hundred Euros a month must pay from 0 to 7% tax, whereas higher pay groups should be taxed from 8 to 20%.
The opposition says that it will apply progressive tax even for businesses if it comes in power.
But the business is against progressive tax. Organization that protect business interests in Albania have issued joint declarations where they condemn the plan for a progressive tax and warn an economic crisis if this tax is applied. /ibna/