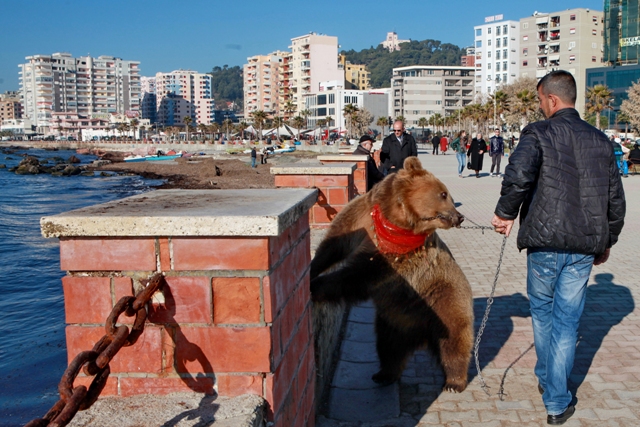 Tirana, 19 August 2016/Independent Balkan News Agency
By Edison Kurani
Among the numerous bars that Albania has, some of them, encouraged by competition, have found a cruel way to boost their sales. They have taken bears which they put in cages in miserable conditions, forcing them to expose for the entertainment of the customers.
There are at least 50 grizzly bears which live in Albania in terrible conditions of captivity, says the international organization for the protection of animals Four Paws.
Many of these bears come from the mountains, where in many cases, smugglers kill mother bears and take the cubs, which then live in misery, badly nourished and completely neglected. They are held in very small cages or linked to chains, near restaurants, petrol stations or hotels, in order to attract customers and tourists.
Some of them, the so called "selfie bears" are used for photographs during the summer, where they are forced to walk in beaches and streets as an attraction for visitors. But for many of these bears, this is a very miserable life.
All of this happens, in spite of the fact that in Albania, grizzly bears are protected by law and through an international agreement, which prohibits the trade of bears. Unfortunately, this trade has flourished throughout the years.
Experts of Four Paws have done research in Albania for several months in a row and have documented many terrible cases of abuse and misery.
"These bears are suffering very dire conditions", explains Kieran Harkin, responsible for the organization of campaigns at Four Paws. "Many of the bears live in misery, put in small and dirty cages with only a few square meters of space, with nothing else besides the concrete floor. They have no sufficient space to move, to run or climb on a tree as they do in the wild. Many of these bears suffer several behavior disorders, from the open wounds as a result of sedentary life and some of them also suffer extreme hunger".
Tommy bear is a very painful example. He feeds on bear and is currently held in a very small cage, which is very humid, with dirty walls, located near the restaurant's toilets.
"Tommy shows severe stereotypical disorders, by constantly wandering inside the cage or constantly hitting or scratching itself", says Kieran Harkin.
"This maltreated bear is impossible to express his most natural behavior in his small cage. He can neither move, nor seek food, dig or swim. What's worse is that instead of water, the owner gives Tommy beer".
Another example of extreme maltreatment is that of Jeta bear, a so called "selfie bear", which in the extreme heat of beaches, cities and tourist resorts, is pulled by the owner with a chain attached to its nose with the only purpose of taking a picture.
The same as many other bears, Jeta too suffers great pain, as its nose is very sensitive and every time the owner pulls it, you can see the pain that this causes.
"People sometimes stop to take a 'selfie' with the bear for a small amount of money. It is difficult to fathom how such situation is considered to be entertaining. However, people seldom realize that 'selfie bears', like Jeta, suffer a great deal and they are forced to entertain people through the use of violence", says Kieran Harkin.
The sector of tourism is in fact one of those sectors which offer significant incomes and which contribute in the growth of economy and the government is aiming to further developing Albania as an attractive destination for tourists that come from western countries.
But by holding grizzly bears in captivity and exposing them in restaurants, beaches or cultural sites, is against these plans. The reactions of many tourists clearly show the shock caused to them by the mistreatment of bears and this puts Albania's reputation as a tourist destination at risk".
***
Currently, Four Paws is supporting the Albanian government in improving the implementation of the legislation in power with the aim of protecting wild bears in Albania, focusing on the improvement of the legal framework that prohibits then holding of bears in captivity. This organization encourages Albanian citizens and the state for a better application of the legislation in power in order to protect nature and wild animals and put an end to the cruel holding of bears in captivity.
In the photos below you can see how bears today live in Albania