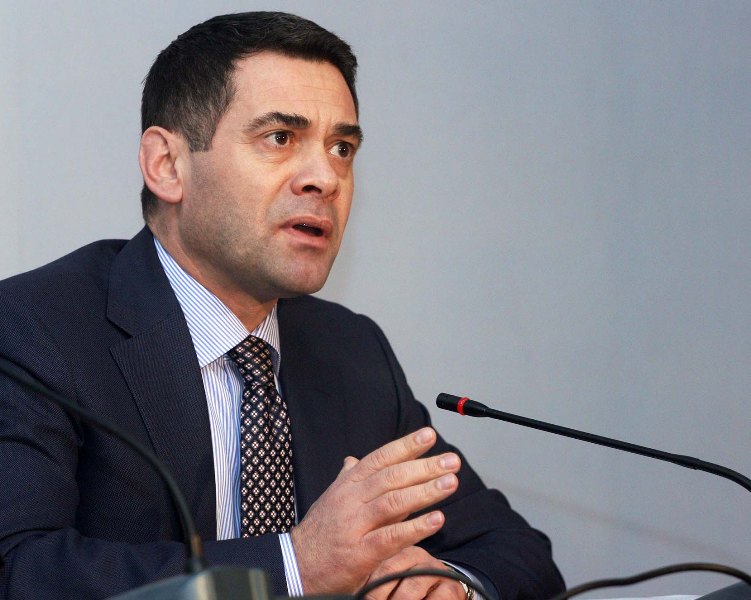 THE CROSSROADS OF THE ALBANIAN ECONOMY: "Time has come when neither of us, majority or opposition, businesses or members of the academy world, can no longer find excuses, because it's time when reforms are necessary, otherwise, in one year and a half or two, the Albanian economy will head toward collapse"
By Arben Ahmetaj
Minister of Economic Development, Commerce and Enterprise of Albania
In 23 years of transition, we all know what has happened with the people that have led the Albanian economy, institutions and finances.
The truth is that after 23 years, we're not where we should have been, not as a result of this pedagogic troop, but due to the political class. Nevertheless, time has come when neither of us, majority or opposition, businesses or members of the academy world, can no longer find excuses, because it's time when reforms are necessary, otherwise, in one year and a half or two, the Albanian economy will head toward collapse.
At the beginning, when we took over government offices, we knew that the economic situation was extremely serious, with many holes, many obstacles, but what we found was more serious than what we thought.
The 726 million USD figure, which was mentioned a while ago, relating to the outstanding debts owed to businesses, and which were to a certain extent undeclared, was a surprising figure, but not surprising in terms of philosophy. It's an old philosophy, accumulated throughout the years, which led to the irresponsibility of the government to businesses to reach these levels, where enterprise was on the verge of bankruptcy because the government didn't pay its debts to it.
We identified the need to document all of these debts and committed ourselves to pay these debts, which today, referring to reports issued by international institutions, but also based on the direct sensitivity of commercial banks, the payment of the debts has brought liquidity among enterprises and it has disciplined relations between the government and enterprise.
One of the most important reforms was that of pensions. None of the previous governments had dared to carry out the reform in the pension system, because each government has cared more about its four year term in office. If one thinks  four years ahead at school, professors think  10 years head in terms of academic development, while the government has unfortunately only thought  four years ahead and not 20 years ahead, as it should have. For this reason, it has avoided the pension reform, which has political and electoral consequences.
We decided that it was time not to allow the pension system degrade and turn into a bankrupted scheme, which didn't guarantee financial peace of mind for the third generation which would retire. Along with the World Bank, we decided to carry out this difficult reform, which required political consensus, which we demanded but could not find it and today, we're proud of the pension reform, which will guarantee a healthy system that will not affect Albanian citizens.
At the same time, reforms in the energy system, which has caused many debates today, was and remains one of the big challenges of the state budget and Albanian economy. Imagine, we're the second country in Europe with the biggest water sources per person and we have a negative annual balance in energy, amounting to 150 million Euros.
We faced the challenge of undertaking the difficult reform or let the system degrade. I assure you that in two years, the system would collapse and in 2016, we would no longer have electricity.
Imagine, 150 million Euros worth of electricity are stolen in a year. I will tell you what this figure means: it equals with the amount that enterprises pay in profit tax in a year; it equals 100 km of roads, roads that you don't see; it equals with almost the amount that we pay for people in need; it equals with seven regional hospitals and 150 schools. Today, many are talking of a police state, where people have been arrested in order to make them pay their electricity bill. Electricity is like the rest of products, but in this case, it's even strategic, because at the moment that it's not paid, when the company cannot collect what it has to collect, when the consumer doesn't manage to pay what he consumes, then Albanian citizens pay through their taxes paid to the state budget. Today, this reform has been praised by all international institutions.
We started what many called an action, but I consider it a way of living in a system. We carry out our polls and today, there's a big support for the reform in the justice system for the action that we have undertaken and this support amounts to 78%. It's difficult, it's painful, but necessary and the only path that we will go through.
At the same time, I also want to refer to the new economic model. There are many debates if it's the right one or not. Today we have the chance to prove the fairness of our actions not immediately, but after five or ten years.
But, I'm convinced that our effort to replace imports, which is at the foundation of our new economic model, is plausible, it brings added value in the country, employment and material direct benefits for the citizens, consumers and all of those who benefit from chains of values and chains of economy. /ibna/
*The opinion of the author doesn't necessarily represent IBNA's editorial line