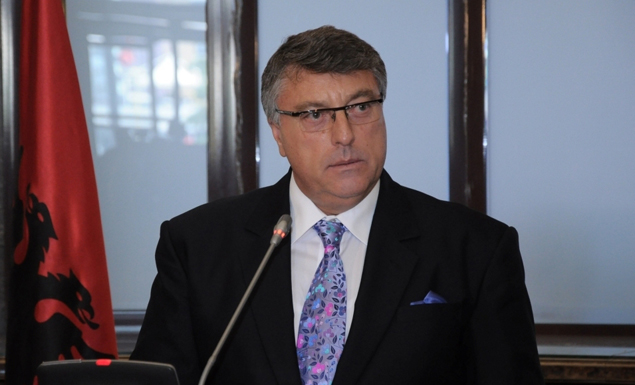 By Ardian Fullani
Governor of the Bank of Albania
For several years, Albanian economy has been under the effects of the global crisis, reflected mainly in economic slowdown. This has slowed down investments and crediting of the economy, leading to the deterioration of public and private sector accounts.
In spite of these developments, Albanian economy has managed to preserve stability of prices and general macro-economic and financial equilibriums of the country. The Albanian financial system has shown a high level of immunity. In spite of the economic slowdown, it remains liquid, well capitalized and profitable, reflecting the careful work of the Bank of Albania in the preceding years and during the years of the crisis.
Policies followed by the Bank of Albania, but also the reaction of the banking system enabled the system to face extreme problems, which would seek the use of public funds. We must not forget that banking groups from the EU countries which were affected by the crisis are present in Albania.
***
The unclear economic and financial global situation has dictated the need to re dimension the role of institutions, including that of the central bank. Currently, central banks are driven toward macro prudential measures, because traditional mechanisms of the transmission of monetary policy are suffering the deteriorated accounts of economic, public and private agents.
To better coordinate this role and to better monitor the economy, central banks throughout the world are basing their monetary policy in undertaking the necessary macro prudential measures.
These global developments find the Bank of Albania prepared and with the necessary experience. It has a similar structure with that being adapted by the Central European Bank and other central banks of developed countries.
***
Albanian economy has now started its path toward EU integration. This process will result in a growth of economic welfare, but also means full integration in the commercial, industrial and financial chains and the adoption of a unique philosophy of economic management, a single regulatory and institutional practice and the adherence to harmonized rules of the game in all the European space.
In this context, the European integration process must be our strongest anchor of structural reforms, be it legal, regulatory, institutional, infrastructural or political. Certainly, Albania has a lot to do and the characteristics of our economy allow all the necessary spaces for the calibration of these models in harmony with comparative advantages and primary needs of the country. But, I believe that it would be better if all these reforms would be integrated in this unique vision of integration.
Secondly, Albanian business must do more to encourage the integrating process. It should be more active in adopting technologies and advanced production and managing processes.
The financial sector must also be more visionary in its policies and priorities of distribution of financial sources and should work harder to attract foreign investors and establish bridges of cooperation with local business.
I believe that we have justly stressed that regional integration is a necessary step which must precede European integration.
Economies of the region are small in comparison with our trade partners, but the creation of unified areas in terms of customs tariffs, legal systems and legal practices, financial integration and development policies, offers the right stimulus to attract foreign investments and increases the negotiation power of Albania with international partners. /ibna/