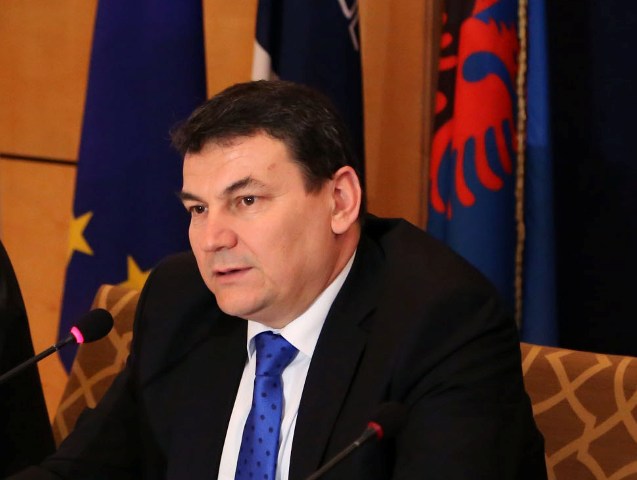 By Haki Çako
Director General of the Albanian State Police
Fight against organized crime, terrorism, traffics and serious crimes is one of the biggest joint challenges, because crime today knows no barriers and no state borders.
Today, organized crime causes concern for citizens in Albania, Kosovo, Balkan, Europe and the entire globe. For this reason, the boosting of the fight against organized crime, through the increase of cross-institutional coordination, further development of investigative capacities, exchange of information and joint international operations, is an important priority of the State Police, which comes as a continuation of the priority that the Albanian Government has introduced in its program, by considering intensive cooperation with international partners and cooperation with regional and international police forces as very important.
By establishing and building important and effective bridges of cross-institutional and international cooperation, we will be able to join our efforts in order to finalize our important mission to prevent crime and offer all the citizens a safe environment to live and work.
State Police has made successful and important steps in the fight against organized crime, by marking successes which have been identified in the reports of European Commission Progress Reports on Albania in June and October 2014.
In this framework, we must also mention the important steps taken by the State Police in signing the agreements of police cooperation not only with law enforcement agencies in the Region, but in particular, cooperation with Europol.
The signature of the Operational Agreement in December 2013 marks an important moment in the several years old relations between State Police and European Police Office Europol, thus marking the highest level of cooperation that a non EU member countries can have with a law enforcement agency.
During these years, cooperation with Europol has been very important, where State Police has contributed has contributed in drafting important reports by Europol, such as SOCTA, but also the participation in joint operations with EU countries coordinated by Europol, among which we can mention "Europe 2013", "Aureis", etc.
With the entry in force of Operational Agreements, there's been a significant growth of the exchange of information between Europol and Albanian Police.
The full implementation of this agreement requires not only the full engagement of all our structures to offer maximum contribution, but it also requires a full recognition of the role and the way how Europol functions as a law enforcement agency which contributes in the improvement of security in Europe, offering the best support possible for police authorities.
Cooperation with Europol will significantly improve the indicators of the fight against criminality and level of confidence that European partners have on Albanian Police. This makes us proud and motivates us in the fight against criminal and illegal activities without compromise. /ibna/
*The opinion of the author doesn't necessarily represent IBNA's editorial line