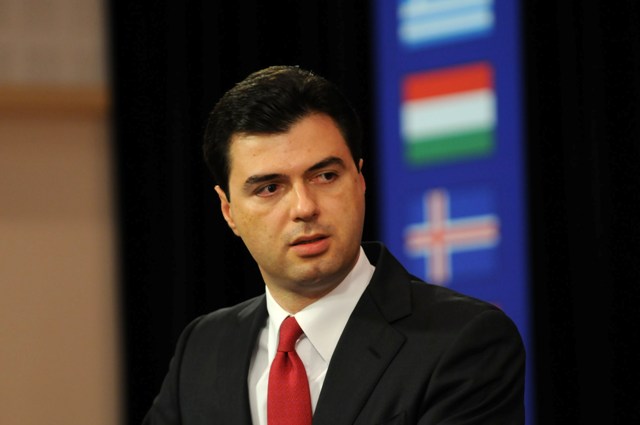 By Lulzim Basha
Chairman of the Democratic Party of Albania
President Ronald Reagan has a famous saying on the negative role of the intervention of the state in the market economy: "If the economy runs, tax it, if it walks slowly, regulate it, if it stops, help it and subsidize it!"
In fact, we can associate this phrase from Regan with these two and a half years in Albania and we can say that the current government has successfully managed to implement it this way: If the economy is dying, arrest it, if it hasn't yet died, shoot it and if it has died, chant and declare that we are strengthening the state and bury the economy!"
In fact, it has been a while that the Albanian economy is in stagnation and has entered a recession. It is a fact that it is not generating new jobs, that unemployment according to INSTAT is 17,7%, which in fact is very high. Among young people unemployment is 33%, in fact 40%.
It is a fact that public debt today is over 73% of GDP, a great risk for the Albanian economy which is not moving.
Albanian products suffer the lack of standards and are not able to compete with their prices.
It is a fact that it has been two years that exports have shrunk, while trade balance has only deteriorated. The government's amateurism with public policies is a permanent aggravation with the economy and it is obvious that the only thing in which the government has been an expert in the past two years has been the capture of the state.
It is a fact that if revenues are not being collected and neither are public investments, so necessary for economic growth.
It is a fact that instead of improving and help business, infrastructure is preventing it.
It is a fact that there's government evasion and abuse with public funds, whereby in 2015 alone, over 1,2 billion euros are lacking, 400 million at the point of collection and 777 million at the point of expenditure.
The task of the opposition
Margaret Thatcher used to say that there comes a time that socialists run out of the others' money. This moment has come. It is clear that Albania was not reborn, but is a country where Albanians, in spite of the 24 hour propaganda, do not want to live in it.
We cannot stay without doing anything. We must work in order to build a safe present and future, a strong economy for all the Albanians. We have an alternative of development which brings sustainability, trust and economic development. At the foundation of this is support, services to citizens, the farmers and entrepreneurs. The more space there is for them, the more opportunities there are, because they are the true economy and the wealth of the country.
An alternative of development
The Democratic Party has today a development alternative. This is a project that aims at achieving economic growth that guarantees employment and welfare for all Albanians.
This project is focused on the citizen and enterprise, their free incentive and this is why the focus of its model of development that increases production of the physical capital and human capital and not the model of the growth of consumption which has expired by now.
This project guarantees restructuring and quality economic transformation, growth of incomes for the citizens and especially for pensioners.
It also guarantees the reduction of arbitrary governing and the expansion of economic space and possibilities for every Albanian.
It also liberates the economy from the obstacles that have existed so far, it guarantees growth of competition of the Albanian economy.
Without any doubt, economic growth, economic development, the creation of job opportunities for more jobs and better pay, is not only an economic policy, but a general approach.
The pillars of the economic plan
First of all, in order for Albania to grow and develop, in order for the capital to move, for crediting to grow and for foreign investments to come, there must be a rule of law. Thus, stronger institutions of the market economy for everyone in order to protect private property before anything else.
The second pillar relates to the consolidation and finalization of infrastructure through public investments. Our aim is for Albania to receive strategic importance and a capacity of logistic supply of the entire Balkan region and beyond.
The third pillar is the strengthening of human capital by supporting education and growth through the flexibility of the market and by increasing the number of jobs.
In the domain of human capital, the creation of jobs where the quality of labor force increases, secures compliance for the national market and beyond.
As far as tax facilitation is concerned, we're in favor of a 9% flat tax for personal incomes and for contributions, as a major necessary objective to become more competitive with neighbors in the region and to make the economy capable of attracting domestic and foreign investments which according to studies that have been made, rank Albania as the last choice in the Balkans.
We are also in favor of minimum and fix taxation on small businesses. Above all, to boost consumption and in this framework, we propose the reduction of Value Added Tax to 15%,
Public Finances
Economic growth must rely on the efficient management of public debt by restoring the fiscal rule that public debt must not be over 60% of the Gross Domestic Product, in order for budget deficit to be below 3% of GDP and the ceiling of budget expenses below 31% of GDP, considering this as an unchangeable fiscal rule. Not even a penny will be borrowed for public expenses outside of public investments. Our priority will be public investments that encourage economic development and the creation of new jobs.
Agriculture
The priority sector for the economy to come out of the crisis is agriculture. Our policies for investments in secondary roads, subsidies for farmers, for irrigation and drainage have been successful as they led to a growth by up to 100 million euros a year of this sector until 2013. The future of this sector is important through the support given to farmers with a budget of 1,5% of GDP, nearly 200 million USD a year. We predict that the agricultural sector will see a 5% economic growth in the first year. Here we bear in mind two columns: capital investments in assisting agriculture, agricultural infrastructure and direct subsidies for the Albanian farmer.
The final exit from the crisis
Our economic program will help the Albanian economy to come out of the crisis and today's apathy. It will release human and financial sources that are being misused, stolen, abuse with or head to tropical tax heavens. It releases over 1 billion euros of financial sources in the economy every year, 1 billion euros that were lacking in the Albanian economy in 2015 and for three years, they may have been in other continents in the accounts of corrupt government people.
This is an economic program with the lowest taxes in the 25 year old history of democracy which puts everything in support of the enterprise. It is a program that aims at directly encourage innovation and technological renovation, growth of enterprise and farms and these courageous policies alone, but also prudent ones, we will increase the value and the competitiveness of the work of the Albanian people, of every product and service that is created in Albania.
Through this offer, we want to encourage, support and strengthen their ideas for the business, for enrichment and success and for a competitive and rich Albania. For an Albania where we want to live and not leave. For an Albania that we want to inherit to our children. /ibna/
* The opinion of the author doesn't necessarily represent IBNA's editorial