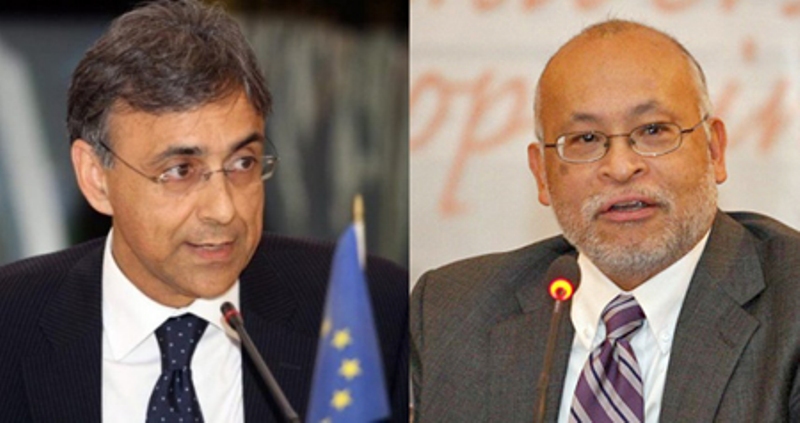 By Ettore Sequi, Ambassador of the EU & Alexander A. Arvizu, U.S. Ambassador
Albanians can rightfully be proud of the conduct of their recent elections. The elections demonstrated not only to the people of Albania, but to their friends in Europe and in the United States, that these were the most successfully administered elections that Albania has had to date.
The elections showed that Albanians are actively engaged in the democratic process and reflected more democratic maturity.
But elections are not an end unto themselves. Albanians, as do citizens in all democracies, elect their leaders to serve the people's interest, and to work on behalf of each citizen. Albanians voted in large numbers in June for progress, for reform and for transformation.
Now, voters expect their government and all parties in Parliament to work to deliver this reform, and to pursue with speed and diligence Albania's integration into the EU and the Euro-Atlantic community.
The results achieved so far by Albania need to be consolidated through continued reform efforts and consistent implementation. Most importantly, constructive dialogue and cooperation among all political parties must become an ingrained feature of Albania's political landscape.
This will allow reforms to continue in priority areas and to keep Albania on the path toward the EU. Albania has accomplished much since 1992 of which it can be rightfully proud. But there is much more to be accomplished in the weeks, months and years ahead:
Albania can become part of the EU. This will require a commitment to enact and implement key reforms,particularly in the rule of law field. It will require Albania to demonstrate its capacity and willingness to enforce anticorruption laws and to increase the transparency, accountability and effectiveness of the nation's justice system, including its criminal code. Equally, it will require the focus and determination to address complex human rights issues, including property reform.
Albania can become more prosperous and improve the standard of living for all its citizens.
We strongly encourage the new government to implement and strengthen practices that create a fair, transparent business environment with a level playing field for all investors.
Domestic and foreign investment can be a significant driver of economic development in the coming years, but investors need, above all else, a stable and predictable climate in order to create good jobs and opportunities for the Albanian people.
Albania can have a public administration that is skilled, stable and professional and that delivers quality services to citizens.
Albania can continue to play a moderate and constructive role in the region. Albania can help ensure that ethnic Albanians throughout the region play full, active and constructive roles as citizens of neighboring democracies.
The recent agreement between Serbia and Kosovo opens a new era of opportunities for regional cooperation. Through military reforms that will make Albania an even stronger NATO ally and contributor to European security, Albania can serve as a model to other western Balkans aspirants.
We are convinced that Albania can achieve real progress towards these goals and realize the aspirations of all of its citizens.
Albania has an opportunity to move forward quickly and to build a more stable and prosperous future. The challenges ahead may seem daunting, but we believe that Albania must seize this opportunity to secure a better future for the country.
The EU and the United States stand ready to support Albania in securing its future as a just society firmly anchored in the EU and the Euro-Atlantic community – which is where the Albanian people want to be and where they belong.