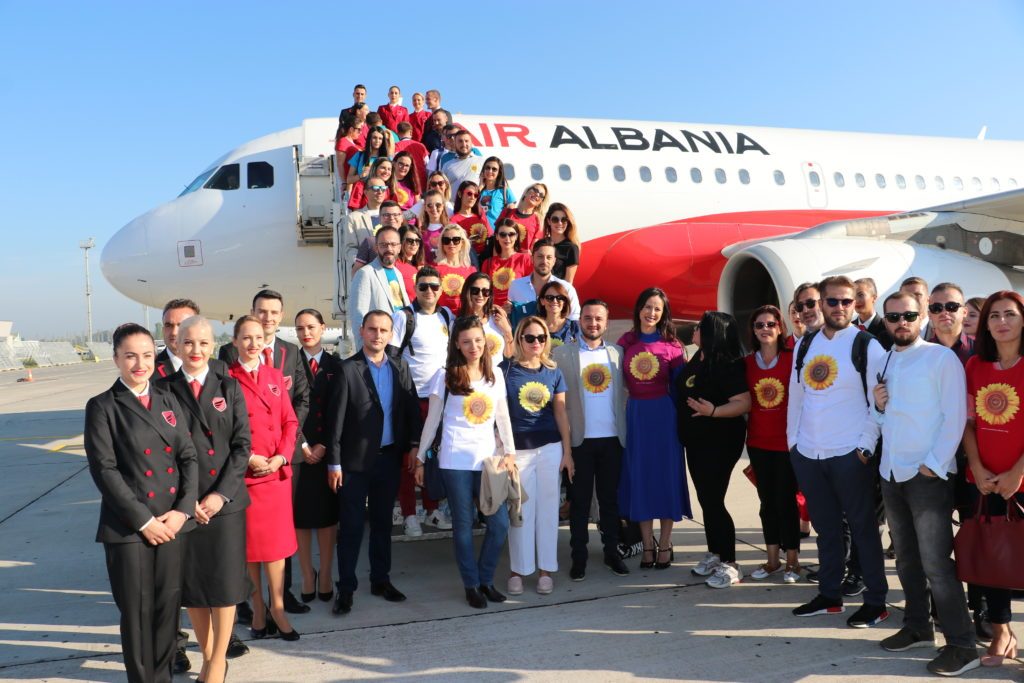 Piše: Edison Kurani 
Bio je septembar prošle godine, kada je Edi Rama, pun pompeznosti, izjavio da će redovni letovi početi narednog dana (14.09).
"Sutra će Air Albanija započeti svoje prve letove. Biće mesec dana testnih letova, a onda će krenuti letovi za Rim, Milano, Bolonju, London i Istanbul," izjavio je tada Rama, objašnjavajući da će dnevni letovi početi 15. oktobra do destinacija u Italiji, Velikoj Britaniji i Turskoj. On je rekao da će za nekoliko meseci biti i letova prema SAD. Međutim, ništa od ovoga se nije dogodilo. Nismo čak ni videli 50% smanjenje cena avio karata, koje je obećala Belinda Balluku u septembru 2018. godine, koja je u to vreme bila šef ANTA-e.
Šta se stvarno dogodilo?
Air Albania ne postoji. Poslednja objava na Facebook-u bila je krajem septembra. Sajt je na prodaju!
Vlada ne komentariše. Premijer ne govori ništa, niti Belinda Balluku, koja je sada ministar.
Međutim, u Turskoj ljudi govore.
Turski mediji kažu da se Erdogan osvetio Raminoj vladi, povlačeći se iz Air Albanije i aerodroma Vlora.
Ali Turkish Airlines, kao akcionar Air Albanije, nije pokrenuo letove koje je premijer obećao.
Štaviše, navodni avioni Air Albanije, koje je Rama prikazivao na društvenim mrežama, vratile su se u Tursku i Turkish Airlines.
To potvrđuje i CH Aviation, švajcarski portal specijalizovan za razvoj avio industrije. Danas je CH Aviation objavio članak pod naslovom "Planovi za Air Albania u limbu dok se avion vraća u Tursku".
CH Aviation kaže da se avion "Lasgushi", za koji se tvrdi da pripada Air Albania, vratio u Turkish Airlines. Čak i kada je "Lasgushi" obavio svoj prvi let za Air Albania, agencija pod nazivom Airline Geeks nazvala ju je "misterioznom aviokompanijom".
U međuvremenu, Murat Herdem iz turskog portala "Airport Haber" već je potvrdio da će saradnja između Turkish Airlinesa i Air Albanije biti sljedeći blef. On je rekao da će to biti identično saradnji između Turkish Airlinesa i Air Bosne, kada je kompanija iz BiH prošla kroz gorko iskustvo nakon što je izgubila milione eura.
Ideja za stvaranje prve nacionalne aviokompanije prvi put je objavljena u julu 2017. godine. To je bila zajednička inicijativa koju je pokrenuo premijer Edi Rama i turski predsjednik Erdogan.
U junu 2018. godine Air Albania je osnovana sa tri akcionara: Turkish Airlines, MDN Investment i Albcontrol.
Zvanično, albanska vlada nikada neće priznati da je Air Albanija propala u svojoj misiji. Čak ni vlada ne može reći da li će ti letovi ikada početi.
Sve se to dešava u vreme kada su se Albanci radovali stvaranju albanske aviokompanije, koja bi smanjila visoke troškove koje putnici moraju da plate da bi leteli iz Rinasa.
Međutim, Albanci nisu jako iznenađeni time, jer je proteklih 30 godina bilo puno sličnih praznih obećanja. / ibna /