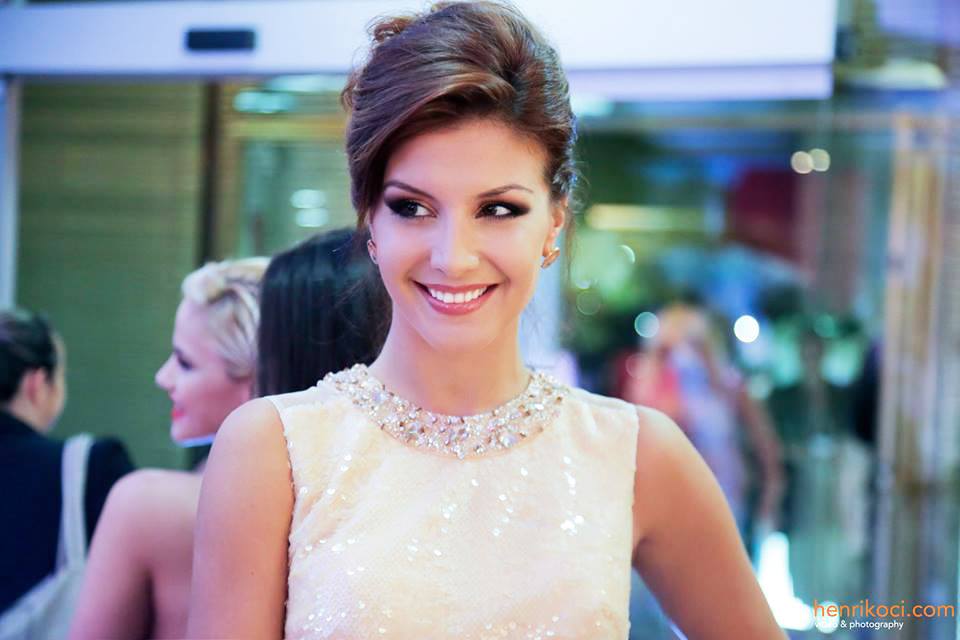 When Floriana Garo appeared on the TV screen for the first time as a weather anchorwoman, many people no longer "worried" as to how the weather was going to be, by following the beautiful girl who had just recently returned from the United States of America.
A career started there in the modeling world after completing her studies, to further continue with beauty contests. Floriana Garo won the national beauty contest and then competed in several world beauty contests with her appearance, charm, delicacy and goodness that she reflects.
Now, things have moved on. Floriana moderates a TV show and on the other hand, she's one of the most wanted ones for presentations and event modeling. Currently, she is moderating the Song Festival, the main event of the year for Albanian music. In an interview for IBNA news agency, Floriana Garo talks about her artistic life now and in the future.
In the past few days, you have just come back from Rome. We learned you "killed two birds with one stone". You posed for a magazine and an interview…
Yes and I'm very happy. The final days of this year have been filled with work, different events and activities in Albania and abroad. I was in Rome for a photographic set for VIP magazine. It was made and there, I managed to do an interview for my TV program "Not only fashion".
Many Albanians want to win the American lottery in order to live in the states. You won it and went there, but you came back. What happened?
In fact, when I went to the states with my family, I was 15 years old. I stayed there eight years and went to school. I came back after I knew the man of my life and decided to live together.
How did you get to know Tedi?
We knew each other in New York, near my university. We spent a lot of time talking about our first meeting and there, we realized that things would change for both of us. Soon, we will celebrate our fifth anniversary together. During all this time, Tedi has been a great support for me.
Was your return to Albania a disappointment, given that you'd been living in another reality?
In fact, yes. I had several disappointments at the beginning, but by being strong, I adapted quickly. I chose to look at the positive aspects of life here, without being affected by the negative ones. Now I think that I did the right thing to come back, although I have my dilemmas every once and a while.
Have you been involved in modeling in New York? How different is the career of a model girl in the USA and Albania?
New York is the capital of fashion. The best from all over the world, gather there to find fame. At most, Tirana will gather the best of Albania. This is the key difference. Other differences relate to the payment of models, professionalism, the holding of fashion shows, etc. I took my first steps in modeling there. Competition was very strong in this domain and it was not the passion of my life to sacrifice everything in order to become a successful model. And it's better this way. I have always aimed television and that's where I invested.
It's been a few years that you're part of the media market. How easy is it to remain in this market, because as we know, competition is strong…
In fact, it's a challenge. There are always new faces, full of ambitions and energy, but I focus on the job that I do and I give my best! I do everything in order for every detail of my program to be perfect, I try to preserve good relations with the people that I have to do with and I pay attention to my image. These are crucial, the rest are just frivolous things.
Have you thought about any other TV project?
My program at Klan TV is very engaging and requires a lot of time, therefore besides the program and the weather presentation at ABC News, there cannot be anything else. But I am happy to accept short term presentations and projects.
What do you hate the most?
Ingratitude, hypocrisy and gossiping. I don't like mediocrity either, because I am used to commit 100% to something in order to do it as good as possible. When I don't see commitment on other people, I get upset.
Beautiful, successful, loved by the public, sentimentally fulfilled. Is this the fulfillment of a dream?
Of course! I'm grateful that I'm living my dream, but now it's time to also  leave something behind. I want to contribute more to society and inspire my fans. /ibna/