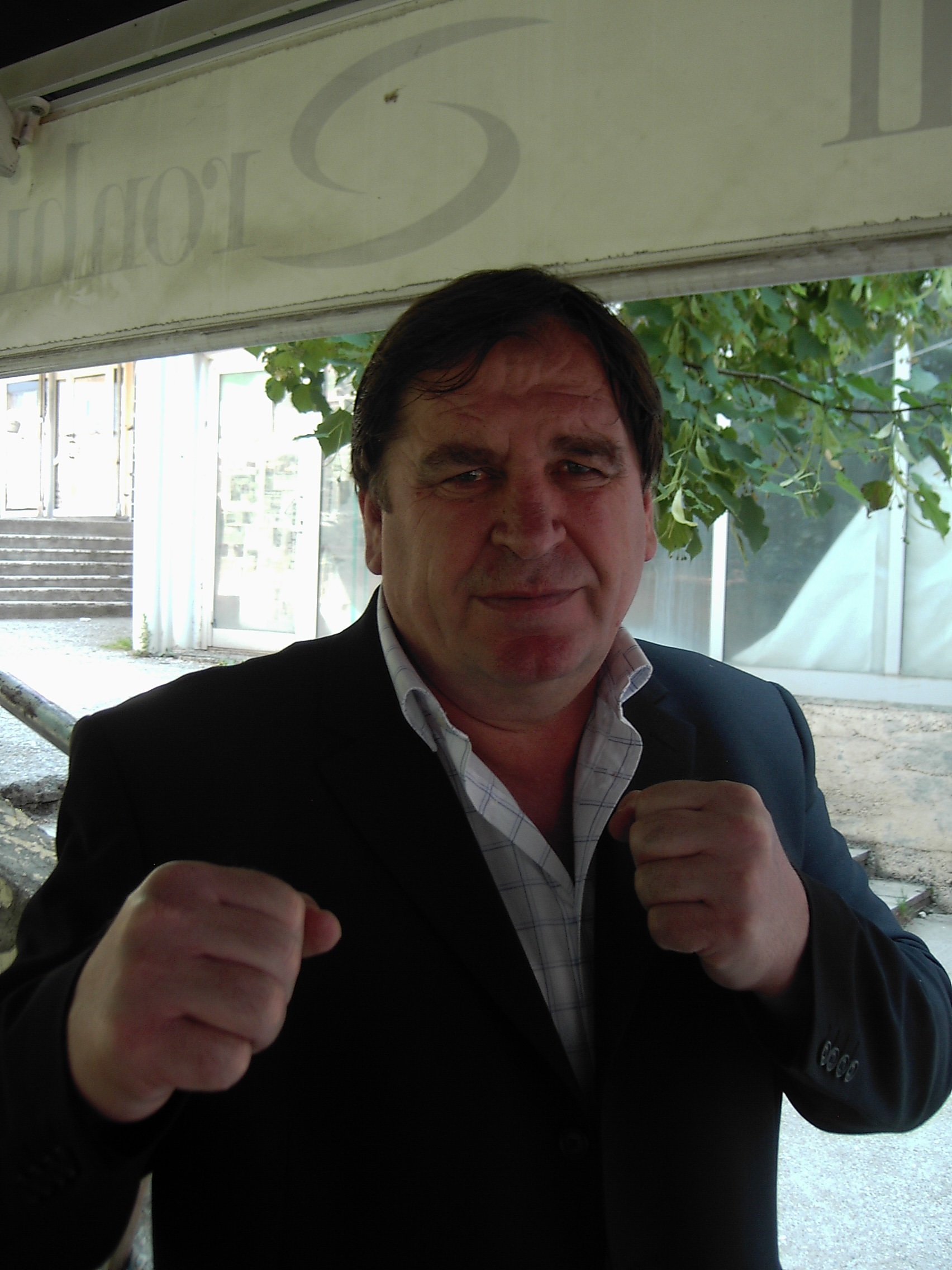 Exclusive interview for the Balkan News Agency IBNA with the legend of the Kosovar boxing, Aziz Salihu
Interviewed by Elton Tota
The legend of Kosovar boxing, Aziz Saliu, who has challenged the strongest boxers in the world, says in an exclusive interview for Balkan News Agency IBNA that he has been forgotten by state institutions in Kosovo. He says that he's disappointed by the treatment given by Kosovar institutions, which let him wander on the road like a person in dire conditions. In this interview, Salihu also accuses the heads of Boxing Federation in Kosovo, for which he says that they do not know this field and that they work only to become richer.  He says that if they helped him in his work, he would win the world championship and would make the Kosovar sport known in the international arena. He compares Albanian boxers with Cuban ones. He says that Serbia has offered him a 1200 Euros a month pension, but he doesn't want their money.  He reveals why he publicly tore the medal given by the president of Kosovo.
What are the challenges that boxing in Kosovo is facing?
Boxing is in a miserable state. We now have many coaches and managers that do not know this domain. They see boxing as way to generate personal gains and not to represent Kosovo in the international arena. We have a Federation which is not working for the clubs and the youth, but to make money for themselves. I'm sorry that we don't have the right people to represent sport and that the people that we have there, are politically influenced.
Does boxing in Kosovo currently have results?
Young Kosovar boxers are without results today. This is happening because we have many boxers. I have often said that what Cuban boxers represent in the world, we, Albanians represent in Europe. "Prishtina" boxing club has many boxers who if they were supported by institutions in Kosovo, they would bring a lot of medals to the country. I repeat, this situation cannot be improved for as long as boxing is managed by people who are not competent. The same situation exists in Albania, where the Federation is led by a person who has made a name in the Albanian boxing.
Has Kosovar boxing become international?
A lot of work has been done in this aspect. Small results have been achieved in the international arena, but I think that more must be done in this aspect, because as a country, we have many capacities and young talented boxers. But in order to receive medals in European and world championships, there must be more investments from the government of Kosovo. I have also offered a precious contribution to make Kosovar boxing international, by holding many international matches. But I cannot continue any further, because I don't have support in this aspect. If I receive help in my work, I'm convinced that we would win matches against the best boxers and win the world title. This would make Kosovar sport international.
Do you have good working conditions at "Prishtina" boxing club?
I'm part of the sport and I work to help sport, but there are no good conditions. I'm head of "Prishtina" boxing club, but I receive the help of no one. I'm vice chairman of the Olympic Committee, but this doesn't bring any advantages either. I'm sorry about the fact that there are many new talents, but they don't have the chance to practice their talent and profession in order to become successful. The conditions are outrageous. This is why I have addressed several requests to the municipality of Pristina. The truth is that I have received many promises by the mayor, Shpend Ahmeti to receive help in this aspect.
How are you being treated by the institutions of Kosovo?
It's been 10 years that we're being neglected by everyone. Ministry of Culture has done nothing. Minister of Culture, Memli Krasniqi has not offered any contribution for boxing and the club that I lead. This is why we feel forgotten by the institutions of Kosovo. We have organized many tournaments in Kosovo and also in Macedonia, where we have crowned 8 champions. Nevertheless, the treatment that we have received has not improved, a treatment which I believe I have deserved as a man who has dedicated his life to sport.
Nevertheless, you have received a medal by the president of Kosovo, Atifete Jahjaga?
I have torn the medal in front of the media. I did it because I have been very disappointed by the treatment received by state institutions. I don't need medals and pieces of paper. I have refused a monthly pension of 1200 Euros by the state of Serbia. I don't want the money of those who have beaten and oppressed me. And this is no small gesture, because I have dedicated my contribution for boxing to my country, Kosovo.
What are you currently involved in…
This year I have decided to hold two boxing tournaments. One of them to honor the former Kosovar boxer, Lah Limani, which will be held in the month of May in the Prishtina square and the other on the anniversary of my victory in the Olympic games in Los Angeles, where 30 years ago I was given a silver medal by an international jury. Of course, these activities are not being supported by the Ministry of Education and other state institutions.
Who is Aziz Salihu
Aziz Salihu was born on May 1, 1954 in the village of Banulla in Lipjan. He started to get into boxing at the age of 15. He took the first steps into boxing with the "Liria" boxing club in Skopje. In 1970, he's invited by the famous coach, Zivko Doboskog to become part of his first team. He won his first title in former Yugoslavia. He managed to repeat this success a year later. Later on, he's transferred to Svetozarev, in Jagodina with Kablov club. He stays there until 1977, when he's transferred to "Prishtina" boxing club and where he breaks new records until the end of his career in 1990. He has won first place, second place, third place medals and tournament championships and Balkan and European championships from 1970 until 1990. He has participated in 500 boxing matches, the majority of which have been won by him. He has also participated in Olympic games. /ibna/