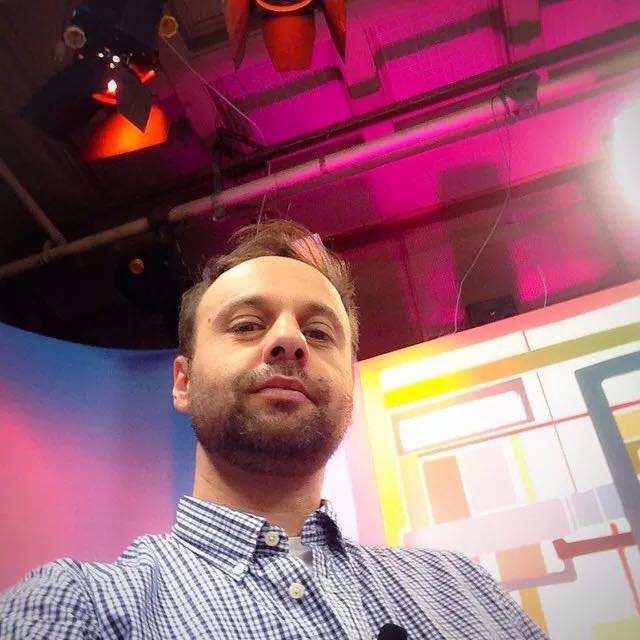 Two decades ago, when there were very few TV presenters in Albania and when the state owned TV was the only one that existed, the arrival of the democratic system brought plenty of opportunities for those talents who really loved communication with the public through the screen.
One of the few and the best TV presenters in Albania, Bledi Strakosha, talks to IBNA about his twenty odd years on the screen. He talks about his beginnings in the public TV channel and his movement to other big TV channels in the country, but also his return and perhaps his current "stationing" in the public TV channel.
Strakosha recalls with nostalgia the passion developed in the radio frequencies and then the TV frequencies.
In fact, Strakosha's programs have brought to Albanian viewers the most prominent names of world art, music, cinema, politics, society, through interviews with a different style, that made his interviewees feel free of emotions
IBNA: You are now the presenter of the morning program of the Albanian public TV channel. Is "Welcome" program an old idea?
Strakosha: No, it was part of my TV plans. Nevertheless, some TV channels have proposed to me to present their morning programs. Perhaps they have more audience, but I have refused their offers. In this case, I was unable to refuse RTSH and this is how I started this live program.
IBNA: Why do you consider this TV format important?
Strakosha: Although people are in movement and not everyone can fully focus on the morning program from the beginning to the end, these remain the most important TV programs. These programs mark the start of the daily shows of the TV network and as such, the first image that people see as soon as they open their eyes. On the other hand, these formats target every age and deal with different topics. I get to meet important people who honor this program with their presence.
IBNA: You have presented over 20 programs in these two decades of career. Which one did you love the most?
Strakosha: I believe that it was "Blue", the program of Sunday evening in national TV, where I felt that I belonged.
IBNA: Recently, you have started an online project…
Strakosha: Yes, I'm also happy with my latest program "My best friend with four legs". I'm realizing it on Youtube and this program will soon start to be broadcasted on TV. It's an effort to better know our pets through this program. In each series, we try to bring a story from real life, tears and laughter which dogs, in particular, know how to give us. But we also offer many precious advices for 200 clean dog breeds officially known throughout the world.
IBNA: Why are you so fond of pets in general and dogs in particular? You also have a cute dog?
Strakosha: Because there's nothing better than the relation of man with animals and nature. It's a peace that nobody else can give.
IBNA: Without leaving the screen, you also present different spectacles. Where do you feel better, in the quality of TV moderator or presenter of live shows in front of the public?
Strakosha: As a TV moderator, because the relations with the guest and the public is more intimate and real.
IBNA: We know that you're fond of technology. Is it true that your recording studio and your TV production studio uses 4K UHD?
Strakosha: Yes, in fact, "Bledi Strakosha Media" is the first studio in Albania which produces with the latest 4K Ultra HD technology. This is a new standard of image resolution for TV and cinema productions. Compared to previous technologies, it's four times better than the HD format and it has other advantages such as very high definition of the image, and images with very clear details. Of course, Albania doesn't have channels that broadcast in 4K and in the world, there are very few ones and with a very limited airing time. Nevertheless, internet offers the opportunity to enjoy this quality in YouTube. I remember the time when we passed from VHS to DVD. It was a big thing for us. When we passed from DVD to Blue Ray and HD, we thought that this would be the maximum in terms of image and voice, but it's not like this. Think about it, tests are also being made for 8K technology!
IBNA: Let us pass on to the last two questions. To be a public person, is it annoying or a privilege?
Strakosha: It's without any doubt, but the curiosity of the public and the lack of accurate and official information, lead to many public people to be "victims".
IBNA: What do you think of the people who abuse with the privacy of the others on Facebook?
Strakosha: Facebook is not a must have thing, but it's an interesting way to be in touch, even with people that one doesn't have close acquaintances with. I believe that those who abuse with social networks are people without identity and unfulfilled in their life. /ibna/