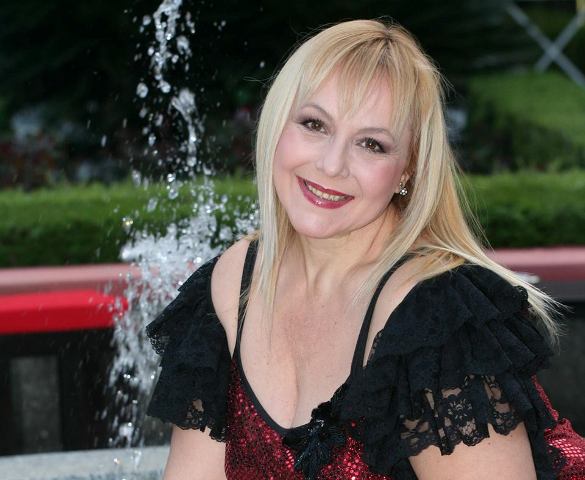 IBNA Interview/She's without any doubt the most prominent figure of the Albanian TV screen. She's the presenter of the best and most followed programs of the Albanian Public Radio television and musical stages for several decades. The Saturday's shows, music programs and national and international events have been moderated by her. She has also presented song festivals, the most important event of the year in Albania.
Very charming, gracious, eloquent, elegant and delicate, Silvana Braca is considered to be the best moderator in Albania. In an interview for IBNA, Silvana Braca, who seldom gives interviews, talks about her life, passion for TV and the future…
Was TV screen something random or was it a planned thing?
It was random. A journey started with art, but I had never thought that television would be its last station. Ballet, songs, acting have been passions of mine since I was a child, while television was something unexpected. Little did I know that a timid and obeyed girl, ordinary, judging by her clothes and complex in  her beauty, would pretend or expect to be famous. I neither desired it, nor did I imagine it, but destiny chose me for this role. I say destiny, but I must also mention my mother, who when a possibility was presented in the world of radio television, she took advantage and took me to Radio Tirana.
When was the first time you went out on stage and how were you received?
The first time was in the May Concerts with an amateur ensemble of the "Tractor" Plant. Osman Mula was the director and I believe it was 1979. I was well received. I was not impressed by anything and I felt as if what I was doing was natural to me and that I was born on the stage.
Let us go back in time, when you were little. How was your childhood? Let's also hear something about your first passions…
As far as I can remember, my childhood has not been that great, because I was a timid child and my family life has been modest. But the dreams and passions have not been lacking, like in every other girl. I used to live in an imaginary princess like world. My passions used to be princess dresses, snoods, flowers and while I was growing up, ballet, singing, interpretation of roles and poetry.
A charming moderator, but was it difficult to be like that in those years of political monism, where boundaries were perhaps unbreakable?
I was very young and I adapted to the environment that I found. When I got out on stage to present, I had no dream dresses, but I used to read simple texts in concerts or TV music programs. I could not be a showgirl at a time that I felt like that. This was not the model of that time. This is why I used to be happy with the approval of the public, thinking and hoping that another time would come and offer me other opportunities.
What was the first festival that you presented?
The first festival was in 1980. Thanks to my dedicated nature, I put every effort on that festival. I used to learn by heart all the text and I had a perfect discipline. I believe that this has had an effect on my presence in coming concerts and festivals. I presented three song festivals and furthermore, folk music festivals.
What was the best festival that you can remember?
The 1993 festival, because it was more enriched. The festival had a lot of guests and there was equal participation of artists from Kosovo and other lands where Albanians live. And I was mature enough to enjoy what was happening in the festival.
Had you not become a presenter, what would have been the profession that you would have chosen?
Doctor or teacher. As to why I like these professions, it's something that needs a lot of pondering and something that relates to so many things that have to do with my character and personality. But I believe that the essence relates to my superfluous altruism. I want to help people in need or people growing.
What do you think of your young colleagues?
I see them with admiration and I rejoice over the dimensions of this profession.
Let us stop in the last decade. Why did you decide to leave Albania and go to Rimini, Italy?
About my family. My husband lived there and at that time, it was necessary for me to go with him. Today I'm in Tirana and trying to get my family to come back here.
Meanwhile, you also went to the US…
Yes, to America and many European countries, because Albanians are all over the world and one of the ways for them to join around the flag, were the festive activities, which have also been one of the reasons of my travels there. As far as the reception is concerned, it has always been cordial and it has taught me to love my fellow countrymen and consider generosity and hospitality as values of my nation.
It's been a while that you haven't been seen on stage. Why?
I had never thought that I would leave the stage and in fact, this hasn't happened, but I don't go on stage as often as before. The stage has been with me during the whole time that I was absent in my TV programs, because the concerts that I have presented in the world have been present during the past 10 years, a period where I've also been busy raising my son, Fatjon. A mother knows what sacrifices are needed to raise a child, therefore, for the emotions that a mother experiences, it's not a big deal if she doesn't appear on TV. First of all, a woman is a mother not in the biological meaning, but in the spiritual one and then, she's also a professional.
The public loves you, therefore, many people ask when Silvana will come back on the stage.
Dreams and desires are always there in the artist life and also for a public figure whose fantasy is pampered by the public opinion. I would have come back on the screen for the sake of the public, but other circumstances have not permitted this. I hope that I will soon make a comeback…./ibna/