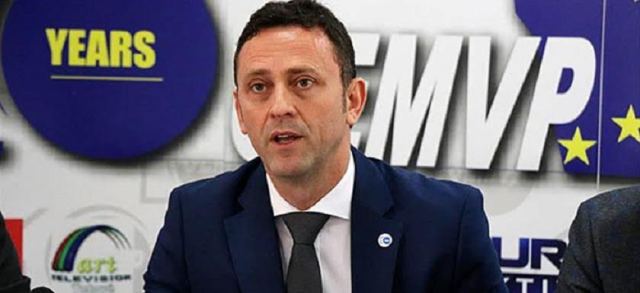 In an interview for IBNA, the President of the Economic Chamber of North-West Macedonia (ECNWM), Nebi Hoxha talks about the impact of the political crisis in the economy of the country, but also the consequences that it has on businesses in case there isn't a quick solution. Nebi Hoxha also talks about the warnings coming from the EU for sanctions and about the urgent measures that must be taken to solve the political crisis
Interviewed by Naser Pajaziti
IBNA: FYROM is facing a deep political crisis. How much is it being reflected on the economy of the country and businesses?
Hoxha: The political crisis is having a negative impact in the overall economic situation of the country. However, businesses continue to work, but they are very careful in terms of new investments or the expansion of their products. This happens due to the fact that in such political circumstances, businesses do not feel safe and have uncertainties in expanding themselves. We are worried about the latest immature political decisions, which have a direct impact on the rule of law and on the possibilities of doing business.
IBNA: Do you think that the political crisis is having an impact on the purchasing power of consumers?
Hoxha: Besides the impact in the functioning and the work of businesses, the political crisis also has consequences in other aspects. Citizens are constantly being impoverished and this is seen in the amount that citizens spend. We have a fall of purchasing power, because people have uncertainties when it comes to undertaking incentives.
IBNA: How do you consider the warnings for sanctions by the international community, sanctions which could isolate the country?
Hoxha: The continuation of the political crisis will definitely have an impact on the benefits that Macedonia has had so far from the European Union, including commercial exchanges. Therefore, any sanction taken by the EU against our country should not come unexpected. However, we don't think that the crisis will deepen any further.
IBNA: What is the proposal of your organization for the solution of the crisis, because you launched a public appeal on this.
Hoxha: Economic Chamber of Northwest Macedonia calls for a stop on "political games", where government representatives contradict each other, because this will have serious repercussions on businesses and on the economic situation in general. This long political crisis will surely lead to an economic stagnation. But, for the solution of the political crisis, we call on the president of the country to abolish his amnesty, otherwise this will become a precedent, which will violate all democratic principles of the functioning of a state. /balkaneu.com/