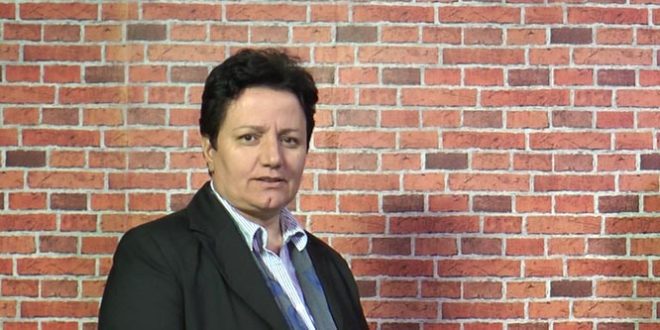 In an exclusive interview for IBNA, publicist and professional collaborator of the Institute for Human Crimes Research (IHCR), Fetnete Ramosaj, talks about the necessity of the punishment of war crimes in the Balkans, the role of the international justice in this aspect, Special Tribunal on War Crimes in Kosovo, the role of the Serb government in fighting war crimes and the importance of the reconciliation of Balkan nations
Interviewed by Muamer Mellova/IBNA
IBNA: Is the punishment of war crimes a necessity of the time for the stability of the Balkans?
Ramosaj: The failure to punish war crimes and the failure to address the causes and the consequences of bloody wars in the Balkans, has had an impact on the stability of the region by making it more fragile. What makes it worse is the fact that the Serb state, which caused these wars, has not admitted any responsibility for the terrible crimes and genocide on non Serb population in Kosovo, Croatia and Bosnia, with the aim of creating Great Serbia.
Serbia doesn't even accept these wars as such, although based on official data of the Serb Ministry of Defence, Serbia has over 500 thousand war veterans belonging to the wars that occurred in the '90s. According to information by Serb veteran associations, this figure is above 700 thousand. Besides this, it continues its activity which aims at creating Great Serbia, trying to destabilize at all costs the situation in the neighboring countries and take parts of their territory.
IBNA: What has been the role of international justice in punishing criminals in the recent wars in the Balkans?
Ramosaj: In punishing criminals who have participated in the recent Balkan wars, international justice has followed a completely different path from international justice after the Second World War. The Nuremberg Tribunal punished those who caused a massive bloodshed. The tribunals concluded that these were not mere individual crimes, but of a state or a cause. On the other hand, international justice which handled the cases of the recent wars in the Balkans, where terrible crimes have been committed, didn't try the people responsible for these bloody wars. We saw how criminals were treated the same as the victims. Although Serbia with its super criminal, Slobodan Milosevic, instigated the war and caused bloodshed everywhere in former Yugoslavia for a decade, the Balkan butcher was never sentenced due to the delays caused in the trial by the former prosecutor of the Hague Tribunal, Del Ponte. Serbia was not tried for genocide and this is why it continues to deny any responsibility.
IBNA: How do you consider the creation of the Special Tribunal on War Crimes in Kosovo?
Ramosaj: During the whole time after the war in Kosovo, "an unwritten law" has been imposed for the denial and minimization of war crimes and genocide that Serbia committed on Albanians during the war in Kosovo (1998-1999). The creation of such international special tribunal for war crimes in Kosovo, which was imposed on the Republic of Kosovo by the international community, is a truly biased act and great injustice which is being done not only to Kosovo, but also to international justice, because this court is the only one of this kind in the countries of former Yugoslavia, which has been founded to try in a selective way only former members of KLA, with charges fabricated in Serbia. Don't misunderstand me, we are not against the punishment of war crimes, but this court must have a mandate to handle all war crimes, Serbia's crimes too, whereby for the majority of them justice has not been delivered. I think that such international mechanism is unprecedented and unfair, even racist I would say. As such, it is a serious violation of human rights and threatens the sovereignty of Kosovl. Meanwhile, all international courts, in Kosovo and abroad, have mostly tried former members of KLA.
There are over seven thousand former KLA members who have been tried by UNMIK and EULEX, questioned, jailed and even sentenced for war crimes, although in the majority of case, justice institutions have not managed to prove accusations against them.
IBNA: Do you see more active steps from Serbia in terms of punishing war criminals who have committed crimes against Albanians?
Ramosaj: The steps that Serbia is taking are symbolic and trials are a mere formality. Almost all trials which have taken place in Serbia against Serb war criminals for their crimes in Kosovo, have no epilogue. They have been held with the only scope of amortizing the punishing process. Belgrade has arrested Serb war criminals and has held trials for war crimes only when it has demanded privileges from the international community. Even in these cases, punishments have been minimal. They have even been humiliating and insulting for war victims. In spite of the propaganda, there are very few serious trials taking place in Serbia for war crimes. Amnesty has been granted for responsible people of high ranking positions, which even today hold key offices in the Serb state, such as government, military, police, etc. Those who have been tried belonged to the lowest level of responsibility. In all cases, Serbia has been exonerated. Massacres, genocide and ethnic cleansing against Albanians in Kosovo, are being reflected as acts which are committed by individuals or groups who are not controlled by the state, but this is not true.
For this, we must bear in mind the trials held in Belgrade. For example, we have the case of the massacre against Berisha family in Suhareka, where 50 members of this family were executed and the majority of them were women and children. We have the case of Bytyci brothers, three Albanian-American brothers who were executed in Serbia after the war. For this case alone, there are around 40 people who must be brought to justice.
IBNA: Does Vucic's convincing victory and his commitment for Serbia's accessionin the EU have an impact on the dismantlement of Serb structures in Kosovo?
Ramosaj: In the last early elections in Serbia, Vucic reconfirmed his victory. Although the EU considers him as a man who wants Serbia's EU integration, this is not very credible. We have all seen video footage from the Parliament of Serbia when he called for the killing of Bosnians. During the whole time during the war in Kosovo, he has been minister of Information in Miloshevic's government. On 24 March 1998 he was appointed representative of Sesjel's Radical Party. In 1995, as Secretary General of the Serb Radical Party, along with Sesejl, Nikolic, Poplashen, Gojkovic, Dujic and Vishnic, they drafted and signed the platform "How will Serbs solve Kosovo's problem". This program indicated the way Kosovo's ethnic cleansing would take place and its colonization with half a million Serbs. It stated that Pristina would be Serbia's capital. Part of this Serb platform, even today Vucic is trying to attain these objectives along with his collaborators, through direct interventions in Kosovo. We can mention the current project for the Serbs in the north of Kosovo, where in Zvecan, the so called "Sun Valley" is being built, a project which will accommodate 1500 Serbs. Within several days, on 28 June, Belgrade in cooperation with Serb parallel structures in Kosovo, plan on erecting the 17 meter high monument of Tsar Lazarus in the north of Mitrovica. On the other hand, Mr. Vucic has not been engaged in dismantling parallel structures in Kosovo, as it was decided by the Brussels' agreements. What's more, he has increased their number and has strengthened them in all aspects.
IBNA: When do you think reconciliation between Balkan nations can occur?
Ramosaj: Reconciliation between Balkan nations is a difficult and complicated process. I think that by building a past based on lies, without admitting the truth and without justice, there can be no reconciliation. The processes of reconciliation cannot be performed by those who have caused terrible things in the Balkans. /balkaneu.com/