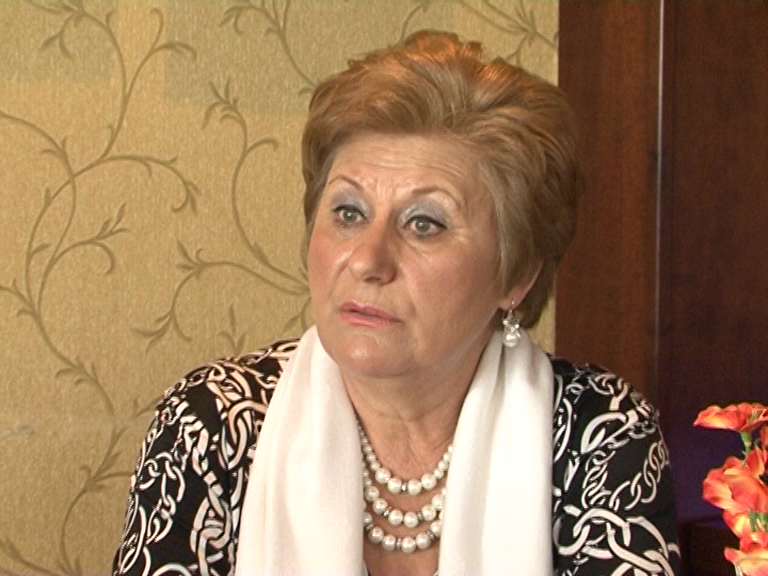 IBNA Interview/Paro Ziflaj may be considered as an icon of the polyphony of Laberia, the most famous in Albania. In an interview for IBNA, Mrs. Paro Ziflaj confesses her 46 years on the stage. She remembers how the desire to sing was born and how she traveled throughout the years in the path of folk music. Why is she convinced that the Lab songs are like a "remedy" which make one forget every problem in given moments. The famous singer talks about her collaborations, the festivals that she has participated in and the awards received during her almost half a century career
Is singing for you part of life or life itself?
Singing for me is not just something. In fact, it's everything. It has accompanied me everywhere in these 46 years.
What would you say to those who after 46 years think that it's time for you to end your career?
I will never stop singing. I was born with it and I will die with it.
How would you describe in a few words the music that you sing?
Polyphonic song is very beautiful, to that extent that it makes people forget every problem on given moments.
We have seen its fusion with soft music…
It's easier when one finds a readymade text and music, this is why they take from polyphony.
How can the piracy of folk music be fought?
For as long as the law is not applied, piracy will continue.
Let us go back a little in time. When was the first time that you went on stage?
I have sung since I was little. My mother was a talented stage singer and when she used to go with her friends for rehearsal with the "Lekdush" women group, she used to take me with her. I used to feel like flying when I used to hear the songs, especially when I heard the beautiful songs of Kurvelesh. Today I hear many songs by different singers that were also sang by her. Singing was present in our family at every moment. Besides my mother, my brother, Luan, was a very good flute player and we used to accompany him with melismas. Luan is a poet, he writes and publishes books. My other brother, Avni, the youngest one, sings very well, but he was not obsessed to singing like I was.
Tell us about your performance in the first National Folk Festival in Gjirokastra?
I started to sing since I was on the second grade until now. In 1968, it was the National Folk Festival of Gjirokaster where I sang with the "Lekdush" girl group.
How many festivals have you participated in and have you received any awards?
Since 1983 and until today, I have participated in seven festivals that were held. Given that I was present on the stage for 46 years, the awards have been coming, but I'm still waiting for other awards. Perhaps this year someone will remember that it's the 45th anniversary of the group of "Benca" and may we will be given another award.
You have collaborated with many musical groups. Which one of them would you consider successful?
My first cooperation was with the Boys of Vjosa, where we came up with two very good songs. "Mother and daughter" with Silva Gunbardhi is present in every wedding. I have also collaborated with other groups and artists and all of these collaborations have been successful.
Why did you decide to stop your cooperation with these groups?
It's not true that I have stopped polyphonic relations. Recently, we received an invitation to go to Yoannina in Greece with the polyphonic group of Benca.
What was your worst moment on stage?
I have never felt bad on the stage. I'm happy that I enjoy good health and a good vocal.
What about the most beautiful moment?
For me, every moment that I'm on stage is a happy one, because I would not live any moments of happiness without the stage.
What do you think of the new generation singers?
I have no comment on them.
What would be your advice on them?
I advice them to be more original. Evolution is needed, but it needs to  be kept under control. It's not easy to produce a new song. One must think about the text, music, clothes and the clip.
You have been in many concerts in Europe, USA, etc. How have Albanians reacted when they've met you there?
The public has been the best for me. I'm welcomed in Albania and abroad. I want to offer to the public the same satisfaction and joy that they offer me. If you love the public, the public also loves you, especially Albanian emigrants who miss the country and Albanian music.
Tell us something special from the tours that you have held outside Albania.
Last year I was in America and there I was told that a little girl was so in love with the Albanian music that her parents used to put her to bed with my songs. I met the little girl, I sang for her and she looked at me surprised. I will always remember her, so little and so sensitive to Albanian songs. I can never forget all those people who used to meet me and showed so much love for me. In Cleveland (USA), we improvised a concert with Albanians from Mallakaster and other regions. I was also given a certificate of excellence by "Nohaio" polyphonic group in the USA. /ibna/