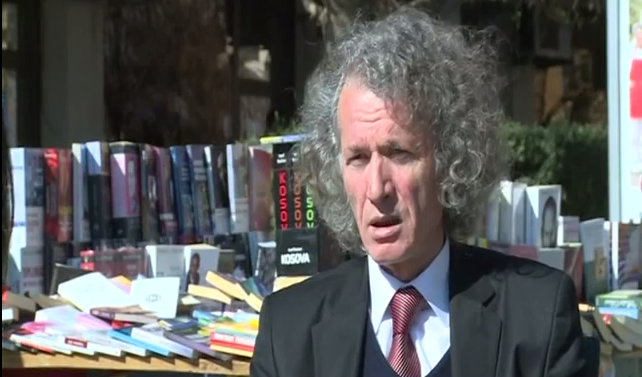 Politics in Kosovo and its institutions are becoming more aware of the great importance of books and the importance of encouraging artistic and literary creations in the country.
Abdullah Zeneli, writer and director of the first publishing house in Kosovo, "Buzuku"  talks in an interview for IBNA about the need of a more dynamic communication between publishers and creators.
Stopping in the last book fair in Pristina, Zeneli comments the genres of books preferred in Kosovo.
Interviewed by IBNA
IBNA: 8 years after the independence of Kosovo, how much is the government doing to support books?
We identified a large presence of the heads of institutions, such as the prime minister of Kosovo, minister of Culture of Kosovo and of Albania and other officials in the book fair. I believe that this presence shows the seriousness and the commitment of the state for the book fair and its importance as one of the biggest cultural events in the country. These and others show that politics has become more aware along with the citizen and reader. Of course, there must be more efforts through state policies and through the common agenda of both countries. The 17th book fair in Pristina, which was held from 2 to 7 June, joined together more than 100 publishers from Albania, Kosovo and the Diaspora. At this point, I believe that we must be more optimistic about the future of books.
IBNA: As a publisher, you have often organized novel contests. Do you think that artistic creation in Kosovo is encouraged sufficiently?
In fact, it's not enough. Although the state allocates prizes, after the publication, these prizes do not encourage authors to write. The prizes are often disappointing, because juries also abuse. The truth is that that contests are a good form of encouragement, if they are serious and fair.
IBNA: Buzuku's contest invites novelists to present their works. Is there an interest for them?
The contest was announced in the framework of the 25th anniversary of the foundation of the publishing house. Although the last deadline to submit novels is the end of September, there have been 7-8 novels submitted so far. Some novelists have already started to write and we are expected to have around 40 novels in the contest.
IBNA: Being in contact with readers, what is the most demanded genre?
Genres complete each other. Of course, people tend to read novels a lot, but poetry too dominates among Albanians.
IBNA: Let us stop on this year's book fair, which was visited by over 40 thousand people. This figure is lower than the Tirana book fair. Why does this happen?
The Tirana book fair, which is held every year in October, has more visitors, but Tirana's population is twice as big as Pristina's, it has a suitable infrastructure and premises, a 100 year state tradition and is also visited by readers from Kosovo and other neighboring countries. Kosovo has helped a lot in the pan Albanian publishing activities and this must be praised. But Pristina too has created this physiognomy and publishers are happy with the sales, otherwise they would not come. The number of publishers and visitors testifies this. Libraries and book shops are also supplied with new books and this is also reflected in the sales. /ibna/