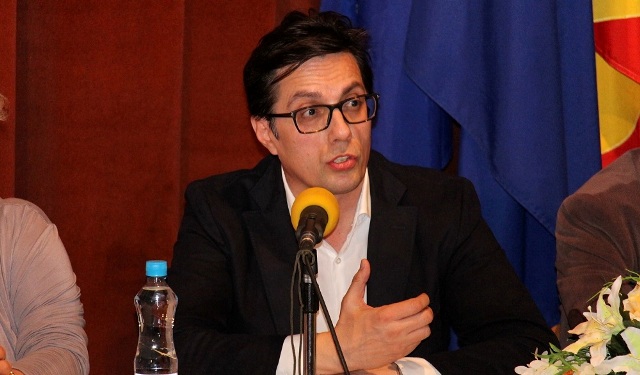 One of the most prominent names of the opposition in the former Yugoslav Republic of Macedonia, Stefo Pendarovski, says that the change will happen in the 11 December elections and that the citizens will choose "Life for Macedonia".
Pendarovski, who is a former presidential candidate, says in this interview for IBNA that if the opposition wins, the priority of the new government will be the solution of the political crisis, to restore justice in the country and investigate the wiretapping affair, by bringing to justice all those who ordered and applied it.
Interviewed by Naser Pajaziti
IBNA: We're in the last days of the campaign. What are the opposition's expectations in these elections?
Pendarovski: There's great awareness about these changes and this is seen all over the country. It is seen in the meetings and rallies with the citizens. There's lots of energy because citizens want change. On 11 December, the majority of citizens will choose to vote in favor of change and with their vote, they will put an end to the current regime. Thus, I can easily consider these elections as a referendum for the country. "Life for Macedonia", which is our program, guarantees this new page.
IBNA: Elections will take place in 6 constituencies. Party in power has declared that it will defeat you in all constituencies and that you will remain in opposition. What is your comment on that?
Pendarovski: I cannot say that SDSM and its partners will mark a victory in all six constituencies. We are confident that we will win in constituency four, where our leader Zoran Zaev is racing against Nikola Gruevski.
IBNA: Why do you think that you will win these elections?
Pendarovski: People have many concerns and problems. They are under pressure, but nobody can lie them now. Citizens and businesses are issued unfair fines. On the other hand, no solution is being found for infrastructural problems. We also have a massive migration of young people. These problems are evident and require a solution, therefore the citizens are determined for change.
IBNA: What are the key points of your platform, through which you are aiming to win the elections?
Pendarovski: Our platform has a solution for problems in many domains. Initially, we are aiming to bring back the rule of law and put the institutions at the service of the citizens. Thus, it is very important to restore democracy and freedom in the country. Important parts of our platform are the improvement of living standards, increase of minimum wage and average wage, support for small and medium sized companies and support for the employment of young people. But we also have other projects that guarantee the solution of social and economic problems.
IBNA: In terms of ethnic issues such as federalization or other options, how do you consider these debates?
Pendarovski: These are topics which have been imposed by the current government. Our scope is clear, because they are playing the card of nationalism and trying to deceive people. They are trying to manipulate the citizens to forget the crimes that they have committed. We have made it very clear that we are engaged to treat all people equally in line with the Constitution. We're very clear that there cannot be federalization. But there will be seizure of unlawful assets benefited by those who are in power. /balkaneu.com/