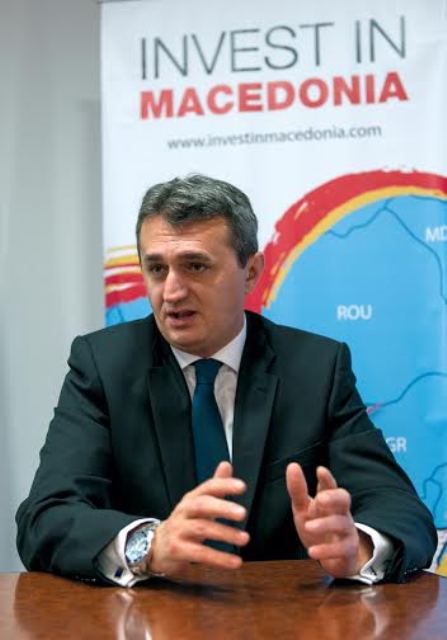 In an interview for IBNA news agency, Minister for Foreign Investments in the former Yugoslav Republic of Macedonia, Visar Fida, talks about the trend of foreign investments in the country and expectations for their growth during 2015. Mr. Fida says that Free Economic Zones, which are a government project, have succeeded in attracting foreign investors.
"There are several reasons why investors are choosing Macedonia as their business destination. One of the reasons is that in our country, taxes for foreign investors are lower than in many countries in Europe and the world", says Fida in the interview below
Interviewed by Naser Pajaziti/IBNA
IBNA: How do you consider 2014 in terms of attracting foreign investments, because there are rumors that say that foreign investments have fallen and risen?
Fida: We ended 2014 in a successful way with the arrival of several investing companies. This year ended with positive trends and this led to an economic growth amounting to 3,5%. We have a 54% growth of the export of products manufactured by investing companies located in the free economic zones of the country. Exports going to Germany, England, Italy and Greece have increased. Through these investments, we have also had thousands of new jobs created. The 2014 investment plans are under way and they will be realized this year. Out of 13 foreign companies that announced their arrival, some of them have already started work. The success of the government in attracting investments is obvious, but there will also be concrete results in the long term.
IBNA: What are your expectations for foreign investments during this year?
Fida: During this year, we expect a growth in economy and foreign investments. As I've highlighted above, several companies have started their investments. One of them is Turkish company "ITEK", which has started the construction of a facility in the Free Economic Zone in Tetovo. There will soon be another company which has taken a final decision. This company is from Italy and it will produce mini-buses in the Free Economic Zone of Tetovo. "Eastern Medical" from Turkey, which produces medicinal equipment, started the construction of its facility in the Free Economic Zone in Skopje. Soon, there will be another company from Turkey which will build car parts in the Free Economic Zone of Skopje. There's also been an announcement from "Ekyesers Systems" company from the US, which will start production in March this year in the Free Economic Zone of Kercova.
IBNA: What do you think are the reasons that these investors have decided to come into the country, when we know that we have challenges and problems, while the country is not a NATO member and at a time when we're not moving forward in the European integration path…
Fida: There are several reasons why investors choose Macedonia to develop their business. One of the reasons relates to the fact that in our country, taxes for foreign investors are the lowest compared to many European and world countries. We have a 10% corporation tax which is a rare thing to find in the world. Production costs in Macedonia are very low. We have invested a lot in education our population and the labor force that will be offered to foreign companies is trained and is willing to work for foreign companies. The government is constantly focused on undertaking reforms and these reforms aim at reducing bureaucracy and costs of procedures for obtaining documents, permits and licenses and also reforms to lower expenses for companies. All of these are part of the success of the policies applied by the government with the aim of attracting direct foreign investments.
IBNA: You made a description of investments, but what were the jobs created last year?
Fida: Figures provided by the Office for Free Economic Zones indicate that 2014 saw the opening of 12.500 new jobs. The government is expecting other investments to enable another 2 thousand jobs. In Tetovo alone, an American company dealing in the car industry, will open 3 thousand new jobs. We're certain that all of these will be successfully finalized at the right time. The government focuses on delivering the necessary reforms to facilitate doing business and creating a favorable business climate, thus opening new jobs for our citizens. /ibna/